UCD Ladies hockey team take Champions Trophy to seal season treble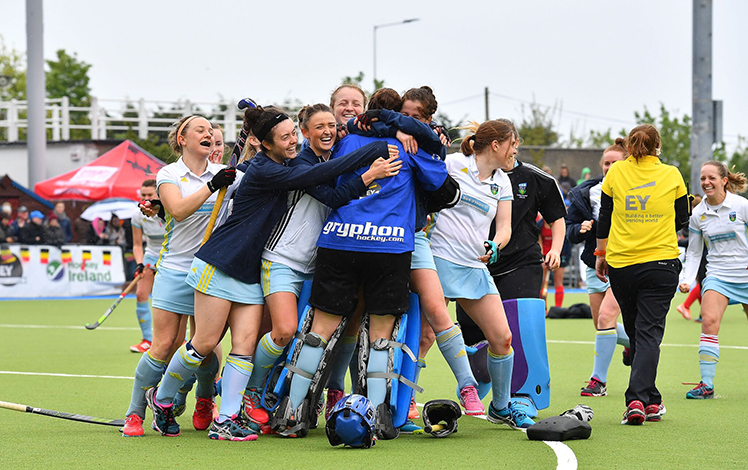 Posted May 02, 2017
University College Dublin's Ladies hockey team have completed a treble of national senior titles in 2017, by beating Hermes-Monkstown to win the EY Champions Trophy.
The Belfield outfit's goalkeeper, Clodagh Cassin, kept a clean sheet in a penalty shoot-out in the final of the competition with UCD's south Dublin rivals to win their third title of the season.
UCD had already won the EY Hockey League title and the Irish Senior Cup in April.
Pictured: UCD Ladies Hockey team goalkeeper Clodagh Cassin celebrates with her teammates after she saved all three penalties in a shootout in the final of the EY Champions Trophy 2017 that helped her team win the competition
They reached the Champions Trophy final by beating Loreto in the semi-final just two days previously also in a shoot-out in which Cassin kept another clean sheet.
The final ended 1-1 after normal time. UCD's skipper Deirdre Duke had the first chance of goal for the students when her backhand volley hit the base of the post.
But it was Hermes-Monkstown's top scorer Anna O'Flanagan who took the lead after she converted a beautiful pass from Nikki Evans from the right wing.
The students then created the better chances, with player of the tournament Gillian Pinder and Emma Russell failing to convert chances.
Hermes-Monkstown were then unable to get clear shots at goal from any of the four corners they won either side of halftime.
But Emma Russell took her chance when after UCD won their first corner, she took control of Lena Tice's blocked shot and slotted the ball past the right post.
Hermes Monkstown created the better chances in the final quarter, but in a prelude to her heroics in the shootout Cassin denied Chloe Watkins twice.
Cassin then saved all three penalties from Hermes Monkstown's Chloe Watkins, Ellen Curran and Rosie Carrigan. Katie Mullan and Sarah Twomey converted their penalties for the students and Orla Patton slotted home the winner for UCD.
UCD: C Cassin, S Twomey, A Russell, L Ewart, O Patton, E Russell, S Patton, G Pinder, L Tice, K Mullan, D Duke?Subs: N Cooke, S O'Loughlin, A Richardson, E Duncan, S Clarke, J O'Brien, S Robinson
Hermes-Monkstown: L Murphy, C Quinlan, R Carrigan, S Loughran, N Evans, E Horan, E Curran, S Kelly, S Greene, A O'Flanagan, Ch Watkins?Subs: C McGilp, S Moore, A Beatty, A Barnwell, L Pinder, Co Watkins, C Hyland
Umpires: C Metchette, A Keogh
By: Jamie Deasy, digital journalist, UCD University Relations