Ireland's first satellite given go-ahead by ESA
‌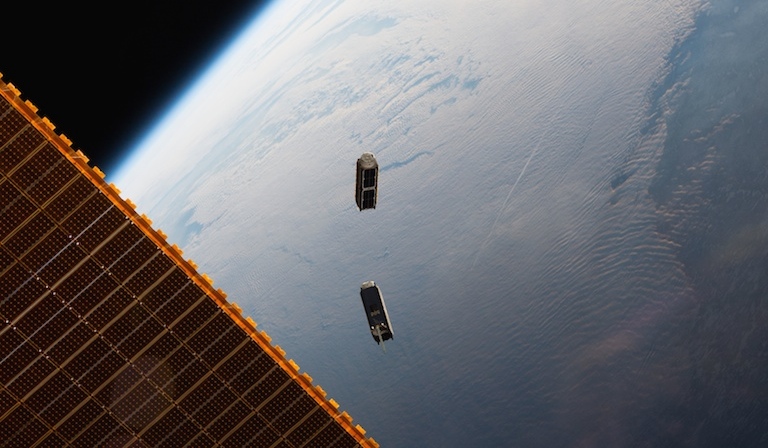 Posted May 24, 2017
Satellite will detect most powerful explosions in the universe
The European Space Agency (ESA) has selected the Education Irish Research Satellite (EIRSAT-1), a collaborative space project developed by students and staff of University College Dublin (UCD) and Queen's University Belfast, to participate in its Fly Your Satellite! educational programme for university students.
Subject to EIRSAT-1 passing ESA's stringent requirements, the satellite will be launched and delivered to the International Space Station and launched into orbit in 2019.
EIRSAT-1 will orbit the Earth gathering data for approximately 12 months. It will be managed and controlled from a ground station in the UCD School of Physics, University College Dublin. The commands will be uplinked via UHF radio and data will be downlinked via VHF radio from the spacecraft.
The EIRSAT-1 mission will advance education in space science and engineering across the whole island of Ireland through collaboration between student teams, higher education institutions and high-tech companies.

The mission will enable participants to develop know-how in space science and engineering and address skills shortages in the space sector. A key objective of the mission is to inspire the next generation of students to study STEM subjects, through an outreach programme developed in partnership with Blackrock Castle Observatory/CIT.
The project is supported by industrial partners including Resonate Testing, ENBIO, SensL, Parameter Space and Moog Dublin.
"As Ireland has never launched a satellite of its own this mission represents a first for the island of Ireland and a giant leap for the Irish Space Sector and will be of enormous interest to the entire community," said the Minister for Training, Skills and Innovation, John Halligan T.D.
"The project will have a significant impact on educational programmes and future skills by placing space flight know-how into students' hands for the first time. This is an incredibly exciting project with great potential to have significant impact beyond those directly participating in the project, including the expanding space industry sector in Ireland," he added.
Pictured: CubeSats being launched from the International Space Station (ISS).
EIRSAT-1 is aiming for a 2019 launch from ISS. Image cropped. Credit: NASA/CC
According to Professor Lorraine Hanlon from the UCD School of Physics, the lead Professor on the project, "this success has been made possible through sustained support from Enterprise Ireland, the Irish Research Council, Science Foundation Ireland and ESA, combined with a team of outstanding students at undergraduate and graduate level in space science, physics and engineering, who will have to work extremely hard to pass the ESA reviews and make the dream of this satellite mission come true."
"Our students will have can amazing opportunity to learn, not only from the wealth of expertise at ESA, but also from the other excellent teams participating in the programme from across Europe. This hard work will prepare them very well for future careers in the space sector," added Professor Hanlon.
"Although the UCD Space Science group works on fundamental research questions in astrophysics, the technology we have developed has wider applications in space, medicine and security. We can never really imagine when we start new research projects where our ideas will take us – that is especially true in this case! Despite its small size, EIRSAT-1 will detect the biggest explosions since the Big Bang and pave the way for future space science missions," she concluded.
The systems engineer for EIRSAT-1 is David Murphy, a PhD candidate in the UCD Space Science Group. "Working on EIRSAT-1 is an unprecedented opportunity for Irish students," he said.
"When I started my PhD I hoped that I'd be helping to push forward the design of a gamma-ray detector that might someday fly in space. I never expected that as a student I'd be responsible for flying that detector on Ireland's first satellite!"
By: Jonny Baxter, digital journalist, UCD University Relations