Ministers launch UCD research on secondary students' views on education system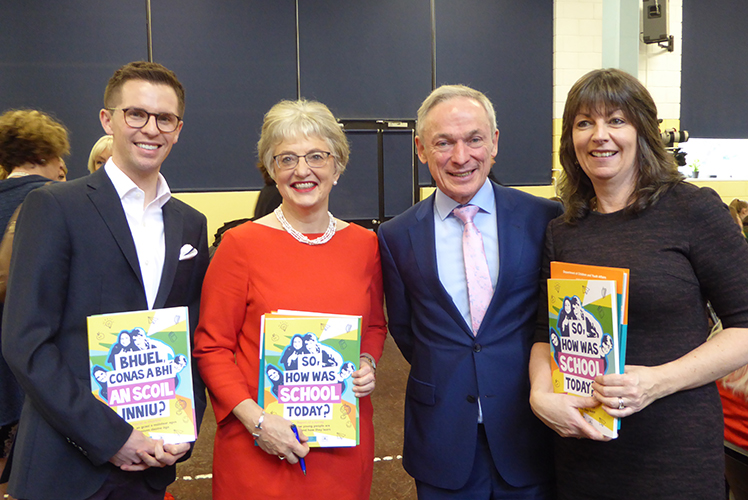 Posted: November 08, 2017
Three out of four students say exams are biggest stress in school
Less than half of students satisfied with counselling and career guidance services
Minister Katherine Zappone TD and Minister Richard Bruton TD have launched the report 'So, how was school today?', a groundbreaking piece of research carried out by young people for young people.
The research was coordinated by a team of researchers at University College Dublin, led by Professor Dympna Devine, Head of the UCD School of Education.
Professor Devine's specialist field is sociology and she has a specific interest in the social study of childhood and children's educational wellbeing. She was nominated by the Minister for Children and Youth Affairs to the National Advisory Council for Children and Young People (2015-2020)
More than 3,200 young people had their say in a survey carried out by Comhairle na nÓg that informed the research.
Students were asked 13 questions in the survey. The researchers grouped the results into three specific areas which young people identified as needing improvement in the education system: How young people experience teaching and learning in school; feelings about school; and views on services and facilities in school.
Pictured top: Mr Gavin Murphy, research scholar at UCD School of Education
, Minister for Children and Youth Affairs, Katherine Zappone, Minister for Education, Richard Bruton, and Professor Dympna Devine, Head of UCD School of Education
Some of the findings of the research under these key areas were:
Exams are the biggest source of stress, with 78% of Leaving Cert students and 81% of Junior Cert students reporting that exams make them stressed.
Some 75% of young people agreed or strongly agreed that they learned best through active learning such as quizzes, learning games and role play etc.
Young people feel that teaching methods on subjects that need the most improvement, in order of priority, are: mathematics, Irish, English, French, science, history and geography.
Just under half of young people feel they are satisfied with the availability of career guidance and counselling in their schools.
"Young people must have their say in policies, decisions and practices which impact on their daily lives," said Minister Zappone.
"It is really important for young people, teachers and government parties to study and respond to this extensive piece of research, as it explains what young people need, and want to change, to make their journey through education better," she added.
Minister Bruton said he was keen during his time as Minister for Education and Skills, to ensure the voices of students and parents are heard within the education system.
"The results of this survey will feed into a growing body of research providing insight into the student experience and will most definitely lead to better outcomes for all. Indeed I have taken on board some of the points raised already.
"Student wellbeing for example, is a key priority of mine as minister and we have introduced a new Wellbeing programme this year for Junior Cycle to provide students with the necessary coping skills to manage stress in their lives."
Professor Dympna Devine said the research highlights the priority young people place on education, what is working well in education and what needs to change.
"It raises key questions about the emphasis on high stakes exams in our second level system and the impact this has on how teachers teach and how young people experience their learning.
"The concerns expressed by girls in relation to stress, are also important, as are wider issues in relation to the level of counselling and learning supports available to young people in schools. This research shows the value of listening to what young people have to say, as key partners with a voice in our education system."
Comhairle na nÓg are the child and youth councils in the 31 local authorities of the country, which give children and young people the opportunity to be involved in the development of local services and policies.
By: Jamie Deasy, digital journalist, UCD University Relations