UCD spin-in study examines impact of virtual reality technology on children's health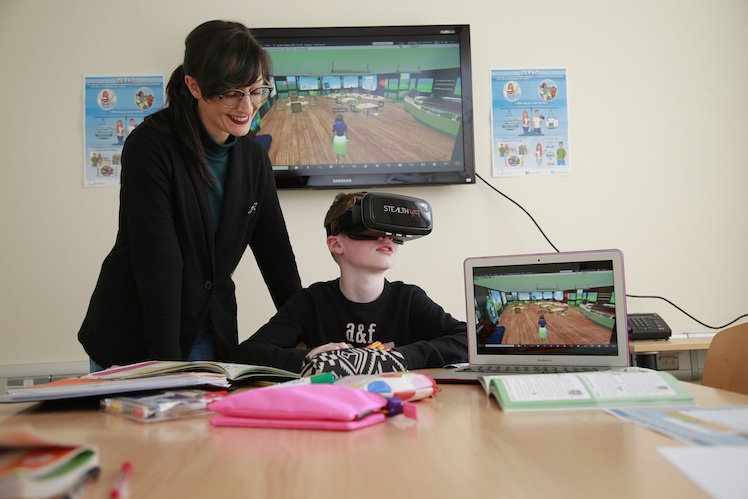 Posted: November 08, 2017
Research will explore potential of VR as an educational tool
Study will be carried out in schools and home environments across Ireland
Children, teachers' and parents' opinions and concerns about technology to be examined
University College Dublin EdTech spin-in Zeeko is using €100,000 in funding it has secured to carry out research that will evaluate the side effects of virtual reality (VR) technology on children's health.
The company secured the funding through the Horizon 2020 SME Innovation Associate Programme.
Zeeko, which was founded in 2013 by Joe Kenny, works with parents and children to promote a healthy balance for children using screen devices (e.g. smartphones, tablets, laptops) and the internet.
The company, headquartered at NovaUCD, the centre for new ventures and entrepreneurs at UCD, is an Enterprise Ireland high-potential start-up (HPSU) company.
Pictured top: A
t NovaUCD, Dr Marina Everri, Head of Research, Zeeko, with Cian Sheehy (aged 11 years). (Pic credit: Nick Bradshaw, Fotonic)
To date, a relatively small number of studies have been conducted on VR involving children. Some of these studies, mainly conducted in the USA, have shown that VR can efficiently support a child's learning, thanks to an immersive sensory experience that enhances engagement and information retention.
The Zeeko research project will recruit a group of teachers, parents and children, aged 10 to 12 years, in primary schools across Ireland, to participate in the study.
The research will be carried out both in schools and in home environments using innovative techniques previously tested for the study of children's use of digital devices.
Children engaging in activities with VR will be video recorded in different everyday life scenarios, such as lessons at school, completing homework and leisure time. The recordings will then be discussed with the children to explore their subjective experiences – what they liked and did not like or would like to improve.
Parents and teachers will also be involved in group discussions and interviews to examine their opinions, interests and concerns about the potential of VR as an educational tool.
The research project will be led by Dr Marina Everri, a social psychologist who has recently been appointed as Head of Research at Zeeko.
Dr Everri has worked as a researcher and family psychotherapist in academia and in organisations, in Italy and in the UK, and joins Zeeko from the London School of Economics and Political Science.
Dr Marina Everri, Head of Research, Zeeko said that in reality very little is known about the impact of VR on body, cognition, and social relations, especially during a child's development.
"More research, such as the research we are about to commence, is needed to understand the interplay of children's individual characteristics, their relational and cultural context, and the opportunities and challenges offered by VR technology," she said.
"This will be done by examining VR side effects in the areas of education, environment behaviour, empathy and health directly involving children, their families and teachers at each stage of the research process."
Joe Kenny, CEO, Founder, Zeeko said the aim of the project is to identify side effects of VR technology and to create an innovative solution to any nascent problems identified with VR.
"This complements our plan to develop a new educational platform to support children's critical thinking and discovery of solutions to risky online situations."
The H2020 SME Innovation Associate call is aimed at overcoming barriers for EU SMEs and start-ups to the recruitment of highly qualified specialists (PhD or equivalent) that are not available on the national job market.
By: Jamie Deasy, digital journalist, UCD University Relations