Ulysses medals for former US ambassador to UN, Samantha Power and Harvard scholar, Cass Sunstein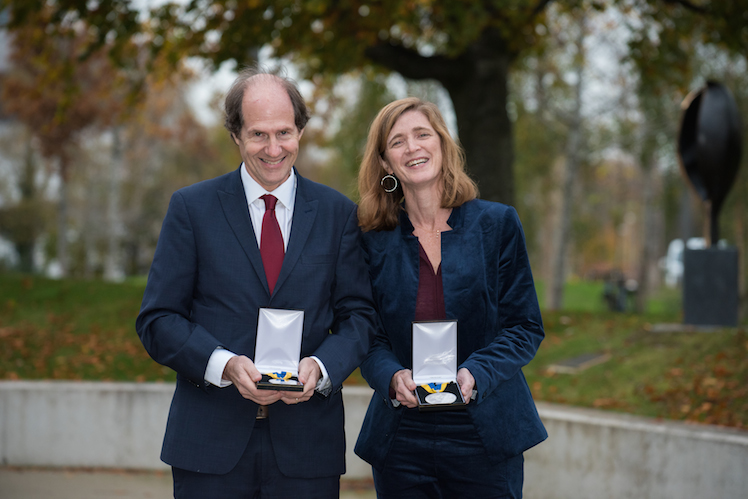 Posted: November 14, 2017
Former US Ambassador to the UN, Professor Samantha Power, and the most cited American legal scholar ever, Professor Cass Sunstein, have been awarded Ulysses Medals by University College Dublin.
The Harvard academics are married and have two children together.
The medal is the highest honour the university can award. It was inaugurated in 2005 to highlight the creative brilliance of UCD alumnus James Joyce, who graduated in 1902 with a degree in English, French and Italian.
Professor Power was presented with the Ulysses Medal by Professor Mark Rogers, UCD's Registrar, Deputy President and Vice President For Academic Affairs.
The official citation was read by Professor Orla Feely, Vice-President for Research, Impact and Innovation at UCD.
Pictured top: Professor Cass Sunstein and Professor Samantha Power at University College Dublin with their Ulysses medals
Professor Power has made a lasting contribution to human rights and international affairs working as a war correspondent, Pullitzer Prize-winning author, human rights scholar, adviser to former US President Barrack Obama and UN ambassador.
In 2013, President Obama appointed Power as U.S. Permanent Representative (ambassador) to the United Nations, a position she held until the end of his presidency in early 2017.
The former diplomat has been named one of TIME magazine's "100 Most Influential People" and one of Foreign Policy magazine's "Top 100 Global Thinkers".
Her book on the United States' inaction on some of the major genocides of the 20th century, A Problem from Hell: America and the Age of Genocide won the 2003 Pulitzer Prize, and became a standard and highly influential text.
After she graduated with a B.A. from Yale University in 1992, she became foreign correspondent and covered the Bosnian conflict for a number of US publications.
She is currently the Anna Lindh Professor of the Practice of Global Leadership and Public Policy at Harvard Kennedy School and Professor of Practice at Harvard Law School.
Professor Sunstein was also presented with the Ulysses Medal by Professor Rogers.
The official citation for Professor Sunstein's award was read by Professor Colin Scott, College Principal, UCD College of Social Sciences and Law and Vice-President for Equality, Diversity and Inclusion.
Professor Sunstein is the most cited legal scholar in the United States and many claim of all time.
He also worked for the Obama administration, as head of the Office of Information and Regulatory Affairs (OIRA).
In this role, Professor Sunstein was responsible for overseeing his office's cost-benefit analysis reviews of all regulations passed by the agencies of US government departments.
Sunstein's academic and teaching interests originated with constitutional law and rights and also include administrative law, welfare law, environmental law and jurisprudence. He has also been at the forefront of behavioural economics and behavioural law and economics.
Together with his University of Chicago Economics colleague, Richard Thaler, Sunstein wrote Nudge: Improving Decision about Health, Wealth and Happiness. The influential work explores how legal systems and subtle, inexpensive policy interventions provide a social architecture that can steer citizens towards making beneficial decisions without restricting their freedom of choice.
Professor Sunstein is currently Robert Walmsley University Professor at Harvard.
Previous recipients of the UCD Ulysses Medal include former US President Bill Clinton, Professor Noam Chomsky, Professor Axel Honneth and former Irish President Mary McAleese.
By: Jamie Deasy, digital journalist, UCD University Relations