UCD claim sixth women's Irish Senior Cup title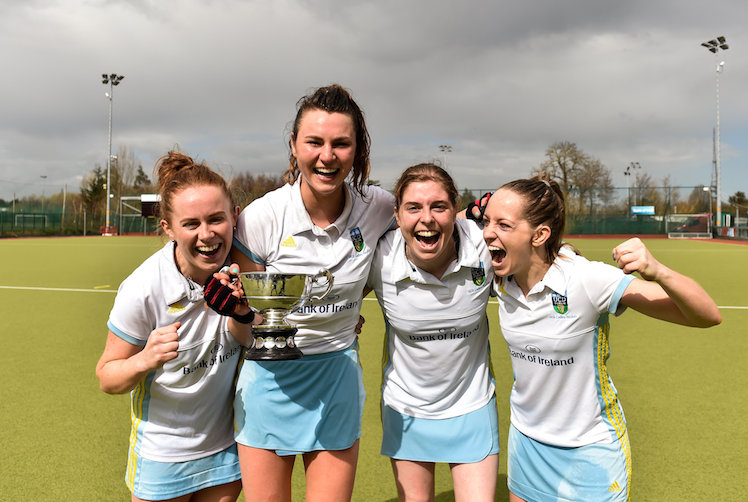 Sarah Robinson, Deirdre Duke, Katie Mullan and Leah McGuire celebrate following the women's Irish Senior Cup final match between UCD and Pegasus at the National Hockey Stadium in Belfield
Posted: April 09, 2018
UCD have claimed their fourth women's Irish Senior Cup hockey win in seven years, retaining the cup they won last year.
The students comprehensively beat Belfast side Pegasus 4-0 at Belfield and never looked like losing this encounter after they opened the scoring early on.
Pegasus got off to a bright start forcing UCD keeper Clodagh Cassin to make a save from Taite Doherty with her boot in the opening minutes, but this was as close as the Ulster side got to scoring for the rest of the match.
The Belfield outfit's strength in defence provided them with a solid base from which they were able to break forward.
The students struck in the 12th minute when Ad Astra scholar Lena Tice's ball was chipped into the net by Emma Russell.
Deirdre Duke threatened up front with a number of shots on goal, as the experienced Pamela Glass tried defiantly to limit UCD's attacks before half-time with some last-gasp tackles.
The second goal came from Abbie Russell who made it 2-0 just seven minutes into the second half when she scored at the back of the post from an Orla Patton cross.
Katie Mullan ended the match as a genuine contest when she fired low into the bottom corner past Pegasus goalkeeper Sammy Jo Greer from a penalty corner with 10 minutes left on the clock.
Sorcha Clarke wrapped up the match and the championship with just two minutes left, tapping in Sara Twomey's shot across the mouth of the goal.
"I'm absolutely delighted, it's been a while since we won a final like that," said Katie Mullan, UCD Sports Scholar and captain of the Ireland Women's hockey team, after the game.
"We knew that if we played simple, fast hockey, we'd give ourselves the best opportunity and I think we did that pretty well today.
"I'm absolutely thrilled with the result and this is a great bunch of girls. There is some incredible talent in our team and when we bring it all together, we are very hard to beat.
The Irish Senior Cup is the premier knockout competition in women's hockey for the best clubs in Ireland. UCD previously won Irish Senior Cup titles in 1951, 2009, 2012 and 2014 and 2017.
Pegasus: S-J Greer, H Grieve, R Maguire, M Harvey, L McKee, K McKee, A Speers, R McMillan, G Irwin, P Glass, S Thompson. Subs: C Harvey, T Doherty, K Morris, K Gourley, V Surgeoner, M Bowyer, J Perry.
UCD: C Cassin, K Egan, L Ewart, E Curran, K Mullan, E Russell, A Richardson, L Tice, O Patton, S Robinson, D Duke Subs: S Twomey, B Barr, S Clarke, A Russell, S Young, E Young, A Daly
By: Jamie Deasy, digital journalist, UCD University Relations