UCD student wins national science communication competition FameLab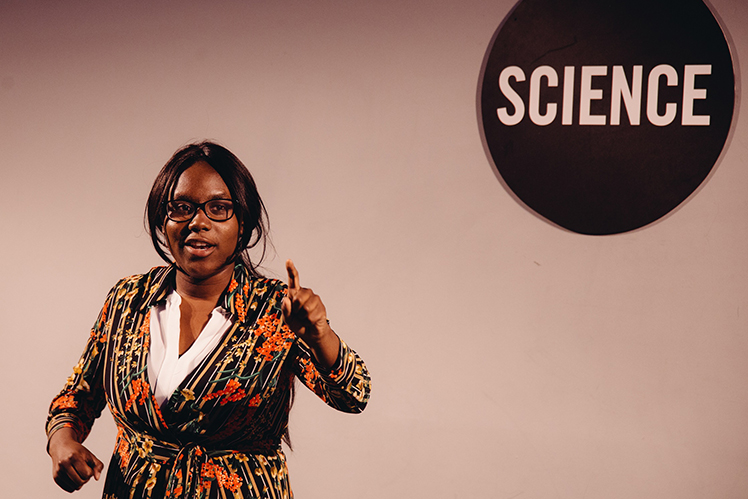 Pictured above: Sharon Omiwole, 2018 winner of FameLab Ireland
Posted: April 17, 2018
UCD Medical student, Sharon Omiwole, has been named the winner of FameLab Ireland – the national science communication competition for students.
FameLab helps emerging scientists and engineers to acquire valuable skills to communicate their work to a non-scientific audience. The competition is organised by the British Council Ireland and funded through Science Foundation Ireland's Discover programme.
Sharon will go on to represent Ireland at the international finals of the competition at the Cheltenham Science Festival in the UK. She was selected by a judging panel of nine science communicators at the sixth FameLab Ireland national finals at the Science Gallery Dublin.
Each contestant delivered a three-minute talk that was judged according to content, clarity and charisma. During her 180 seconds, Sharon won the judges over with her talk entitled 'Willy Wonka and the Coffee Factory'. It outlined in detail the effects of caffeine and its associated hormones and chemicals – adrenaline and dopamine.
Above: Sharon Omiwole delivers her winning talk about the effects of caffeine in the 2018 final of the FameLab Ireland competition
Sharon is a first-year medical student at UCD with a keen interest in science. She credits her father, a doctor, for inspiring her to pursue medicine. She dedicates her spare time to volunteering in clinics, retirement homes, day-care and homeless shelters.
Margie McCarthy, Interim Director, Innovation and Education Directorate, Science Foundation Ireland, said SFI aims to encourage more people to engage with STEM through its Discover Programme.
"FameLab helps realise that aim by offering participants the opportunity to gain vital skills in communicating what can be complex research topics in an engaging way, inspiring others to join the conversation," she said.
The winners from all participating countries will compete in June at the international finals at the Cheltenham Science Festival in the UK.
FameLab is an initiative of the Cheltenham Festivals. It is managed by the British Council Ireland in collaboration with Newstalk 106-108fm, NUI Galway, Science Gallery Dublin, Trinity College Dublin, University College Cork, University College Dublin, University of Limerick and a range of science research centres.
The British Council is the UK's international organisation for cultural relations and educational opportunities and it has a presence in over 100 countries including Ireland.
By: Jamie Deasy, digital journalist, UCD University Relations