Ireland's fairytale World Cup ends with historic silver for UCD athletes
Posted 7 August, 2018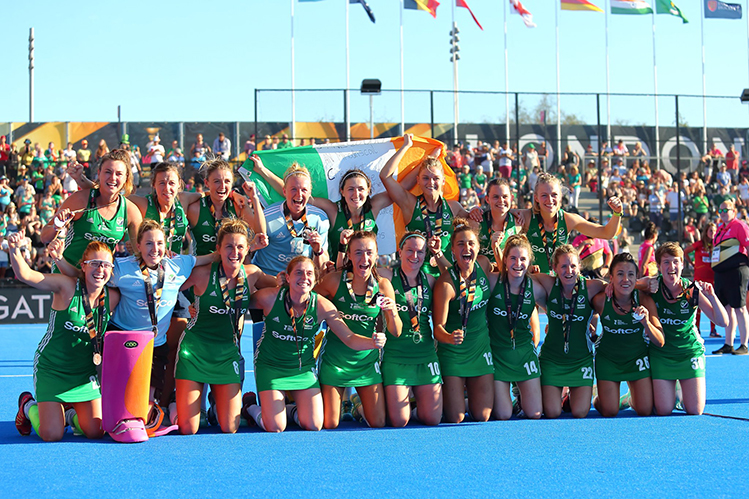 Ireland's women's hockey team are the first Irish field sports team to reach a World Cup final
Included in the squad were nine current and former UCD students, seven of whom are Ad Astra Elite Athletes.
Team's achievement is being praised as one of Ireland's best ever sporting successes.
Thousands lined the streets of Dublin to give Ireland's women's hockey team a hero's welcome following their historic silver medal win at the Hockey World Cup.

Rank outsiders going into the tournament, Ireland's first in 16 years, the squad's wins in London against the USA, India and Spain surpassed expectations.

Under the captainship of UCD veteran and Ad Astra scholar Katie Mullan, the side became the first Irish field sport team ever to reach a world cup final.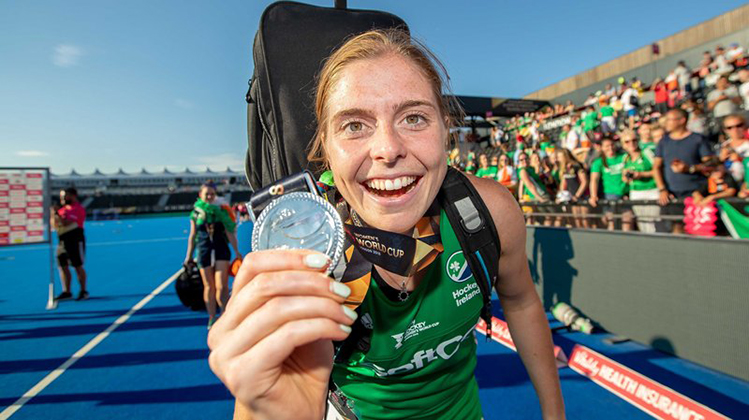 UCD veteran and team captain Katie Mullan with her silver medal in London
Huge Congratulations to @IreWomenHockey who have finished 2nd in the #HWC2018 The Irish team has captured the imagination of the entire country, playing with immense pride and passion. An historic day for Irish Sport pic.twitter.com/DWjnVkrgmw

— Sport Ireland (@sportireland) August 5, 2018
A recent biomedical Engineering graduate, Katie was joined on the field by fellow UCD teammates Deirdre Duke (Law with Social Justice) and Elena Tice, who is studying Economics.
Also stepping out on the world stage were UCD graduates Nikki Evans (Business and Law), Grace O'Flanagan (Commerce), Gillian Pinder (Bachelor of Business & Law), Chloe Watkins (Commerce, International), Anna O'Flanagan (Law with Economics), and Emily Beatty (Psychology).

Of the nine members of the Irish squad involved with UCD Ladies Hockey, seven were enrolled in the Ad Astra Elite Athletes programme at the University.

During her postgraduate studies, Katie Mullan was the recipient of a Post Graduate Scholarship funded by UCD Sport and the School of Engineering.
It's official. @IreWomenHockey from 16th to 8th in the world #GreenArmy #HWC2018 pic.twitter.com/SyteaWL1on

— Katie Mullan (@katiemullan11) August 7, 2018
The second-lowest ranked country in the competition, Ireland upset the odds to reach the last two but were unable to produce a fairy-tale ending against 8th time world champions The Netherlands.
Despite losing the final 6-0, the girls in green's efforts have been praised as "a historic achievement" by Taoiseach Leo Varadkar, and are being celebrated as one of Ireland's top sporting successes of all time.
Greeting the talented sports stars as they arrived in Dublin Airport on Monday morning, Minister for Sport Shane Ross said while the team had been defeated; reaching the last two had been a great victory for the Irish.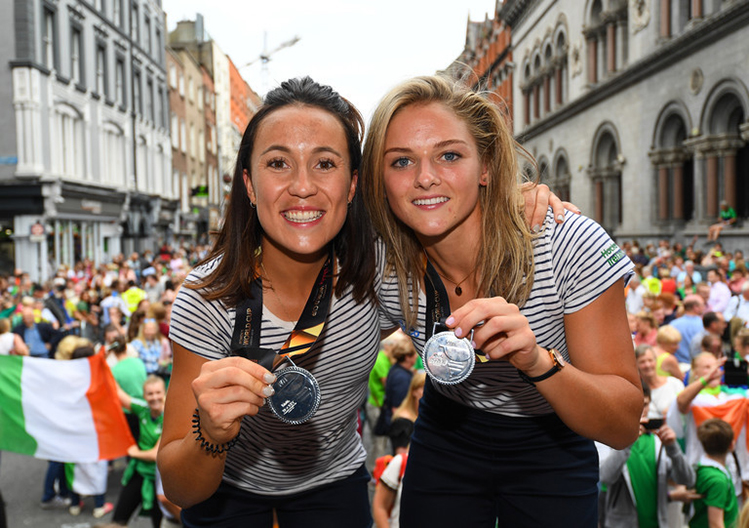 UCD Ad Astra Elite Athletes Anna O'Flanagan, left, and Chloe Watkins during their homecoming at Dame Street in Dublin Credit: Ramsey Cardy/Sportsfile
The Ireland squad and staff during their homecoming at Dame Street in Dublin after finishing second in the Women's Hockey World Cup in London Credit: Ramsey Cardy/Sportsfile
He added it must be remembered too that it was an amateur team against professionals.
Mr Ross then announced €1.5 million in extra funding for teams preparing for the Olympic Games in Tokyo in 2020, much of which he promised would go to the hockey team.
What a day! @IreWomenHockey pic.twitter.com/znCZNwlNfE

— Irish Hockey (@irishhockey) August 6, 2018
President Michael D Higgins said the underdog team had broken new ground, and praised the side for inspiring a nation.
"To reach the final was a fantastic accomplishment and to do so with such skill, dedication and team spirit is truly inspirational," he said.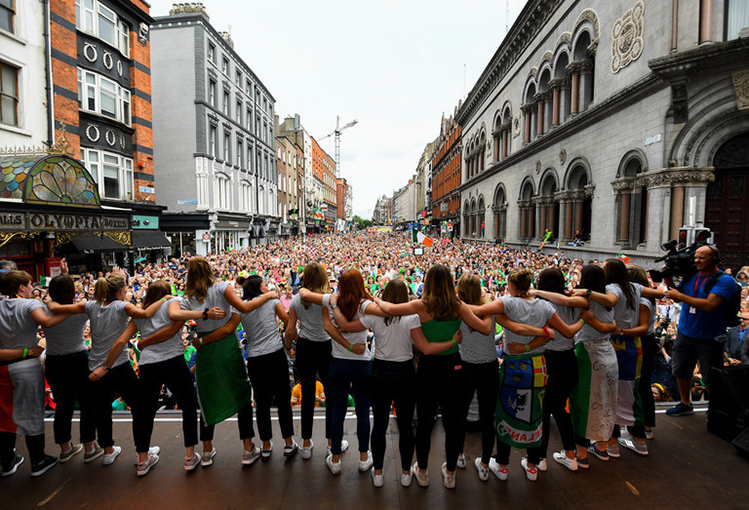 Thousands of fans packed into Dublin's Dame Street to give the team a hero's welcome Credit: Ramsey Cardy/Sportsfile
"This team has broken new ground for Irish hockey and Irish sport and their momentous achievement will encourage young women and men all around the island of Ireland to take up sport."
Speaking after arriving home, team captain Katie Mullan left little doubt what the next goal is.

"We've never played in a World Cup, now we have. We've never played in an Olympic Games, now that's our next goal.

"It's been incredible. Hopefully young girls will look at this story back home and say that they want to be sporty, be in a team and go for it."
By: David Kearns, Digital Journalist / Media Officer, UCD University Relations