UCD Ladies stars determined to use overseas play to build on silver legacy
Posted 16 August, 2018
Silver medal Hockey World Cup winners and UCD Ladies stars Deirdre Duke, Katie Mullan and Elena Tice
UCD Ladies captain Deirdre Duke and Irish skipper Katie Mullan are heading to Germany to begin their pro careers.
The pair believe the decision will have "huge benefits" for both themselves and their teammates.
Investment in women's hockey is needed if Ireland hopes to build on the World Cup legacy.
Two of UCD's finest have become the latest Hockey World cup stars to be snapped up by a professional team abroad.
Fresh from their fairy tale World Cup journey, former UCD Ladies captain Deirdre Duke and Irish skipper Katie Mullan will be heading to Germany next week to begin their pro careers.
Netting Ireland's opening goal in the 2018 Women's Hockey World Cup, law graduate Duke will be joining Düsseldorfer Hockey Club for their upcoming season.

"The last few weeks have been what dreams are made of," said the striker. "I don't think any of us expected everything that's happened."

Having returned to Ireland's senior women's panel in 2017, after leading the UCD Ladies to a treble, the 26-year-old said she believes the move overseas will help her become an even better player.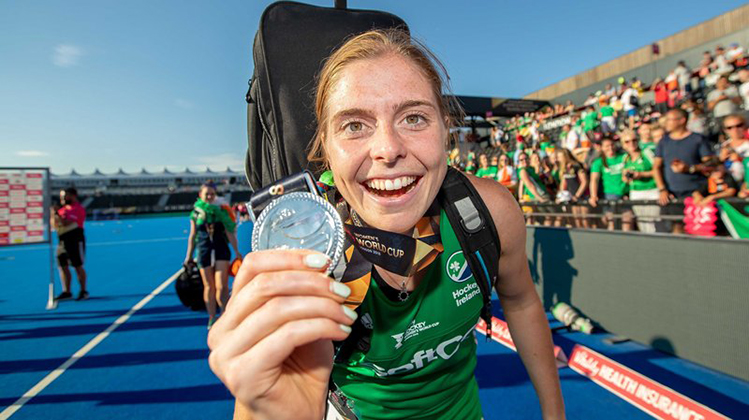 Irish captain and former UCD Ladies hockey star Katie Mullan with her silver medal in London
Echoing this sentiment, Katie Mullan said the decision to play in the German Bundesliga League would likely have "huge benefits" for both players and their teammates.

"It's good for us to get experience with different styles of hockey and different levels, and we'll be able to bring back the lessons we've learned aboard and past them on to the other girls on the team," she said.
Recently graduating with a Masters degree in Biomedical Engineering the Irish captain hasn't yet revealed which club she will be playing for in Germany due to on-going contract negotiations.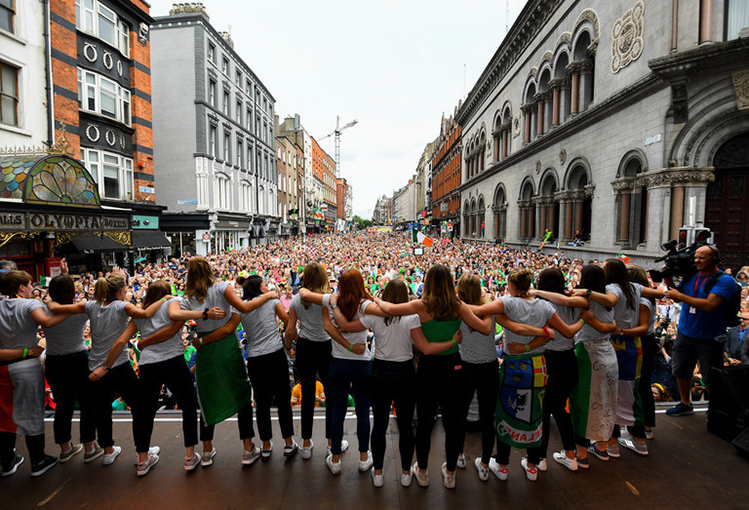 Thousands of fans poured into Dublin to give the Hockey team a hero's welcome on their return from the World Cup
The pair join fellow UCD graduate Nikki Evans, who is set to start her second season with UHC Hamburg.

Other UCD alumni on the Irish squad playing overseas included Anna O'Flanagan and Chloe Watkins, who signed with Bloemendaal in the Netherlands last season.
In total, there were nine current and former UCD students selected for the Ireland's senior women's hockey panel, seven of whom were Ad Astra Elite Athletes.
Despite their success in London, Mullan and Duke said there was an urgent need for more investment into women's hockey in Ireland to grow the sport and build on the World Cup legacy.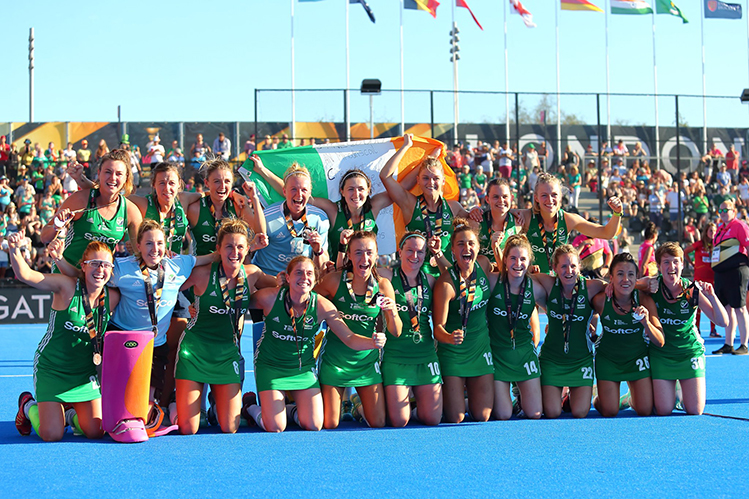 The Irish team celebrating their historic Hockey World Cup win in London
"With each tournament we always try to have very intense blocks where we squeeze six to nine months of preparation into just five weeks," said Duke.

"If we had the resources to allow us more prep time, it's scary to think what we could actually be capable of."
Joined by winning teammate, and 2nd year Economics student, Elena Tice for a special reception on campus this week, the hockey stars said they were very grateful for all the support they'd received from UCD Sport and the Ad Astra Academy during their time at UCD.
By: David Kearns, Digital Journalist / Media Officer, UCD University Relations