Calling all cyclists: Self-fix bicycle stations rolled out on the Belfield campus
Posted 19 December, 2018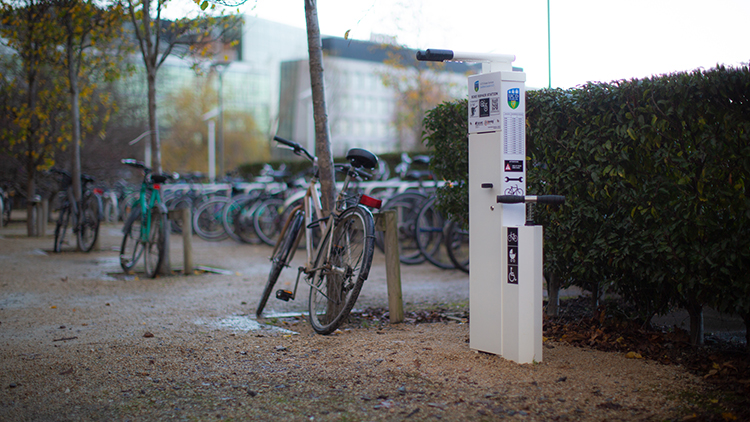 New self-fix bicycle repair stations have been installed at three locations across the Belfield campus at
University College Dublin
.
Each kiosk features an air pump to reflate flat types and is equipped with a range of tools to keep bikes in working shape.
According to
UCD Estate Services
, who installed the repair stations, UCD Belfield is the single biggest cycle destination in Ireland with over 7,000 cycle journeys to the campus on an average term day.
"The university has a strong and active cycling community," said John Fahey, UCD Facilities Manager. "Some 24% of our staff and 19% of our students cycle to campus."
"We are continually looking for ways to promote and foster an active commute to campus - commutes that are more sustainable and come with real health benefits."
Our new bike repair stations are now installed outside the Student Centre, James Joyce Library & Glenomena Res. Each station has integrated tools & pump with recommended pressures. We hope to have more on Belfield & Blackrock in 2019 #smartertravel pic.twitter.com/zj2fXoxjL7

— UCD Estate Services (@UCDEstates) 30 November 2018
Making bicycle repair accessible and easy is an additional way to support the existing cycling community and encourage others to take up cycling to campus.
There are plans to roll out more self-fix bicycle repair stations and cycle parking at the following locations in 2019: Newstead/Richview, Ashfield/Belgrove, Sutherland/Quinn, Roebuck Castle Residences and the Blackrock campus.
By: David Kearns, Digital Journalist / Media Officer, UCD University Relations