Ten awardees honoured for excellence at UCD Smurfit School Business Journalist Awards
Posted 6 December, 2018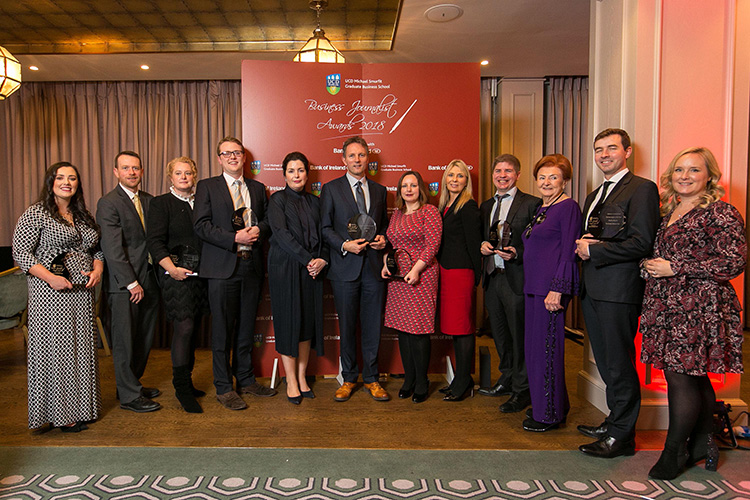 The ten journalists recognised for excellence at the UCD Smurfit School Business Journalist Awards 2018, alongside Breege O'Donoghue, Chair of Design and Craft Council of Ireland, and Francesca McDonagh, Group CEO of the awards sponsor, Bank of Ireland
Ireland's leading business journalists have been honoured at the 2018 UCD Smurfit School Business Journalist Awards.
The awards, which recognise excellence in business journalism in print, broadcast and online formats are run in conjunction with the Business Journalists Association of Ireland.
The winners of the six categories for 2018 were:
Business News Story: Dearbhail McDonald, Shane Phelan & Samantha McCaughren, Sunday Independent for their submission: "ODCE claims INM data taken off site and 'interrogated' but 'board did not know'".
Business Analyst: Stephen Kinsella, The Sunday Business Post.
Business Feature: Tom Lyons, Sunday Business Post for his submission on "Siteserv: Anatomy of a deal".
Specialist Business Reporter: Fiona Reddan, The Irish Times.
Business Interview: Laura Slattery, The Irish Times for her interview with Mike Bloomberg: "Make America Great Again? It's never been greater".
Upcoming Journalist of the Year: Jointly awarded to Peter Hamilton, The Irish Times and Amy Molloy, Irish Independent.
In addition, RTÉ's Europe Editor Tony Connelly received the Outstanding Achievement Award for his contribution to business journalism.

He was recognised in particular for his reporting on key events in Europe and how they impact on economic affairs, business and society.
In presenting the award to the RTÉ journalist, Breege O'Donoghue, Chair of the panel of judges, spoke of his ability to quickly digest the geo-political complexities of rapidly changing events such as the financial crisis and, more recently, Brexit.
She said Mr Connelly made such stories both comprehensible and vivid, incorporating human interest as a way of communicating the impact these events will have on business, economic affairs and society in this country and elsewhere.
Just seven other journalists have been recognised with the Outstanding Achievement Award, including Frank Fitzgibbon, Brendan Keenan, Cliff Taylor, Damien Kiberd, Richard Curran, Matt Cooper, Charlie Weston and last year's awardee, Ingrid Miley.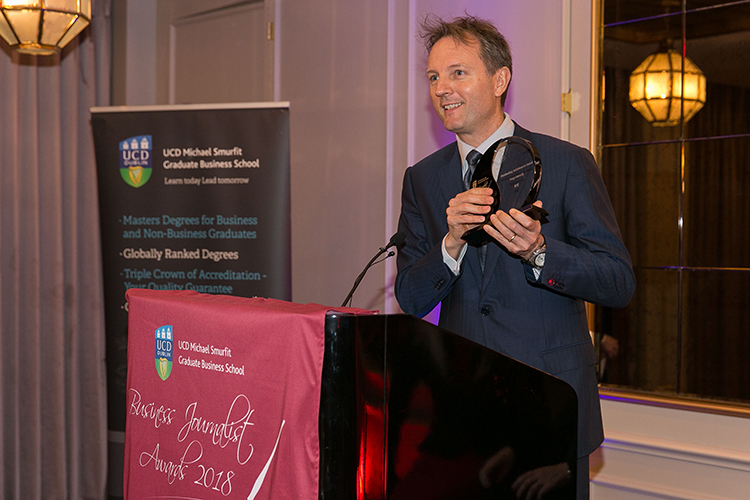 RTÉ's Europe Editor Tony Connelly receiving the Outstanding Achievement Award for his contribution to business journalism
Professor Anthony Brabazon, Dean, UCD College of Business, said: "[At] the Smurfit School we seek to acknowledge the very best of business journalism; work which enriches the public's understanding of critical issues of the day and how they impact business and society.
"The individual and collective endeavours of business journalists are hugely important in an increasingly uncertain and complex world where independent, trusted and high quality business journalism plays an increasingly crucial role."
Francesca McDonagh, Group CEO of the awards sponsor, Bank of Ireland added: "The range of categories and the breadth of subject matter dealt with in the winning entries demonstrates clearly the versatility and capability of Irish business journalists who, irrespective of broadcast or publication format, deliver extensive reporting at the highest standard consistently."
By: David Kearns, Digital Journalist / Media Officer, UCD University Relations