Video: Hanna Sheehy Skeffington portrait given pride of place in social sciences building bearing namesake
Posted 7 December, 2018
A new portrait honouring one of Ireland's fiercest advocates for women's rights and equality, Hanna Sheehy Skeffington, now hangs in the UCD building that bears her namesake.
The painting of the tireless activist was done by Dr Daniel Crean, from UCD School of Veterinary Medicine, and is part of his collection honouring those who have fought for civil and political rights across the globe.
"I paint as a hobby and over the last ten to eleven years I've painted a collection of people that I would admire," said the artist.

"Hanna Sheehy Skeffington would be among them, alongside Rosa Parks and Víctor Jara, and I'm delighted to have found a home for her portrait."
Recently the Chilean Government decided to hang one of Dr Crean's portraits in the lobby of its embassy in Dublin.

The painting is of Víctor Lidio Jara Martínez, a Chilean teacher and political activist tortured and murdered during the dictatorship of Augusto Pinochet.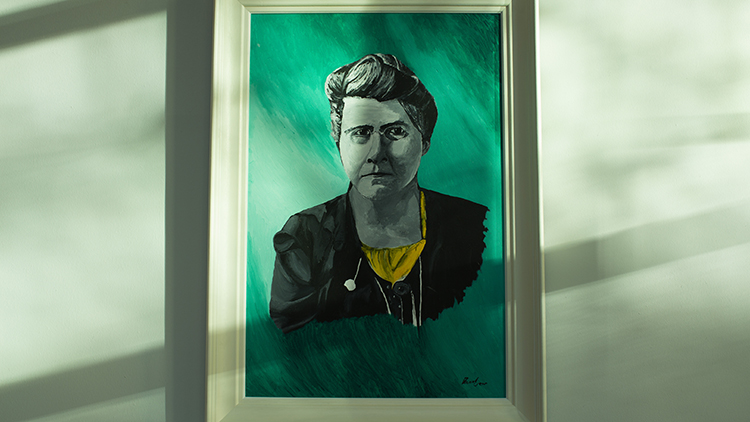 The painting of Hanna Sheehy Skeffington, done by Dr Daniel Crean, now hangs in the entrance lobby of the the UCD building that bears her namesake
"I do a lot of running around campus, and I pass the Hanna Sheehy Skeffington building often. Everything I ran by, the front lobby was quiet dark so I thought I'd donate my painting [of Hanna] to UCD to have something bright in the room," added Dr Crean.
The artistic tribute to Hanna Sheehy Skeffington comes as Ireland marks the centenary of Irish women winning the right to vote.
"We're very proud here in the Hanna Sheehy Skeffington building to have it named after Hanna; and it is great to come to work each day now and see her up on the wall and be able to say hello," said Dr Mary McAuliffe, from the UCD School of Social Policy, Social Work and Social Justice.
"For Hanna, the inequalities in society based on gender were always something she needed to campaign against, to resist and transform.
"Without her, and our foremothers who campaigned for equality for women, we wouldn't be as far along the route to equality."
2/2 And thanks to our colleague Dr @MaryMcAuliffe4 for organising this occasion to mark the huge contribution of Hanna Sheehy Skeffington pic.twitter.com/LBXhjz9pLe

— UCDSocialPolWorkJust (@UCDSocialPWJ) November 30, 2018
Speaking to a crowded lobby at the unveiling of the portrait, UCD President Professor Andrew J Deeks praised Hanna Sheehy Skeffington and other Irish suffragettes for fighting for equality.
The activist and her husband Frank were lifelong campaigners for women's rights and equality.
When they married in 1903, the couple took each other's names as a mark of honour and respect.
The registrar at University College until he resigned in protest over its refusal to allow women to attend, Frank, a pacifist, was wrongfully arrested and then murdered by British soldiers during the 1916 Rising.
In 1908, the pair formed the Irish Women's Franchise League (IWFL), which would become Ireland's largest suffrage group.
On 13 June 1912, Hanna and seven other women were arrested for smashing the glass windows of Dublin Castle as part of a protest.
She spent a month in Mountjoy prison after being convicted, followed by another month after they refused to pay a fine.
In 1920 she joined Dublin Corporation as a councillor and in 1926 she joined the first Fianna Fáil executive but left, as she did not agree with taking an oath to join the Dáil.
An outspoken critic of the 1937 Constitution, she ran unsuccessfully for the Dáil with the Women's Social and Progressive League.
Her forthright manifesto was typical of her efforts to ensure equal rights for all. It read: "Under the 1916 Proclamation, Irish women were given equal citizenship, equal rights and equal opportunities, and subsequent constitutions have filched these, or smothered them in mere empty formula."
By: David Kearns, Digital Journalist / Media Officer, UCD University Relations