UCD A.F.C veteran Tony Sheridan honoured as 'Graduate of Year' at University's Sport Clubs AUC Awards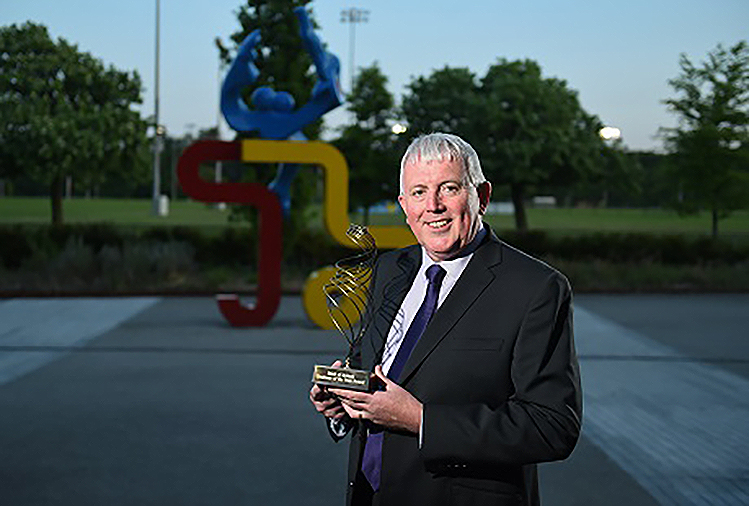 Posted 12 June, 2018
University College Dublin A.F.C stalwart Tony Sheridan has been honoured as Bank of Ireland's 'Graduate of the Year' for his 40 years of service to the sport club.
At this year's Sports Club AUC Awards ceremony in the UCD Student Centre, where over 350 students from 24 different sports clubs were celebrated for their sporting achievements on behalf of the University over the past 12 months, Tony was named as the recipient of this year's award.
Currently acting as club treasurer, Tony's dedication to UCD A.F.C over the last 40 years has been credited with with its success at all levels, including the League of Ireland, Colleges Teams, Leinster Senior League and even the Superleague.
His association with the club began as a player in the Superleague during his own studies but it was not long before he took the reins as player manager for the UCD 3rd team.
Tony would later formed a very successful managerial partnership with Diarmuid McNally, and the pair would steer UCD A.F.C to numerous Leinster Senior League Cups, seven Premier League titles, and 10 league promotions during their 15 years at the helm.
When he finished his degree in Commerce, Tony was asked to join the Executive Committee of the club, where he has remained to this day.
"Throughout his time with the club he has been central to the clubs community ethos of providing football for as many students, at all levels," said UCD A.F.C.
"There is practically no aspect of the club that Tony Sheridan has not played a part in, whether its stadium manager of the Bowl, managing teams, running the Superleague, managing the club finances or playing himself.
"He has enhanced the lives of thousands of students who have passed through the Soccer Club at every level.

By: David Kearns, Digital Journalist / Media Officer