Fixed-odds betting machines are devastatingly addictive – why it's right to cut maximum stakes
Posted 14 November, 2018
Crystal Fulton, University College Dublin
MPs rebelled, a minister resigned and the UK government was forced to change tack. No, this is not Brexit. It's fixed-odds betting terminals(FOBTs), the incredibly addictive machines that are often found in betting shops.
The government had promised to reduce the maximum stake that people playing FOBTs would be limited to just £2 per play from April 2019. This is the figure recommended by the Gambling Commission regulator – a dramatic reduction in price from the current £100 limit. But the chancellor announced in his budget that this reduction would be pushed back to October 2019. This would have allowed bookmakers to make an estimated £900m extra from FOBTsin the meantime and the government a lot more in tax revenues.
The move prompted sports minister Tracey Crouch to resign from the front bench of British politics and a growing number of MPs from across the political divide to call the government out for its decision to delay. It has bowed to the pressure and will once again reduce the maximum stake to £2 from April 2019.
The fact is, FOBTs are so addictive that they have been labelled the "crack cocaine" of gambling methods, encouraging gamblers to play quickly and continuously.
Studies looking at a cross section of the UK population have long recognised FOBTs as contributors to harmful gambling. The 2010 British Prevalence Study, which was the government's last big investigation into the UK's gambling habits, found that certain types of gambling, including FOBTs, were strongly connected to harmful gambling. They offer a number of games, commonly roulette or sports race games, which enable easy and fast play.
My research into the effects of gambling in Ireland also reveals how highly addictive FOBTs are. Ireland, unlike the UK, has no legislation controlling or prohibiting FOBTs. I carried out Ireland's first national study of the social impact of gambling, Playing Social Roulette. and in this it was clear that FOBTs were particularly bad for getting people hooked extremely quickly.
Not everyone who gambles has a problem, but harmful gambling happens when someone experiences difficulty with their impulse control and gambling becomes a compulsive activity for them. Gamblers Anonymous defines compulsive gambling as an illness. It is progressive in nature and can never be cured, but it can be stopped. As one young male participant in my study explained addiction through FOBTs:
They are programmed to give you small wins and then you get into a false sense of contentment where you think, I have won this amount, so maybe I am going to win some more. But what it does is it just takes everything then. Once you decide to play on, it takes all your winnings until you are left with nothing.
He went on:
… you enter like a trance like state. It is almost like a euphoria, you become like a zombie, you are just watching this ball shoot out every 30 seconds and land in a space.
The people in my study spoke of being exposed to gambling in their early years. Technology like FOBTs accelerated the amount they would play and would get them hooked. The gambler experiencing harm would spend continuously to feed their habit, motivated for example, by excitement, an escape from stress and negative emotions, and boredom.
The devastation caused by addiction through FOBTs was equally swift as addiction. For instance, one participant's mother spoke of her grief to see her otherwise capable son afflicted and how the addiction crept up on them both. Participants in my survey who started playing FOBTs at a young age sought treatment for gambling addiction as soon as their early 20s.
Beyond FOBTs
FOBTs are but one of the many technologies that support gambling and increase people's ability to play and to play more quickly. The rise of smartphones and online gambling websites, for example, make it quicker and easier for people to play. This also enables people to play secretively and hide their gambling from family and friends.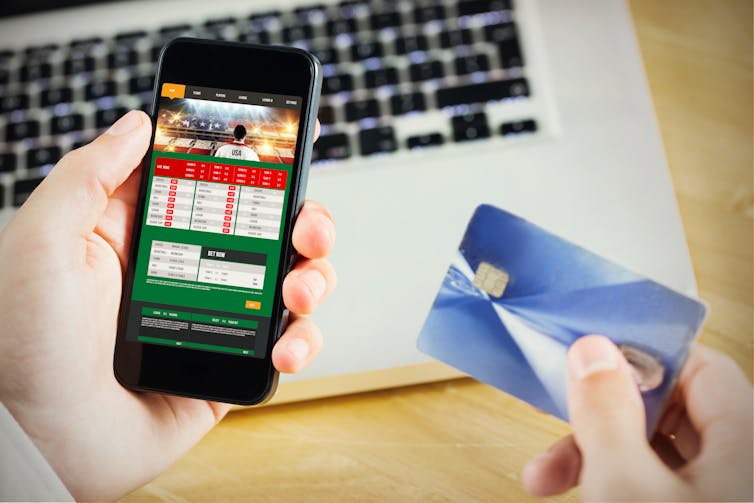 The ubiquity of smartphones makes betting easier – to do and to hide. Shutterstock
This was clear in Playing Social Roulette. Wives of gamblers, for example, spoke of being aware that their husbands were suffering, but put it down to marital issues rather than the fallout from gambling addiction.
So regulations need to do more than limit FOBTs – they need to address multiple technologies and the addiction that they facilitate. It's also important to recognise that this is a social issue, as much as a financial one. While gambling addiction may seem to be just about how much money people lose, the impact on people's lives is also a significant part of the price people pay. Putting regulation into place that recognises this and protects the vulnerable should be a priority.
Crystal Fulton, Associate Professor of Information and Communication Studies, University College Dublin
This article is republished from The Conversation under a Creative Commons license. Read the original article.