IOP Communicator Award for UCD physics postgraduate
Posted 26 November, 2018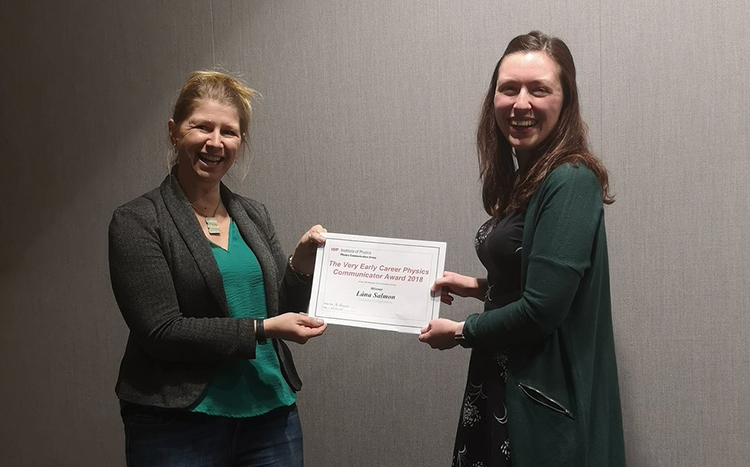 Science Made Simple founder and Cardiff University Lecturer Wendy Sadler with UCD Graduate Lána Salmon
One of the world's leading scientific bodies, the Institute of Physics (IOP), has named UCD PhD student Lána Salmon as the winner of its Early Career Physics Communicator Award.
The 23-year-old, from the UCD School of Physics, was selected as this year's recipient for her work to promote science and break down stereotypes; doing so in blogs, essays and Youtube videos, along workshops and activities with schoolchildren and adults.
One of four finalists competing for the award, an annual prize given by the Institute's Physics Communicators Group, Ms Salmon impressed the judges with her involvement in a number of different 'accessibility in science' outreach programmes.

The young scientist was especially praised for her efforts to translate scientific texts into Irish.
It's such a pleasure to meet inspirational physics communicators. Thank you so much @IOPPhysComm. Huge thanks also to @IrishResearch for funding me and everyone at @ucddublin @ucdscience and my family who support me - too many to mention, but you know who you are! #PhysCommAwards https://t.co/QhHKfMFiDW

— Lána Salmon (@Lana_Salmon) November 23, 2018
"I've been working a lot on breaking down stereotypes in science, and in challenging people's biases when it comes to studying it," she said.
"My big focus has been on opening up the idea of studying science to everyone, and to show children and their parents how exciting Irish science is and the opportunities it presents."

She added: "It's been a great experience sharing my passion with people, especially with those who don't get the opportunity to learn more about it."
An Irish Research Council funded postgraduate working with the UCD Space Science group, Ms Salmon currently leads the ground development for Ireland's first ever satellite, EIRSAT-1.
Once in orbit, the satellite will communicate data to Earth through a ground radio station located at mission control in the UCD School of Physics.
.@wendyjsadler @scimadesimple handing the award to @Lana_Salmon #PhysCommAwards pic.twitter.com/86bnKYA6pV

— IOP PhysComm (@IOPPhysComm) November 23, 2018
Speaking after her IOP win, Ms Salmon said she hadn't expected her name to be called out but felt "very grateful for being nominated", and thankful to everyone who helped her along the way.

"The other people on stage with me had all done some amazing projects. It was a real pleasure to hear about their incredible outreach activities," she added.
Based in London, the Institute of Physics is a scientific charity with over 50,000 members worldwide working on advancing physics in education and research.
By: David Kearns, Digital Journalist / Media Officer, UCD University Relations