University celebrates latest honorary degree recipients
Posted 14 September, 2018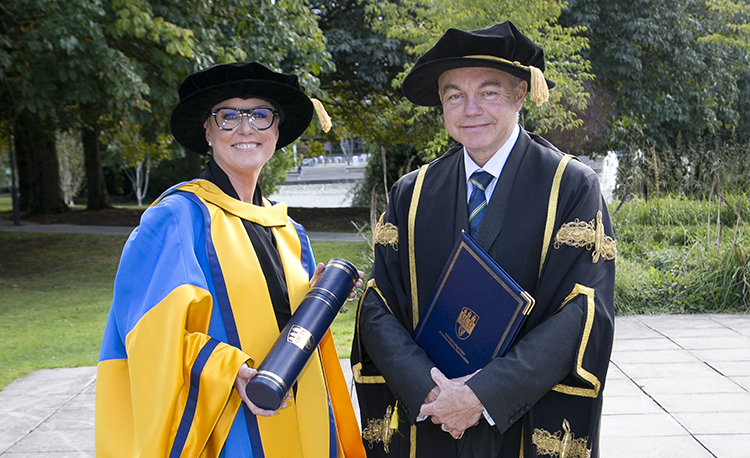 Seven outstanding leaders across the fields of engineering, sociology, financial services and creative arts have had their career achievements recognised by University College Dublin.
As friends and families gathered to celebrated the academic achievements of their loved ones, the University presented a series of honorary degrees at this semester's conferring ceremonies.
Among the recipients were arthroplasty pioneer Professor John O'Connor, Riverdance co-founder Moya Doherty, Concern Worldwide founder John O'Loughlin Kennedy, renowned American sociologist Dr Randall Collins, human rights campaigner and founder of Frontline Defenders Mary Lawlor, leading financial economist John McConnell, and business analyst Professor Gary Paul Pisano.
These seven prominent individuals were honoured not just in recognition of their accomplishments, but to reaffirm UCD's own commitment to excellence.
Professor John O'Connor - Honorary Degree of Doctor of Science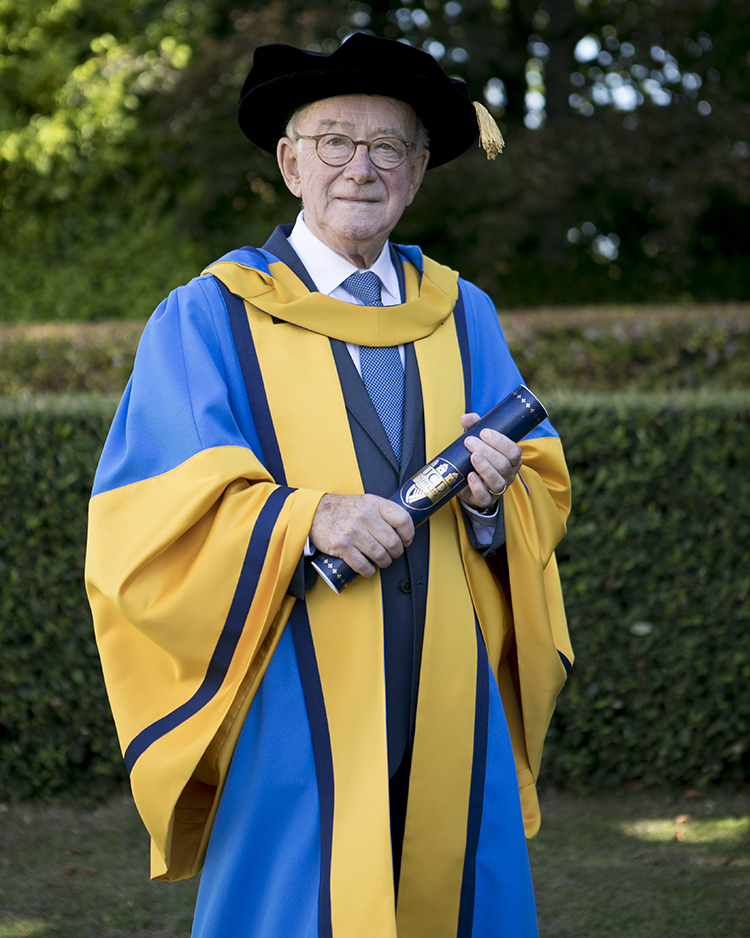 A graduate from UCD Engineering with a BE in Mechanical & Electrical Engineering in 1956, Professor John O'Connor brought pain relief to hundreds of thousands with the development of his revolutionary 'Oxford Knee'.

An alternative to a total knee replacement, the minimally invasive procedure allows patients to experience much less pain and enjoy a quicker recovery time.
Based on collaboration with orthopaedic surgeon John Goodfellow, the implant is one of the great medical discoveries on display in the University of Oxford.
Reading the citation, Professor David FitzPatrick, Principal at UCD College of Engineering & Architecture, said it was fitting given it is the centenary year of the UCD BE degree award.
Dr Randall Collins - Honorary Degree of Doctor of Literature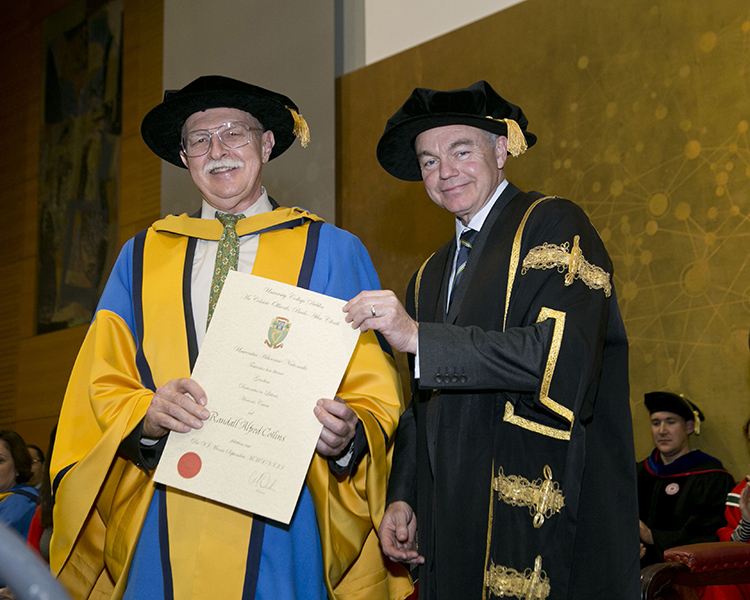 Dr Randall Collins with UCD President Professor Andrew J Deeks
One of the world's foremost sociologists and the leading American sociologist alive today, Dr Randall Collins has published more than a hundred articles and books since finishing his undergraduate education.
One of the few academics to have predicted the fall of the Soviet Union long before such a possibility was considered, his work has become required reading for students across the world.
Introducing Dr Collins on behalf of the School of Sociology, Dr Steven Loyal praised him for being a rigorous and assiduous analyst who had kept his writing accessible to a wider audience.
Moya Doherty - Honorary Degree of Doctor of Literature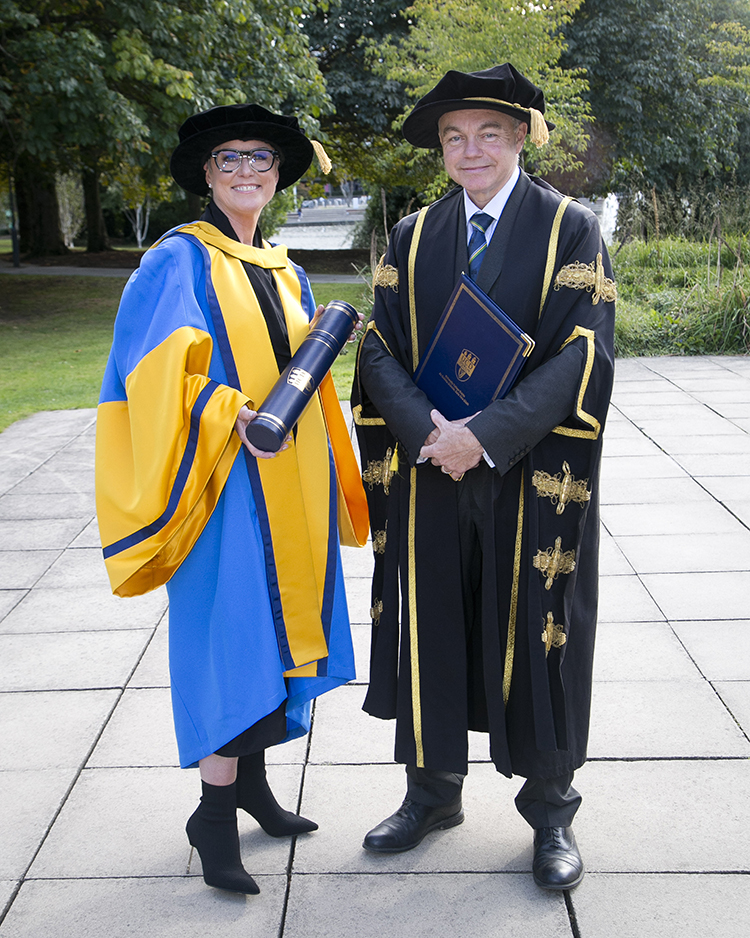 Moya Doherty with UCD President Professor Andrew J Deeks
As a pioneering broadcaster and executive director, Moya Doherty has played a seminal role in the nurturing and development of creative talent in Ireland and beyond.
It was as Commissioning Producer and originator of Riverdance for the Eurovision Song Contest of 1994 that she created a moment of cultural exuberance shared across Ireland, Europe and the wider world.
Now almost quarter of a century removed from that night, Riverdance has been seen live by 25 million people in over 500 venues worldwide and has won numerous prestigious honours, including a Grammy award in 1997.
"Her body of work truly has had a global impact," said Dr PJ Mathews, School Of English, Drama & Film, who gave the citation at the graduation ceremony.

"In parallel, Moya has worked tirelessly as a champion of the Arts, and as a cultural ambassador for Ireland on the world stage for over twenty years.
Mary Lawlor - Honorary Degree of Doctor of Laws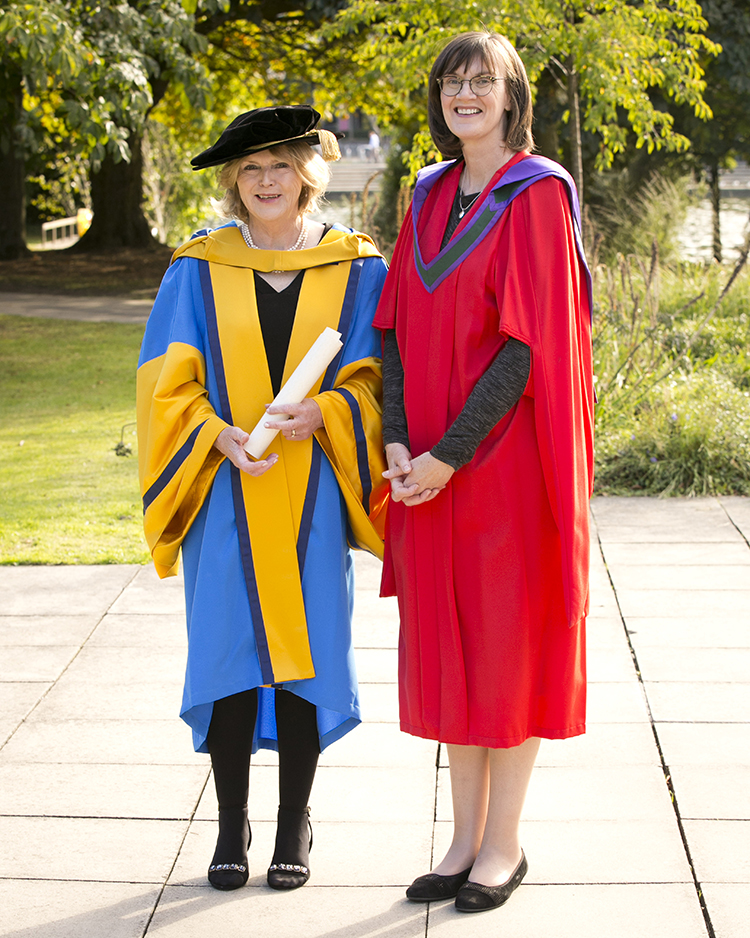 Mary Lawlor with Professor Suzanne Egan
Mary Lawlor's name is synonymous with the organisation that she founded in 2001, Frontline Defenders – a group dedicated to supporting people throughout the world who are at risk because of their work in promoting and safeguarding those rights enshrined in the Universal Declaration of Human Rights.
With patience, insight and integrity, Ms Lawler has spent 15 years building Frontline Defenders into a leading voice in exposing the plight of human rights defenders globally.

The organisation is a vital force in the development of Irish foreign policy, as well as at EU and UN level.
Speaking on the occasion of the conferring, Professor Suzanne Egan, School of Law, said she was humbled by Ms Lawlor's pioneering work.

"The University is proud to confer upon Mary the degree of Doctor of Laws for the distinguished work that she has done for the cause of human rights over many decades – for her energy, commitment, her courage and her leadership in making human rights central to improving our local and global society."
Professor John J McConnell - Honorary Degree of Doctor of Laws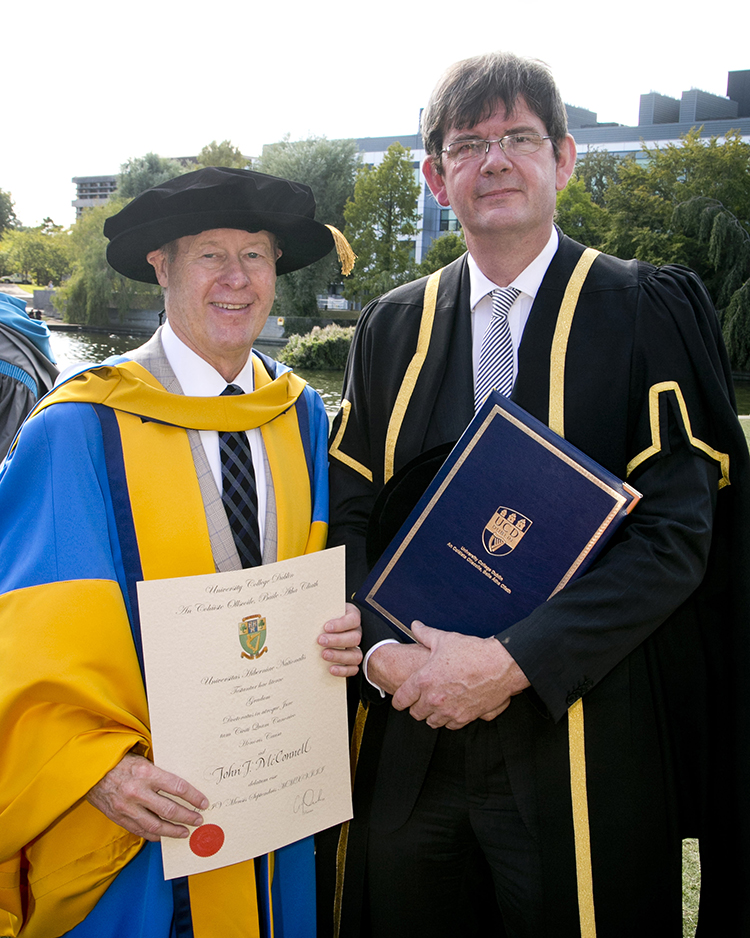 Professor John J McConnell with Deputy UCD President and Acting Registrar

Professor Mark Rogers
Professor John J McConnell is a leading financial economist, and is renown for his stellar leadership in the finance discipline.
The Burton D. Morgan Distinguished Chair of Private Enterprise (in Finance) at the Krannert Graduate School of Management at Purdue University, where he has spent much of his career, Prof McConnell has repeatedly won many teaching awards throughout his career.
He has published more than 100 articles in leading peer-reviewed finance, economics and management journals and edited books, and has served on the board of numerous financial institutions in the united States.
A strong relationship with UCD, Prof McConnell has been a member of several advisory boards at the University.
"Developing global relations with people of the pedigree of John McConnell ensures success in our pursuit of our global brand," said Professor John Cotter, UCD School of Business, during the introductory address.
John O'Loughlin Kennedy - Honorary Degree of Doctor of Science
Graduating with a BA in Economics from UCD in 1953, John O'Loughlin Kennedy has had an illustrious career in both the private and public sectors.

However it is for his significant contribution to relieving the suffering of the world's poorest for which he is best known.
Alongside his wife, Mr O'Loughlin Kennedy established Concern Worldwide.
Growing to become an institution with an annual turnover of more than €200m, the NGO is active in 25 of the poorest countries globally.

Alongside Concern Worldwide, Mr O'Loughlin Kennedy subsequently went on to be instrumental in establishing other equally reputable organisations including Aid link and the Irish Refugee Council.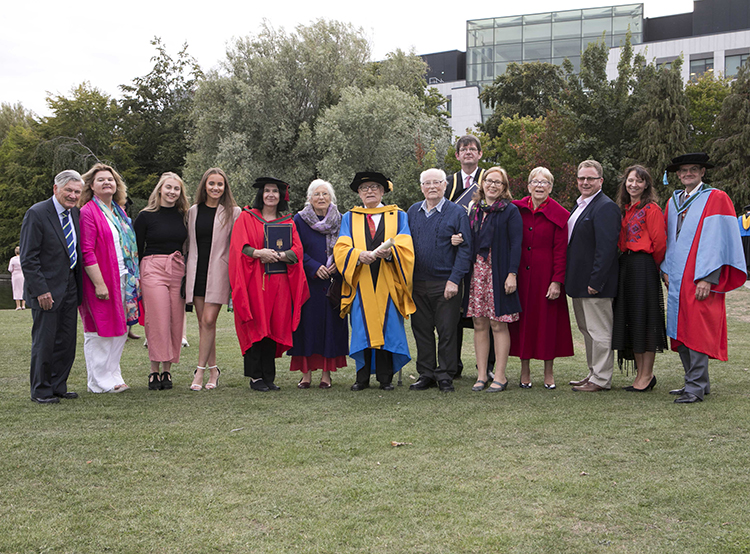 John O'Loughlin Kennedy alongside family, friends, and colleagues at the UCD campus
"We are living in a world with unprecedented levels of global advancement in science, technology and communications," said Pat Gibbons, Director at Centre for Humanitarian Action.
"Unfortunately, these developments are equally matched by growing levels of inequality, state fragility and historic levels of population displacement due to climate change, conflicts and protracted crises in far too many parts of our world."
"Few have been able to grapple with this challenge better that John O'Loughlin Kennedy.

"He has applied his economic competences at the highest levels in both the public and private sectors while successfully engaging with the aid sector to earn a reputation that counts him among the great Irish Humanitarians."
Professor Gary Paul Pisano - Honorary Degree of Doctor of Literature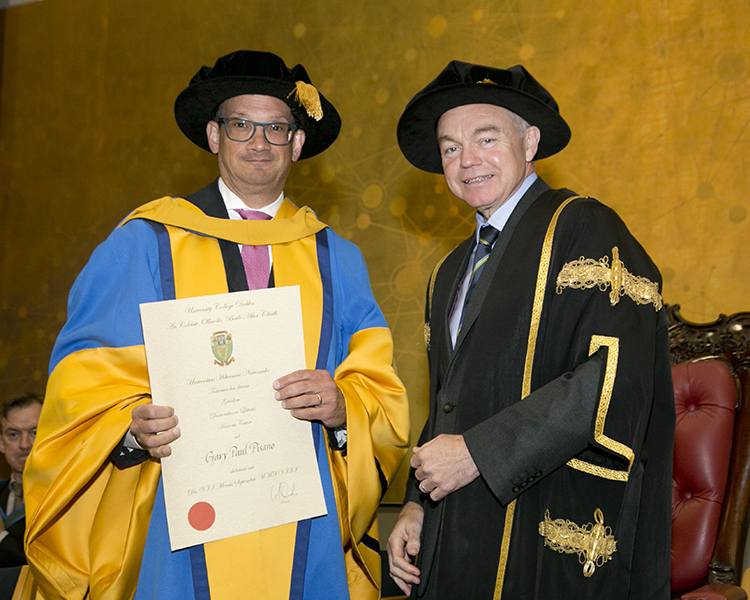 Professor Gary Paul Pisano alongside UCD President Professor Andrew J Deeks
Professor Gary Paul Pisano has dedicated his career to education and research of the world of business, and more specifically the question why the biotechnology industry has failed to delivery on its promise.
His critique of the industry provided a roadmap for companies and management teams who were looking for ways to improve their industry's performance.
His work has become the starting point for understanding and critically analysing the industry, and has helped promote its responsibility towards society.
"Professor Pisano's research and teaching shows that by a critical analysis and understanding of high technology industries, a conduit can be developed for continued diffusion of biomedical innovation into society acting as a powerful engine towards prosperity for all," said Professor Jan Rosier, School of Biomolecular and Biomedical Science, at the conferring ceremony.
By: David Kearns, Digital Journalist / Media Officer, UCD University Relations