Education Minister Richard Bruton launches RCSI and UCD Malaysia campus
Posted 20 September, 2018
‌
A new medical university established by Royal College of Surgeons in Ireland and University College Dublin has officially launched in Malaysia.

Irish Education Minister Richard Bruton was on hand to celebrate the opening of the RCSI & UCD Malaysia Campus (RUMC) in George Town, the capital city of the Malaysian state of Penang on Wednesday.

The Malaysian Governemnt approved the institution's upgrade to an International University Branch Campus in March this year, with its full name Royal College of Surgeons in Ireland (RCSI) and University College Dublin (UCD) Malaysia Campus.

The graduating class of 2019 will be the first to graduate under the new University name.

The campus is the only branch university of an Irish tertiary institution within Malaysia, and is one of only ten international branch universities in the country.
RCSI and UCD Malaysia Campus RUMC has been officially launched by Minister for Education and Skills @RichardbrutonTD https://t.co/VsRm8kLeJU #RUMC pic.twitter.com/t1z9xvmDJ1

— RCSI (@RCSI_Irl) September 19, 2018
The launch at the Penang campus was attended by Deputy Director General of Higher Education, Ministry of Education Malaysia, Dr Mohd Nor Azman Bin Hassan, along with the Irish Ambassador to Malaysia, His Excellency Eamon Hickey, RCSI President Kenneth Mealy, and Deputy UCD President Professor Mark Rogers.

The event was hosted by RUMC President & CEO, Professor Stephen Doughty, together with Vice President & Registrar Professor David Whitford, and Dean Professor Premnath Nagalingam.
"As we celebrate this momentous achievement as the first of many RUMC milestones we know that we are building upon more than 20 years of PMC's high quality Irish education delivery," said Professor Doughty.

"We continue to support the development of healthcare in Malaysia and were delighted to recently sign a MoU with the Ministry of Health to establish a new pathway for Family Medicine training for doctors in Malaysia."
The University is committed to offer more high quality, internationally recognized programmes to cater to the growing demands in the global healthcare sector, he added.

Established for more than 20 years ago, the institution provided Malaysia's first registrable medical degree from a Malaysian private higher education institution and is owned by Irish institutions, the RCSI and UCD.

Degrees are awarded by the National University of Ireland and are globally recognised. RUMC will continue to build on this history and will offer a high-quality Irish medical degree as well as other healthcare and related programmes at foundation, bachelors, masters and doctoral levels.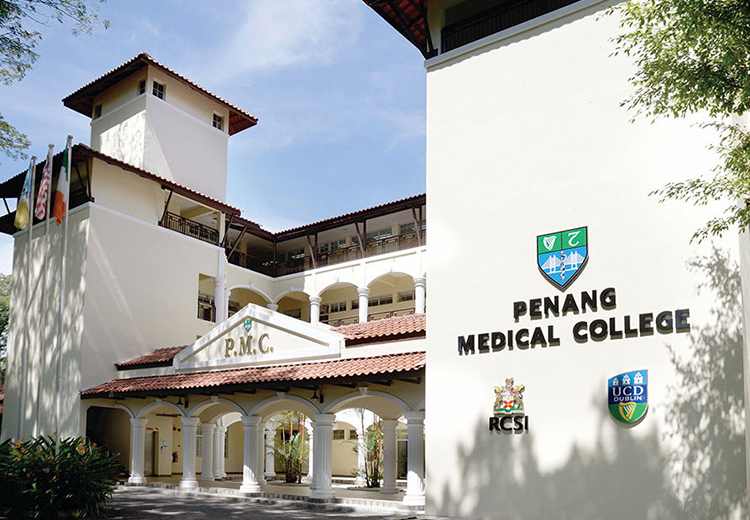 ‌
RCSI and UCD Malaysia campus, formerly known as the Penang Medical College
The newly launched institution will be better placed to inform the profession and the public about medicine, especially through hosting the prestigious Cochrane Malaysia network which focuses on dissemination of evidence-based medicine.

In addition, future plans to continue to increase research activity and output will ensure that Malaysia stays at the cutting edge of medicine development.

Core activities will remain as providing high quality, affordable Irish medical education in Malaysia and ensuring that our location in the northern corridor supports the region and its development.
Nearly 1,700 medical doctors have graduated from the institution with globally recognised medical degrees of the National University of Ireland (NUI) and practice in Malaysia, Brunei, Singapore, Ireland, UK, Switzerland, Malta, Australia, New Zealand, USA and many other countries.
By: Staff Writers, UCD University Relations