University College Dublin ranked 58th in first global THE impact ranking of universities
Posted 8 April, 2019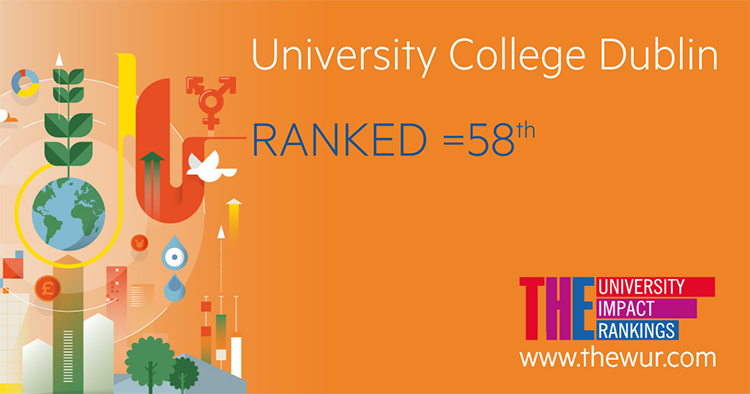 University College Dublin has been listed in the top 100 universities for its social and economic impact in the Times Higher Education's first ever University Impact Rankings.
The University ranked 58th in the world based on the use of the UN's 17 Sustainable Development Goals as benchmarks.
The seventeen SDGs provide a common framework for global action on sustainability, with a focus on major global issues such as quality education, gender equality, and an end to poverty and hunger worldwide.
UCD was ranked the top university in Ireland terms of creating a sustainable community across its campuses, coming in at 22nd globally, and 12th in the world when it came to its work practices.
More than 550 universities from around the world were assessed in this new ranking which aims to highlight those universities best achieving the goals set out by the UN.
Ireland is ranked second only to Canada as a national higher education system for its social and economic impact.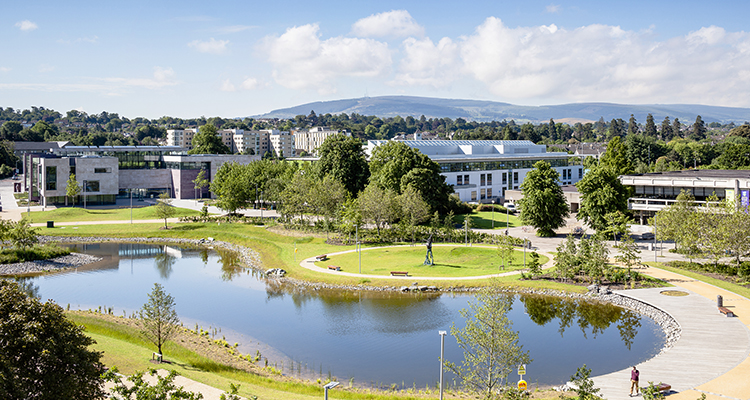 UCD was ranked the top university in Ireland terms of creating a sustainable community across its campuses, coming in at 22nd globally
Outlining UCD's social and economic impact, Vice President for Equality, Diversity and Inclusion and Dean of Social Sciences Professor Colin Scott said: "The new ranking recognises UCD's achievements and commitment to advancing the Sustainable Development Goals through its teaching, research, knowledge transfer and governance."
The University Impact Rankings listed UCD in five categories:
Goal 8 - Decent Work and Economic Growth
UCD ranked 12th in the world against this goal, recognising UCD's maintenance, development and implementation of robust policies on union recognition, pay, dignity and respect and equality, diversity and inclusion in the workplace.
UCD HR was recently awarded the CIPD National Awards both for best Diversity and Inclusion Policy and HR Team of the Year.
Goal 9 - Industry Innovation and Infrastructure
The university ranked 27th in the world against this goal recognising UCD's extensive research and innovation activities, for example growing research income and supporting new spin-off companies through Nova UCD.
Goal 11 - Sustainable Cities and Communities
Here UCD was recognised fors its strong commitment to sustainable commuting to the UCD Belfield Campus, its stewardship of heritage properties both at its Belfield and Blackrock campuses and at UCD's original home, Newman House.
Also considered by the rankings were UCD's Sculpture Trail, its participation in Dún Laoghaire–Rathdown County Council's Summer of Heritage activities, access to the University's libraries and heritage collections such as the UNESCO National Folklore Collection, the development and maintenance of UCD woodland walks for the whole local community, and support for students in the performing arts through UCD Ad Astra Performance Scholarships and UCD performing groups such as the world-renowned UCD Choral Scholars and UCD Symphony Orchestra.
Goal 16 - Peace, Justice and Strong Institutions
UCD ranked 50th in the world against this goal recognising the strong participation of students and community members in University governance.
Other measures included the University's efforts to address bribery and corruption in policies, its statutory commitments and policies on academic freedom, the routine publication of the University Annual Report and Consolidated Financial Statements, alongside extensive engagement with public policy activity nationally and internationally, for example through the UCD Geary Institute for Public Policy and continuing professional development activities for public servants.
Goal 17 - Partnership for the Goals
UCD ranked 95th against this goal which recognised UCD's sustained activities in supporting the development and impact of the UN Sustainable Development Goals, for example through Professor Paul Walsh's work representing universities in the UN Major Group for Science and Technology, through the activities of UCD Volunteers Overseas (UCDVO) partnering in Dublin in with film series, evening courses and conferences, and bringing students and staff in to overseas projects working with local partners in Haiti, India, Nicaragua, Tanzania and Uganda.
Also considered was the University's range of educational programmes, including the MPA in Development Practice, which partners with NGOs in support of student learning and the PhD in Global Human Development, delivered through a partnership with universities in Tanzania, Malawi, Zimbabwe and China.
The full rankings can be viewed at the Times Higher Education website.
By Staff Writers, UCD University Relations