UCD student competes for title of 'World's Best Science Communicator' at FameLab
Posted 12 April, 2019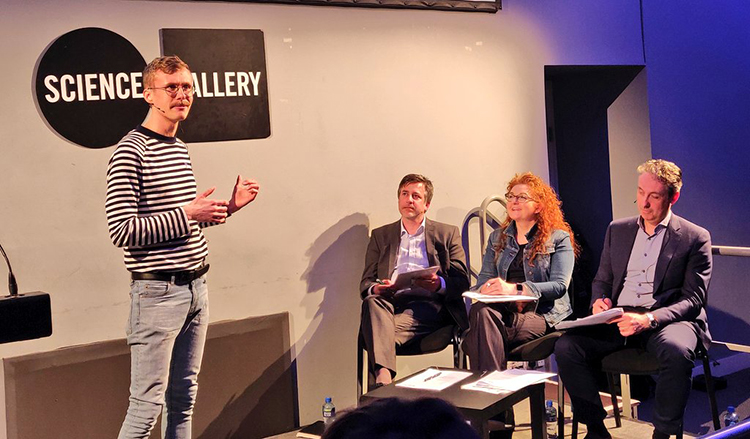 UCD student Hayden Wilkinson will compete for the title of 'World's Best Science Communicator' at the international finals of FameLab 2019.
Hayden won the right to represent Ireland after impressing judges during the Irish leg of the competition.
FameLab challenges scientists and engineers to explain scientific concepts to a general audience in just three minutes.
During his short presentation at Science Gallery Dublin, Hayden won over the judges with his talk entitled 'Designer Babies - The Good, the Bad and the Ugly' – which outlined the pros and cons of using genome-editing to engineer HIV-resistant babies.
And our winner is... Hayden Wilkinson! A huge congratulations to Hayden (could he look any more delighted?!) and don't forget to follow his journey to Cheltenham Science festival along with @newstalkscience! @asapspeak @UCD_Research #Believeinscience #famelab pic.twitter.com/FhzrFbubTv

— Famelab_Ireland (@Famelab_Ireland) April 11, 2019
This is the second time in two years that a student at University College Dublin has represented Ireland at the FameLab international finals, held each year at the Cheltenham Science Festival in the UK.
Last year, then first-year medical student Sharon Omiwole competed against science communicators from 27 different countries.
In 2014, Pádraic Flood, a UCD science graduate, beat off nearly rivals from 22 countries to be crowned that year's FameLab International Champion.
The FameLab International is organised by the British Council and takes place in around 30 different countries around the world.
In Ireland the event is managed by British Council Ireland, with funding from Science Foundation Ireland, and in collaboration with Newstalk 106-108fm and a range of higher education institutions including UCD, Trinity College Dublin, University College Cork, and NUI Galway.
By: David Kearns, Digital Journalist / Media Officer, UCD University Relations