Novelist and playwright Professor Frank McGuinness honoured by UCD
Posted 25 April, 2019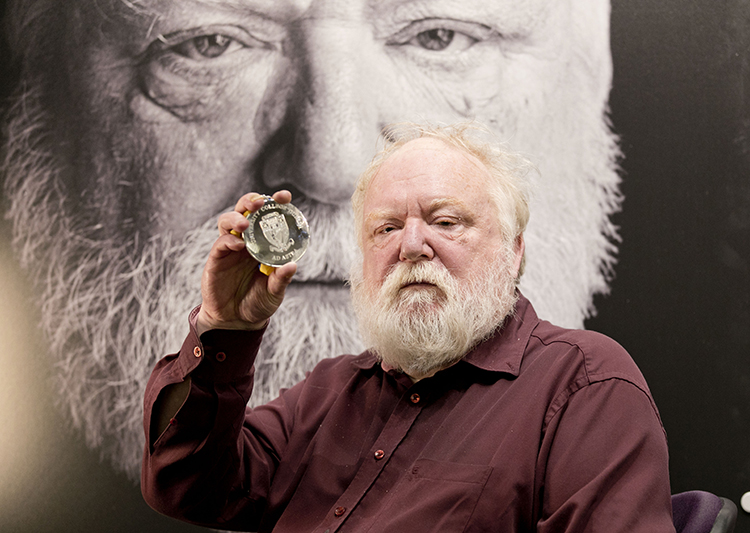 Irish playwright Professor Frank McGuinness has been awarded the UCD Ulysses Medal, the highest honour the University can bestow.
In recognition of his immense contribution to education and Irish literature, the Donegal native received the honour at a special ceremony marking his retirement from the UCD School of English, Drama and Film.
"Frank Mc Guinness's vision as a writer is prodigious, restless, all-encompassing and relentlessly questioning," said Professor Danielle Clarke, Head of the School.

"His super-abundant imagination has traversed topics as diverse as the life of Caravaggio, the Lebanese hostage crisis, Shakespeare in Ireland, the Gunpowder plot and the lives of Lizzie and Mary Burns, the Irish consorts of Engels and Marx in Manchester."
Describing Professor McGuinness as a writer who "constantly challenged himself" in the official citation, Professor Clarke detailed how the UCD academic had never been afraid to seek "out new horizons".
"He is known to most as a playwright and poet but he has also written film scripts, TV scripts, and libretti as well as a stage musical, Donegal," she said.

"In recent years he has turned to fiction and written two novels and one collection of short stories.
"Song and adaptation are the enduring threads running through his body of work," she added.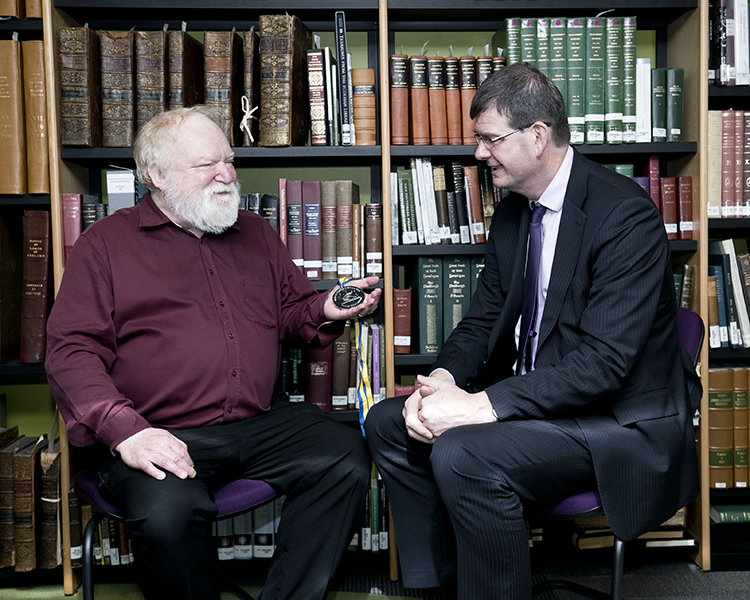 Professor Frank McGuinness with his Ulysses Medal alongside UCD Registrar and Deputy President Professor Mark Rogers
After graduating from University College Dublin, where he studied English, Professor McGuinness worked at several universities before returning to his Alma mater in 1997 as lecturer in English and creative writing.
He was later appointed to the Chair in Creative Writing, the first incumbent of this position at the University.
During the presentation of the UCD Ulysses Medal, Professor Mark Rogers, UCD Registrar and Deputy President, launched a new Frank McGuinness exhibition at UCD.
The exhibition 'From Creativity to Legacy' marks the ongoing transfer of Professor McGuinness' archive to UCD Special Collections, housed in the James Joyce Library.
Included are handwritten and typescript drafts of the playwright's most well-known and critically acclaimed plays such as The Factory Girls, Someone Who'll Watch Over Me and Observe the Sons of Ulster Marching Towards the Somme.
The exhibition is open at UCD Library Special Collections from 25 April.
The UCD Ulysses Medal was inaugurated in 2005, as part of the university's sesquicentennial celebrations, to highlight the 'creative brilliance' of UCD alumnus James Joyce.
Previous recipients of the UCD Ulysses Medal include former US President Bill Clinton, Professor Noam Chomsky, Nobel Prize-winning poet Seamus Heaney, and former Irish President Mary McAleese.
By: David Kearns, Digital Journalist / Media Officer, UCD University Relations