James Joyce award presented to UN commissioner and SDG advocate Dr Alaa Murabit
Posted 26 April, 2019
UN commissioner Dr Alaa Murabit has received the UCD James Joyce award for her championing of women's rights and challenging global issues.
Presented with the honour by the UCD Literary and Historical Society for her activism, Dr Murabit is one of the United Nation's 17 Sustainable Development Goals advocates.
The SDGs provide a common framework for global action on sustainability, with a focus on major global issues such as quality education, gender equality, and an end to poverty and hunger worldwide.
Accepting the James Joyce award, Dr Murabit disagreed with naysayers who claim the UN's SDG are unrealistic.
"All seventeen goals are interconnected and equally important, and without a doubt we can't have one without the others."
She said too often people are "taught to think of opportunity in terms of only what we're gaining… [not] what we're giving up."
"When we say we don't want to fundamentally work on women's rights or fundamentally work on climate change, we're making an active decision, either politically or socially, to say we don't want to work on it…
"Not only [does it] mean that we cannot envision what the future looks like, it also means that we're very comfortable with where we're at – we're ok with giving up an opportunity."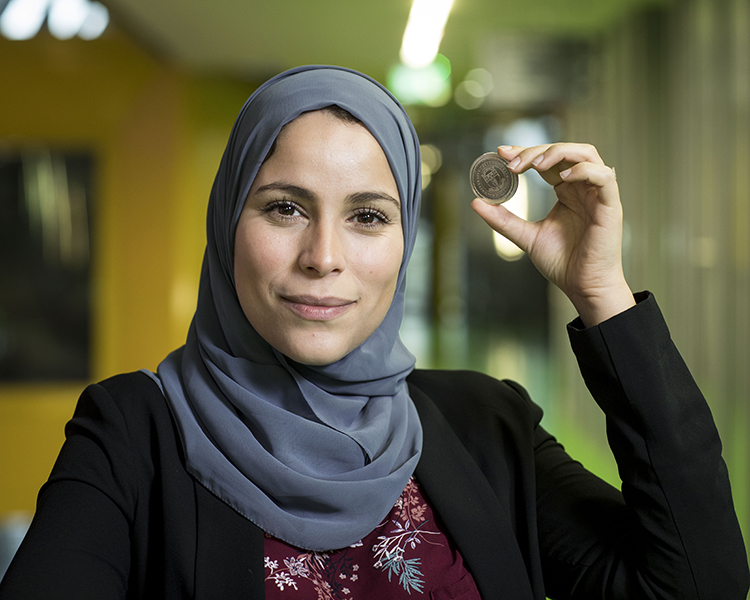 UN commissioner Dr Alaa Murabit with her James Joyce award
Attending medical school in Libya aged 15, Dr Murabit founded the gender equality advocate group The Voice of Libyan Women in 2011.
In 2016, she became the only UN High-Level Commissioner aged under 45.
Previous UCD James Joyce winners include Harry Potter author J.K. Rowling; South African social activist Desmond Tutu and economist Paul Krugman.
Earlier this year more than 550 universities were assessed by the Times Higher Education's new University Impact Rankings, which for the first time used SDGs as a benchmark.
Ireland ranked second only to Canada in terms of national higher education systems best achieving the goals set out by the UN.
UCD was ranked the top university in Ireland terms of creating a sustainable community across its campuses, coming in at 22ndglobally, and 12th in the world when it came to its work practices.
By: David Kearns, Digital Journalist / Media Officer, UCD University Relations