Irish holiday-goers to splash out €6.5 billion on trips in 2019, CMM reports
Posted 15 August, 2019
Irish households are expected to splash out €6.5 billion on holiday trips this year, a figure not seen since 2007.
According to the latest Consumer Market Monitor (CMM) report, published by the UCD Michael Smurfit Graduate Business School and the Marketing Institute of Ireland, oversea trips are up by 7.4% on last year.
The figures reflect a larger working population with good incomes rather than reckless borrowing, according Marketing Professor Mary Lambkin, author of the report.
"When times were bad, we didn't go abroad as much," she told RTE News.
"In fact, holidays abroad fell by a quarter from the peak of the last boom to the trough.
"We had a lot of ground to make back up again, and in the last 3 or 4 years, that ground has been made up in spades."
Oversea holidays are being taken by people who are in employment, who have disposable income and "whose confidence level is high enough that they feel they can reward themselves by going on holiday," she added.
Consumer spending rose by 2.9% in the first quarter, with signs of further strong growth between April and June, according to the report.
This is forecasted to grow by 2.6% for the full year 2019, to about €108 billion, and by a further 2.4% in 2020.
The increased spending comes despite a dip in consumer sentiment, as households worry about the impact of Brexit and a global slowdown.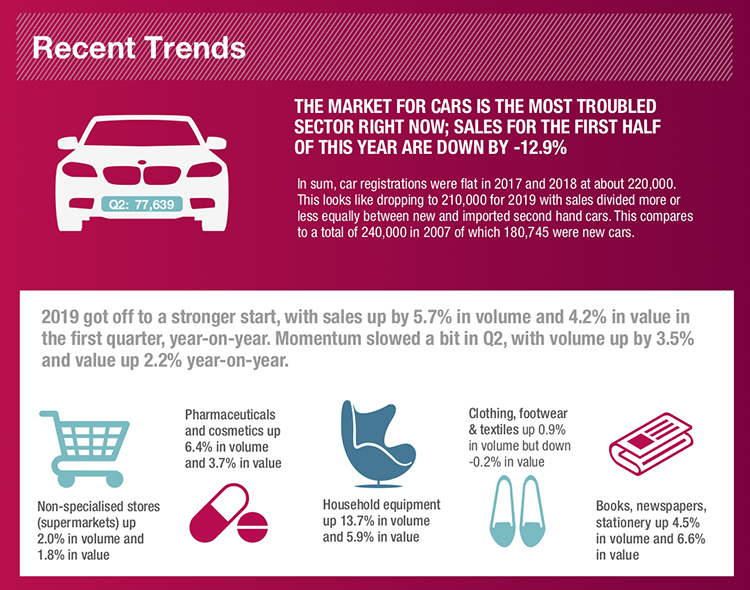 The Irish consumer economy is continuing to perform strongly and remains a key contributor to overall economic performance, accounting for 51% of GNP.
There are now 2.3 million people at work, up 50,500 year-on-year, and up by 439,000 or 20% from the low end in mid-2012.
Household net worth per capita is currently €158,000, according to the monitor, which is up 70% on figures from 2012.
Other key findings from the Consumer Market Monitor report include:
The disposable income of Irish households rose by 6% in 2018 to a total of €110 billion, significantly overtaking the last peak of €101 million in 2007.
Unlike during the Celtic Tiger, credit and borrowing are not major contributory factors in recent spending, with the ratio of debt/disposable income of Irish households down from a peak of 215% in 2012 to 124% this year.
Savings deposits grew by €4 billion in 2018, with deposits for a house purchase estimated to be a major factor, with approximately 30% of renters or 10% of all Irish households saving for a deposit.
Commenting on the report findings, Tom Trainor, Chief Executive of the Marketing Institute of Ireland, said: "The continuing growth in employment and income are leading to improvements in household finances and consumer spending, which continues to grow despite weakened confidence due the uncertainty of the Brexit outcome."
By: David Kearns, Digital Journalist / Media Officer, UCD University Relations