UCD Smurfit School Business Journalist Awards recognises the best in Irish business journalism
Posted 27 November, 2019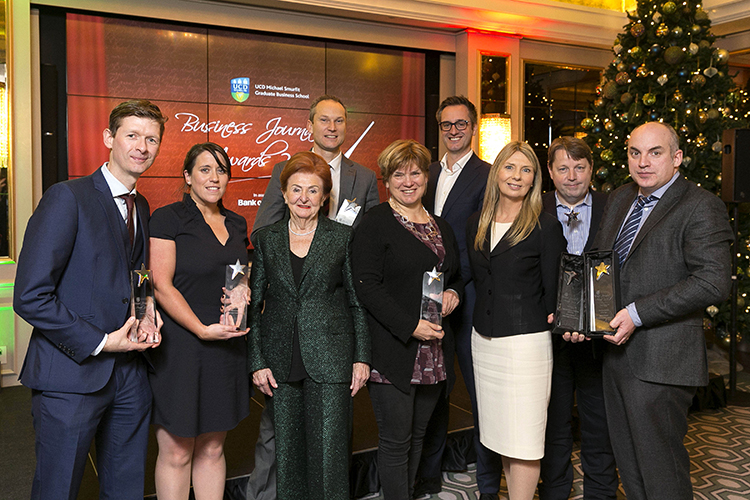 Ireland's leading business journalists were recognised at the 2019 UCD Smurfit School Business Journalist Awards.
The annual awards, which recognise excellence in business journalism in print, broadcast and online, are run in conjunction with the Business Journalists Association of Ireland and were sponsored by Bank of Ireland.
Irish Times journalist Karlin Lillington was presented with the Outstanding Achievement Award for her contribution to business journalism.
Based largely on Karlin's coverage of data retention, Digital Rights Ireland took a case to the High Court in 2007, which was later referred to the Courts of Justice of the European Union (ECJ).
In 2014, the ECJ Union struck down an EU directive on data retention in the landmark decision, asserting that the EU had overreached when it came to EU citizens' rights.
Previous recipents of the Outstanding Achievement Award include Frank Fitzgibbon, Brendan Keenan, Cliff Taylor, Damien Kiberd, Richard Curran, Matt Cooper, Charlie Weston, Ingrid Miley, and Tony Connelly.
At this year's awards, the 13th annual Smurfit Business Journalism Awards, the 'Business News Story of the Year' award was presented to Mark Tighe for his Sunday Times piece examining a €100,000 loan between the Football Association of Ireland and then CEO John Delaney.
The Sunday Times successfully challenged an injunction attempt to stop the publication of the story, whose cover led to serious questions being asked about corporate governance at one of Ireland's largest sporting bodies.
Among the other winners at the 2019 Smurfit Business Journalism Awards included:
Economic Commentator/Business Analyst – Mark Paul, The Irish Times for his two submissions, 'Primark shows a consumer paradox' and 'After 15 years of marriage to Google, is it still as good for us as it is for them?'
Business Feature – Adrian Weckler, Independent News & Media for his submission. 'Who's afraid of Huawei? Inside China's controversial tech giant'
Specialist Business Reporter – Adrian Weckler, Independent News & Media for his two submissions, 'So, is your smartphone really secretly listening to you?' and 'The four biggest complaints about the National Broadband Plan'
Business Interview – Will Goodbody, RTÉ for his interview with Mark Zuckerberg, the first-ever Irish interview with the Facebook founder, 'Zuckerberg says Facebook cannot guarantee it can stop those trying to interfere in European Elections'
Upcoming Journalist of the Year – Ellie Donnelly, Independent News & Media, based on the following articles: 'From Iraqi factions to finding a vast under-sea kettle off Cork', 'Musgrave: Our family structure gives group edge over listed firms' and 'In person: Galway scientist giving elite athletes the inside track'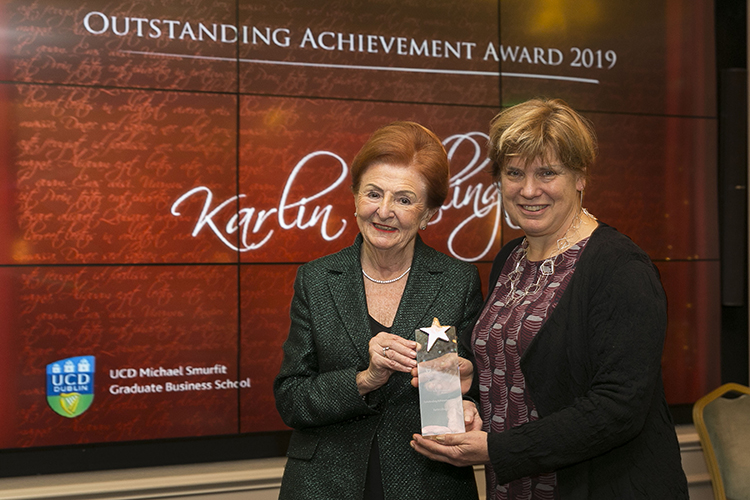 Karlin Lillington, left, receiving her Outstanding Achievement Award from Breege O'Donoghue, executive director of Primark/Penneys AND chair of the Smurfit Business Journalism Awards judging panel
Professor Anthony Brabazon, Dean, UCD College of Business, said: "Now in its thirteenth year, the Business Journalist Awards remain an important initiative for UCD Smurfit School as we seek to acknowledge the very best of business journalism, work which enriches the public's understanding of critical issues of the day and how they impact business and society.
"The individual and collective endeavours of business journalists are hugely important in an increasingly uncertain and complex world where independent, trusted and high quality business journalism plays an increasingly crucial role."
John O'Beirne, Director of Products, Bank of Ireland added: "The range of categories and the breadth of subject matter dealt with in the winning entries demonstrates clearly the versatility and capability of Irish business journalists who, irrespective of broadcast or publication format, deliver extensive reporting at the highest standard consistently."
By: David Kearns, Digital Journalist / Media Officer, UCD University Relations