NovaUCD supported companies raise €760m in equity funding
Posted 27 February, 2019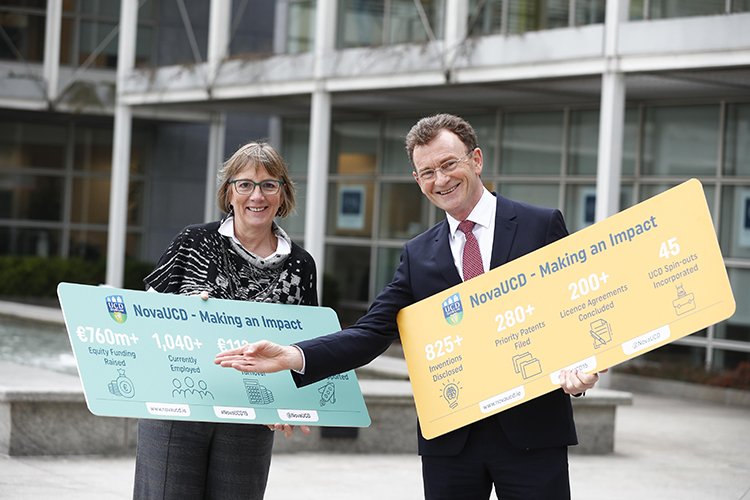 Julie Sinnamon, CEO, Enterprise Ireland and Tom Flanagan, UCD Director of Enterprise and Commercialisation
More than €760m in equity funding was raised by companies supported through NovaUCD over the last 15 years.
Over 360 firms and early-stage ventures have received assistance since University College Dublin's Centre for New Ventures and Entrepreneurs first opened its doors in 2003.
In its latest survey of these start-ups, which collectively employ 1,040 people directly, NovaUCD found its supported businesses had an annual turnover of over €113 million in 2018.
These companies operate in sectors including AgTech, CleanTech, FinTech, ICT, MedTech and Life Sciences.
UCD Vice-President for Research, Innovation and Impact, Professor Orla Feely said: "University College Dublin is committed to playing a key role in Ireland's innovation ecosystem as an enabler of economic growth and as a contributor to economic and social development."
Julie Sinnamon, CEO, Enterprise Ireland, added: "Start-ups are the life blood of the Irish economy and a key role for Enterprise Ireland is to support the start-up ecosystem. Enterprise Ireland has supported NovaUCD over the last 15 years and I would like to congratulate the centre and the companies on their success."
NovaUCD is responsible for the commercialisation of UCD's research output and, since 2003, 45 new UCD spin-out companies have been incorporated and over 825 inventions have been disclosed by UCD researchers.
Additionally, over 280 priority patent applications have been filed and more than 200 licensing deals have been concluded with a range of indigenous and international businesses.
AIB, Arthur Cox, Deloitte, Ericsson, Goodbody Stockbrokers and Xilinx contributed to the development of the NovaUCD facility originally, along with Enterprise Ireland and UCD.
Enterprise Ireland's Technology Transfer Strengthening Initiative (TTSI) has also supported the tech transfer team since 2007.
Kevin Cooney, Senior Vice-President and Chief Information Officer, Xilinx and Managing Director, Xilinx, EMEA, one of the NovaUCD sponsors said: "These results clearly demonstrate UCD's leadership role in supporting entrepreneurial and knowledge transfer activities within the HEI sector in Ireland."
Last August UCD announced a €6.5 million development project to renovate and extend NovaUCD's east courtyard.
When completed this Summer NovaUCD's capacity to house start-up companies will increase by over 50%.
Tom Flanagan, UCD Director of Enterprise and Commercialisation said: "We are very proud of the achievements of our companies and look forward to building on the successful formula for enterprise development and commercialisation that we have developed at NovaUCD. We can do even more when the expansion of our facilities is completed later this year."
By: David Kearns, Digital Journalist / Media Officer, UCD University Relations