UCD World Cup hockey ace Lena Tice shortlisted for FIH 'Rising Star' award
Posted 17 January, 2019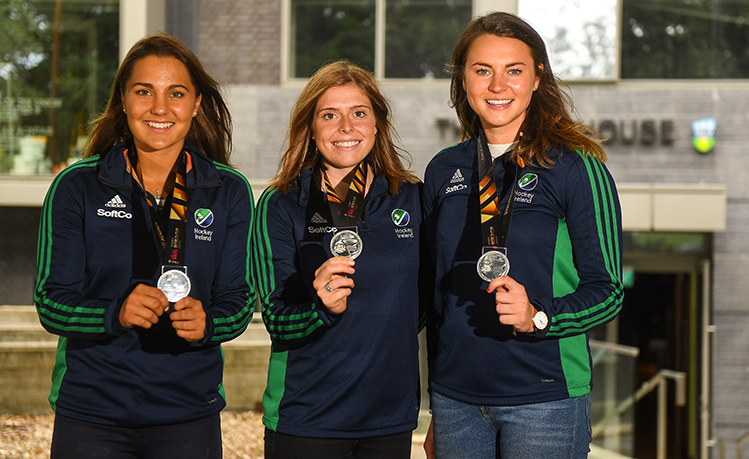 Silver medal Hockey World Cup winner and UCD Ladies star Lena Tice (L) with teammates, and former UCD students, Katie Mullan and Deirdre Duke
Irish World Cup silver medal winner Lena Tice is in the running for a prestigious FIH Hockey Stars award.
The 21-year-old defender, who studies at the UCD School of Economics, is one of five players in contention for the 'Rising Star' award, which recognises the best young player in international hockey in a given year.
The Glenealy woman is up against Netherlands' Marijn Veen, Australia's Ambrosia Malone, Germany's Nike Lorenz and Argentina's Lucina van der Heyde.
The Fédération Internationale de Hockey (FIH) is the governing body of field hockey and indoor field hockey, and is responsible for the sports' major international tournaments.
The FIH awards are voted for by the public, and are open online until January 18th.
The winners will be announced at a ceremony on February 14th.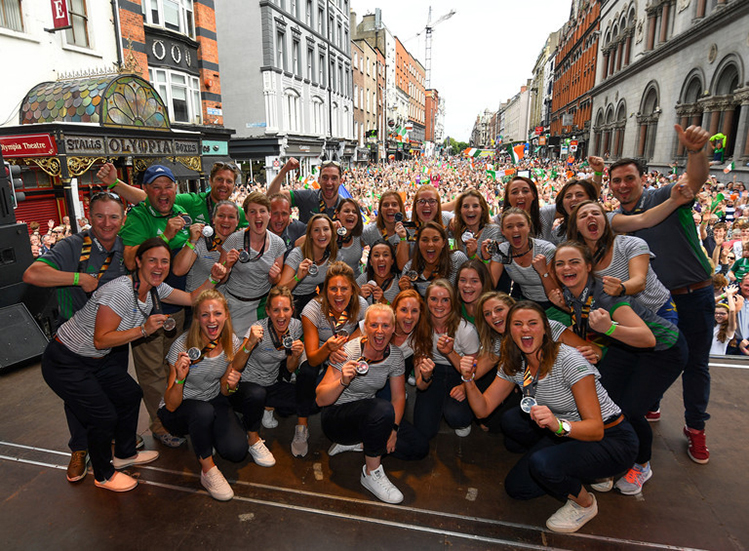 The Ireland squad and staff during their homecoming at Dame Street in Dublin in 2018 after finishing second in the Women's Hockey World Cup Credit: Ramsey Cardy/Sportsfile
Ireland's Ayeisha McFerran has also been shortlisted, and is among the favourites for the 'Women's Goalkeeper of the Year' award after she was named the World Cup's top netminder.
Under the captainship of UCD veteran Katie Mullan, the women's hockey team became the first ever Irish field sport team ever to reach a world cup final.
Ever-present in the centre of the Irish defence in London, Lena Tice played a starring role in her squad's wins against the USA, India and Spain.
The FIH nomination caps off a remarkable year for the young UCD defender, who won both the Irish Senior Cup and EY Hockey League with UCD Ladies Hockey.
After the World Cup, she won the six-week New Zealand Hockey League with North Harbour before moving on to the Canberra Strikers in the Australia Hockey League – where she was named player of the tournament.
Of the nine members of the Irish World Cup squad involved with UCD Ladies Hockey, seven were involved with or had gone through the Ad Astra Elite Athletes programme at University College Dublin.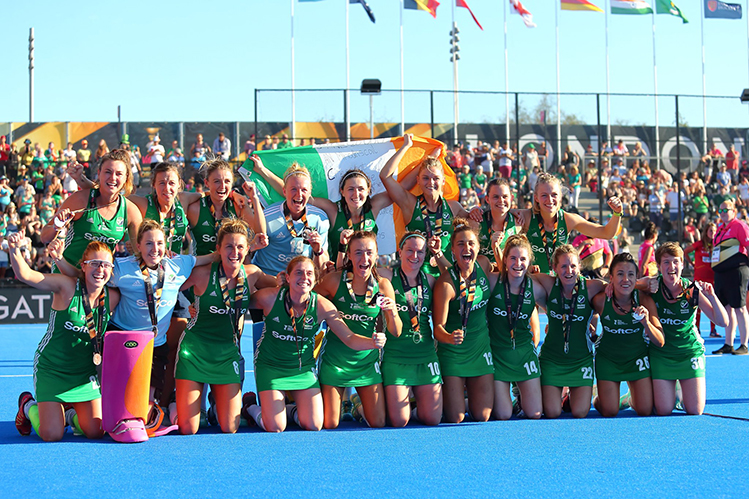 The Irish team celebrating their historic Hockey World Cup win in London in 2018
The history-making silver medallists won the coveted RTÉ 'Team of the Year' award at the end of 2018.
The public voted the women's hockey squad the nation's best team ahead of the Irish men's rugby team, as well as the Dublin footballers, the Cork camogie team, the Dublin ladies footballers, the Limerick hurlers, Dundalk FC, Ireland Eventing, the Irish Paralympic athletics team, the O'Donovan brothers, and Leinster Rugby.
Vote for Lena Tice, and teammate Ayeisha McFerran, by visiting the FIH's website here.
By: David Kearns, Digital Journalist / Media Officer, UCD University Relations