Thousands of trees may face the chop to accommodate BusConnects routes
Many more trees could face being cut down along the proposed BusConnects routes for Dublin than previously estimated, a new report warns.
The planned overhaul of the bus network in the capital and surrounding areas will see the creation of 230km of dedicated bus lanes and 200km of cycle tracks.
It has been reported that 1,400 properties stand to lose part of their front gardens to accommodate the proposed changes, while an estimated 500 to 1,000 trees would be felled.
However Associate Professor Gerald Mills, of the UCD School of Geography, has found that there are more than 4,700 trees growing within a 20m wide corridor along the 16 bus routes earmarked for possible major road-widening.
"The public have seen differing news reports of the estimated loss of trees along the routes," he told the Sunday Independent.
"The National Transport Authority has still not given us any specifics on the trees to be cut down."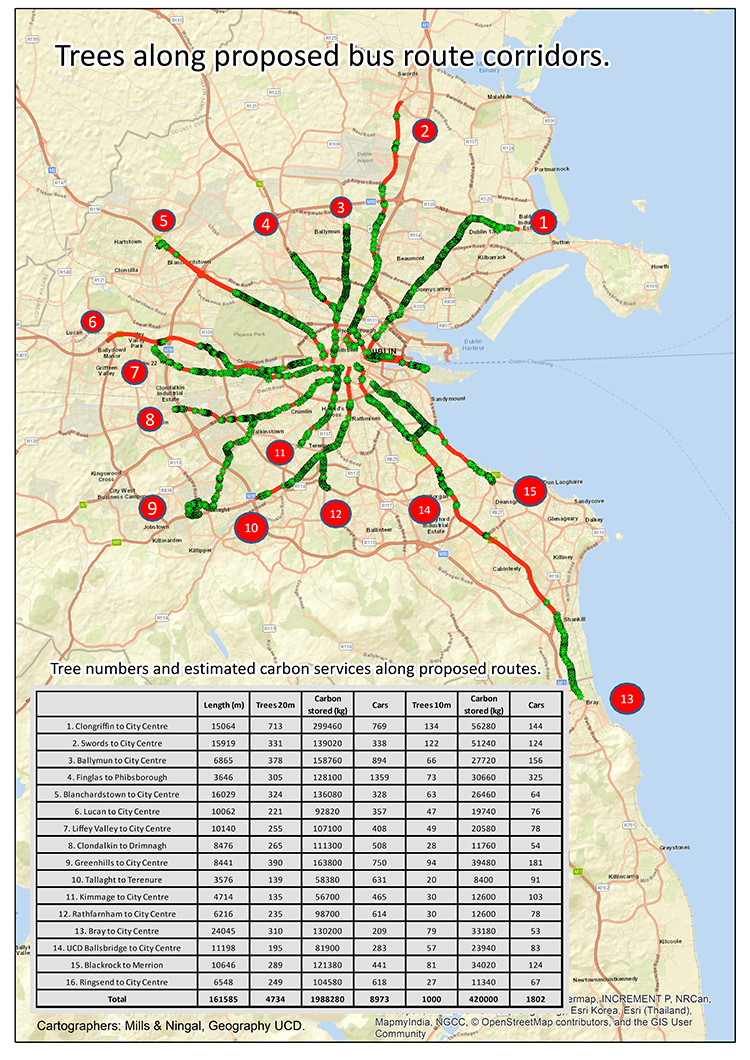 Professor Mills counted the number of trees along each bus corridor by placing the proposed bus routes map over a satellite image of the city.
All trees within a 20m-wide zone along each road route were mapped and counted.
His report also identified 1,000 trees within the 10m zones, growing within five metres either side of the roads.
"I'm not saying [the NTA] are going to cut all these trees… [but] I think they have a responsibility to show where they are going to take away the trees," he said.
"It is reasonable to expect that the proposers have acquired information so that they can do a complete environmental impact analysis of the consequences of tree removal."
The installation of the enhanced bus lanes and cycle lanes is proposed to reduce greenhouse gases by easing traffic congestion.
However, Professor Mills calculated that the trees growing within 10m either side of the planned overhauls removed and stored the equivalent of carbon produced by 8,973 cars using the routes twice a day.
He said it was "somewhat ridiculous" to talk about the benefits of road widening to reduce greenhouse gas emissions while cutting down possibly thousands of mature trees.
"Young trees do a fraction of the work of mature trees so replacing [them] with saplings will greatly diminish [this] existing resource," he added.
By: David Kearns, Digital Journalist / Media Officer, UCD University Relations