University College Dublin and Genomics Medicine Ireland announce precision medicine collaboration
Posted 7 March, 2019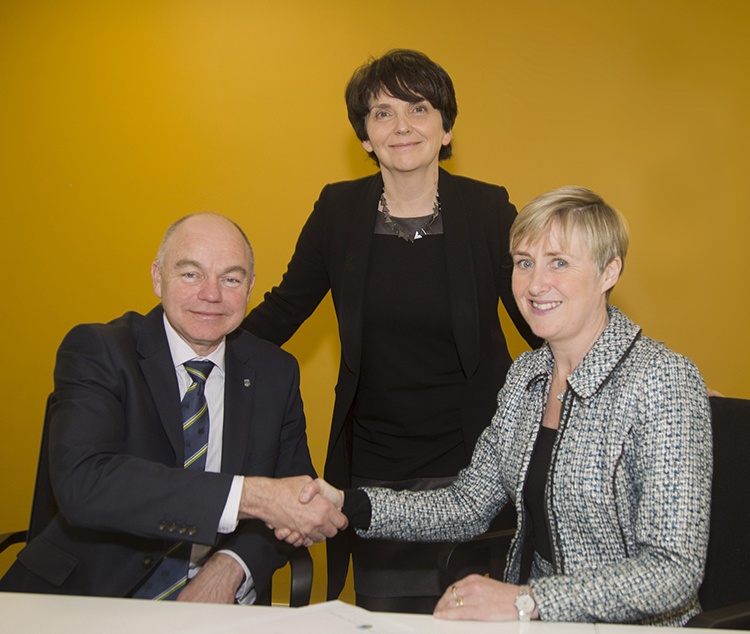 UCD President Professor Andrew Deeks, with Professor Orla Feely, UCD Vice President for Research, Innovation and Impact, and Dr Anne Jones, CEO, Genomics Medicine Ireland
University College Dublin and Genomics Medicine Ireland (GMI) have announced a collaboration agreement as part of a large scale population research programme across more than 60 diseases such as multiple sclerosis, diabetes, inflammatory bowel disease and Alzheimer's.
The collaboration is one of the largest academic and industry collaborations in genomics research to be announced globally and will examine the relationship between genetic variation and human disease in up to 10% of the Irish population.
Genomics research has the potential to transform healthcare by providing a greater understanding of the role a person's genes, behaviours and environment plays in their general health.
This knowledge is critical for the development of new drugs to combat common complex diseases in addition to personalised medical care tailored to the individual.
This should provide more effective treatment than a 'one-size-fits-all' model of care used today.
The research teams in UCD and GMI will focus on uncovering novel biology that will translate into new precision therapies and treatments to benefit patients.
Over the lifetime of the agreement, the GMI and UCD Genomics Research Collaboration will also target key initiatives to build capacity, train and develop the next generation of medical professionals in the area of genomic medicine which will be critical for Ireland's engagement and success in this ground-breaking field.
UCD President Professor Andrew Deeks said: "Today's announcement provides us with the opportunity to apply UCD's significant research and health sciences expertise to the development of genomic research and precision medicine in Ireland with potential to add real value in improving healthcare delivery and patient outcomes."
Professor Orla Feely, UCD Vice President for Research, Innovation and Impact added: "Our collaboration with GMI provides a significant platform for UCD, and our affiliated hospitals within the Irish East Hospital Group, to build capacity, skills and infrastructure in the area of genomic medicine.
"This agreement is the culmination of extensive discussions around how opportunities in genomic medicine and its benefits to patients can be realised in a careful and appropriate way. We now look forward to working with GMI to deliver globally impactful research that advances the field of precision medicine and puts Ireland at the centre of global genomics research and innovation."
Dr Anne Jones, CEO, Genomics Medicine Ireland said: "Genomics Medicine Ireland was established at NovaUCD so we are very proud to partner with UCD given our shared history and the institution's strong heritage and reputation in research and innovation. This collaboration agreement has significant potential to lead to new drug development as well as advance Ireland's skills and expertise in clinical genomics, bioinformatics, clinical research and genomic laboratory science."
By Staff Writers, UCD University Relations