UCD partnerships win two Knowledge Transfer Ireland Impact Awards
Posted 25 November, 2019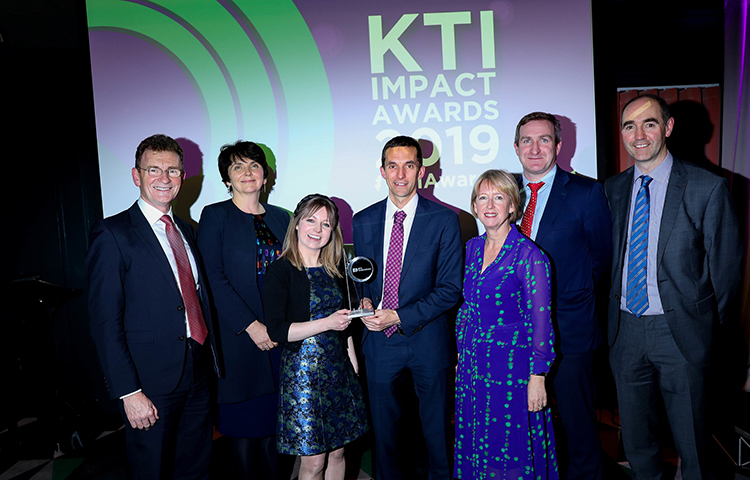 Tom Flanagan, UCD Director of Enterprise and Commercialisation; Professor Orla Feely, UCD Vice-President for Research, Innovation and Impact; Dr Stacey Kelly; Case Manager, Knowledge Transfer, NovaUCD; Professor Kevin O'Connor, UCD School of Biomolecular and Biomedical Science; Dr Alison Campbell, Director, KTI; Bill Morrissey, Glanbia Ireland and Dr Ciaran O'Beirne, Head, Knowledge Transfer Services, NovaUCD Credit: Maxwell Photography
University College Dublin, through NovaUCD, has won two Knowledge Transfer Ireland (KTI) Impact Awards.
The partnership between UCD and Glanbia received the 'Collaborative Research Impact Award' for the AgriChemWhey project, while the University's second award was the 'Licence2Market Impact Award' for its work with Atlantic Therapeutics.
Funded by Enterprise Ireland, with co-financing from the Irish Universities Association (IUA), Entries, the annual KTI Impact Awards recognise efforts by Ireland's Technology Transfer Offices to bridge the gap between industry and academia when it comes to commercialisation of research.
Minister for Training, Skills, Innovation, Research and Development John Halligan congratulated the 2019 winners, saying that each were "exemplars of… demonstrating how innovation, in a practical and effective way, can benefit the economy and wider society."
"The Irish government has invested significantly in the country's research and innovation capacity over the last 20 years and this long-term commitment has resulted in a strong ecosystem to support research commercialisation that is respected in Europe and beyond."
"It is critical that publicly funded research is put to work, boosting business productivity and competitiveness and generating growth and jobs," he added.
The AgriChemWhey project is a €22 million Horizon 2020 funded partnership, led by Glanbia in collaboration with Professor Kevin O'Connor from the UCD School of Biomolecular and Biomedical Science, focusing on the transformation of dairy waste products into high-value, bio-based products.
@ucddublin wins two 2019 @KTIconnect Impact Awards - the Collaborative Research Impact Award for @Kevinoconnorucd's research with @GlanbiaPlc and the Licence2Market Impact Award for @CaulfieldBrian's research with @myinnovo #ktiawards @UCD_Research pic.twitter.com/ELQxgoLNnG

— NovaUCD (@NovaUCD) November 21, 2019
Atlantic Therapeutics working alongside Professor Brian Caulfield from the UCD School of Public Health, Physiotherapy and Sports Science, has developed an externally worn electrical muscle stimulator to help treat incontinence.
Recently approved by the FDA approval, the INNOVO therapy technology is the first ever transcutaneous electrical stimulator cleared as a safe, clinically effective and non-invasive product to treat stress urinary incontinence.
Recognising the support provided by the knowledge transfer team at NovaUCD, Professor Orla Feely, UCD Vice-President for Research, Innovation and Impact said the successful partnerships with Glanbia and Atlantic Therapeutics were "an indication of the range and quality of the research and innovation activities within UCD."
Finalists for the KTI Impact Awards 2019 were evaluated by a panel of international experts, and submissions were judged according to criteria such as the level of the impact delivered and the role the local technology transfer office played in the activity.
By: David Kearns, Digital Journalist / Media Officer, UCD University Relations