University honours notable graduates at 2019 UCD Alumni Awards
Posted 25 November, 2019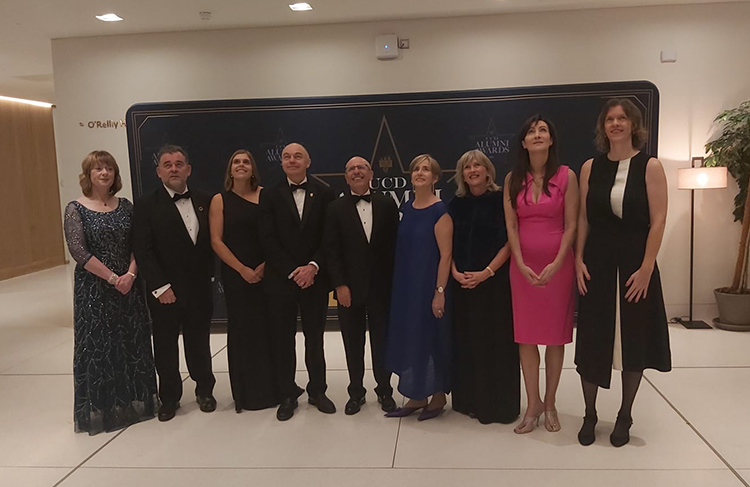 The winners of the 2019 UCD Alumni Awards along with UCD President Professor Andrew J Deeks at UCD O'Reilly Hall
University College Dublin's high achievers across a range of disciplines have been recognised at the 2019 UCD Alumni Awards.
This year's awards were presented by UCD President Professor Andrew J Deeks at a special ceremony in UCD O'Reilly Hall.
Among the nine notable graduates honoured was Professor Mary Horgan, the first female President of the Royal College of Physicians of Ireland since its establishment in 1654.
A world-renowned expert in infectious disease, Professor Horgan was received the UCD Alumni Award in Health and Agricultural Sciences at the 2019 awards.
Originally from Kerry, Professor Horgan graduated from UCD with a degree in medicine in 1986. She was awarded her Fellowship of the Royal College of Physicians of Ireland in 1997. She is currently a consultant in infectious diseases at Cork University Hospital.
During her career, Mary has become a national and international leader in medical education and training, in infectious disease and public health and has spearheaded education and scientific education in Ireland.
Mary's work to date in this field has been instrumental in reversing the downward trend in uptake of HPV vaccination from 50% to 71% in one year.
Previously Dean of the Medical School in UCC in 2013 for a 4-year term, Mary has become a role model for a generation of medical graduates and trainees.
Mary also serves as President of the Infectious Diseases Society of Ireland, on the boards of the Health Products Regulatory Authority and the Mercy University Hospital and the Governing Body of University College Cork.
Also included among the nine 2019 Alumni Award recipients were:
UCD Alumni Award in Arts and Humanities
Dr Barbara Dawson BA, 1979
An astute observer of the international contemporary art scene and an outstanding curator, the first female director of Dublin's Hugh Lane Gallery, Dr Barbara Dawson has been one of the most significant figures in the Irish art world in recent decades.
In her role, Barbara has led transformative changes for the Hugh Lane and has been a leading advocate for the visual arts in Ireland, she has overseen a major expansion to house its new treasures that attracts visitors from all over the world.
Under Barbara's leadership, the gallery has committed to enhancing its collections, to organising diverse and challenging exhibitions and to building on its dynamic and inclusive learning programmes, working both in house and within the communities.
In 1998, she secured the gift of Francis Bacon's Studio and Archive and relocated it from London to Dublin where it opened to the public in 2001.
Barbara is adjunct professor at the UCD School of Art History and Cultural Policy and is also a notable mentor to the women who have followed in her footsteps at other Irish museums.
UCD Alumni Award in Business
Shaun T. Kelly BComm, 1980
The Belfast native was the global Chief Operating Officer for KPMG International, having retired in September 2019. During his time with KPMG, he ran the US tax practice and under his leadership KPMG served a long list of blue-chip American corporations.
Over the course of his career, Shaun has held numerous leadership roles within KPMG including leader of the Global Transaction Services Practice, Vice Chair in charge of KPMG's U.S. Tax practice and Regional Head of the Americas Tax practice, Vice Chair–Operations for KPMG in the US and Chief Operating officer of KPMG's Americas region.
He was also Co-Chair of KPMG's Disabilities Network and a member of KPMG's Inclusion and Diversity Advisory Board.
Through his various roles and his extensive work serving a broad range of significant U.S. companies which span several industries, Shaun has keen insights regarding strategic and operational issues as well as marketplace trends and the issues companies face in today's global environment.
He is on the board of the Ireland Funds America and the Irish Arts Centre in New York and he is the chair of the Northern Ireland US Advisory Council for the East Coast.
UCD Alumni Award in Engineering and Architecture
Noelle Walsh BE, 1985
A senior figure at Microsoft, Noelle Walsh leads the Cloud Operations and Innovations operation, a role that includes supply planning and strategic acquisition as well as global construction and data centre operations.
Previously, she spent 25 years with the Dow Chemical Company, where she worked across multiple businesses. Throughout her career, Noelle has been at the forefront of technological advances and has led initiatives to advance women's leadership in Europe and the USA.
Noelle was a co-founder of Dow's Women's Innovation Network (WIN) in the Netherlands and served as co-chair of WIN in North America.
In 2013, The Manufacturing Institute recognized her with the Women in Manufacturing STEP (Science, Technology, Engineering and Production) Award.
During her time at the Dow Company, Noelle led over 25% of its Manufacturing base, the Chemicals Division of businesses and Global Supply Chain and Customer Service functions.
Noelle has worked extensively around the world, running large scale commodity businesses and manufacturing facilities to leading major strategic divestitures and integrating acquisitions.
Noelle's trademark is working with teams to unleash best-in-class performance and an operational excellence mindset for businesses at scale.
UCD Alumni Award in Law
Colin Ryan BCL, 1997
Colin Ryan, one of Goldman Sachs' top investment bankers in its technology, media and telecom group in San Francisco, joined the investment bank giant after his graduation from UCD.
He is based in the San Francisco Bay Area and is Co-Head of Mergers and Acquisitions: Americas.
He was named Managing Director in 2010 and in 2014 he was one of two Irishmen inducted to the partnership of Goldman Sachs. During his tenure, Goldman Sachs' Technology Mergers and Acquisitions business has consistently ranked as the #1 Technology M&A franchise globally.
During his time in both the London and San Francisco Goldman Sachs' offices, Colin has helped advise some of the most iconic companies on their most important strategic transactions in the technology and media industry, including Amazon, Applied Materials, IBM, Qualcomm, Salesforce, SAP and Vodafone, on over $300 billion of industry-defining transactions.
Earlier this year he was a recipient of the Ireland Funds Distinguished Leadership Award for 2019 in recognition of his philanthropy and remarkable business achievements, noted as being a powerful example of Ireland's diaspora giving back and investing in Ireland's future, with a particular interest in education and supporting disadvantaged communities and supporting at-risk individuals.
UCD Alumni Award in Research, Innovation and Impact
Dr John Bell BA, 1986
John Bell is the 'Healthy Planet' Director of DG Research and Innovation at the European Commission in Brussels.
As Director of European Commission DG Research and Innovation, since his appointment in 2014 John has been the leader in the development of the potential of the Bioeconomy.
He is paving the way for a more innovative, resource efficient and competitive society that reconciles food security with sustainable use of renewable resources whilst ensuring environmental protection.
He is responsible for leading the Research and Innovation transitions on Climate Change within Planetary Boundaries, Bioeconomy, Food Systems, Environment and Biodiversity, Oceans and Arctic, Circular Economy, Water and Bio-based innovations.
This includes harnessing the investments of 10bn Horizon Europe, Circular Bioeconomy, the EU Bioeconomy Strategy, and Governing Board of 3.7bn in Bio-based Industries Joint Undertaking.
Until 2019, he was Director of Bioeconomy, delivered the EU Bioeconomy Strategy, and policy initiatives including FOOD2030 and the Atlantic Ocean Research Alliance.
Through this transformative impact on research and innovation in Europe, John has contributed to the development of solutions to global challenges.
Before his role with Healthy Planet, John was the Chief de Cabinet of the European Commissioner for Research, Innovation and Science, Máire Geoghegan-Quinn.
UCD Alumni Award in Science
Caroline Keeling BSc, 1990 MSc in Food Science
Caroline Keeling is CEO of Keeling's, Ireland's largest fruit and vegetable distributor, dating back to the 1920s.
Since becoming CEO of the 100% Irish-owned Keeling's in 2013, Caroline has increased the company's turnover by 50% and extended the brand to include five divisions, with operations in the UK, Europe and Asia.
Previously named IMAGE Businesswoman of the Year, Caroline Keeling has proven her commercial acumen in business, and has brought the Keeling's brand from strength to strength while being heralded as one of Ireland's most powerful businesswomen.
During her tenure as CEO, Caroline has grown the Keeling's brand on the international stage and now employs over 2,000 people.
Caroline is an Ambassador for The Women's Fund for Ireland and is a member of several boards, including Bord Bia, The Export Trade Council, The Actions Plans for Jobs, The NMH Foundation, Valid Nutrition, the Ifrah Foundation, and Social Entrepreneurs Ireland.
Caroline was also a nominee for the EY Entrepreneur of the Year in 2013 and has been touted as one of the 50 most influential and powerful women in business.
UCD Alumni Award in Social Sciences
Dr Sinéad Walsh MSc, 2005
Sinéad Walsh is the EU Ambassador to South Sudan. She has worked for Ireland's Department of Foreign Affairs and Trade since 2009.
Prior to this, Sinéad served as the Ambassador of Ireland to Sierra Leone and Liberia and the Head of Irish Aid in the two countries, based in Freetown from 2011 to 2016.
Sinéad was stationed in Sierra Leone in 2014 when Ebola first began to spread, where she and her colleagues found themselves facing a humanitarian crisis of unprecedented scale.
She worked relentlessly to push the country's plight into the global spotlight and alert the world to the growing catastrophe.
Sinéad has co-authored the book, 'Getting to Zero', which details her experience of the Ebola crisis. Before joining the government, she spent ten years in the NGO sector, predominantly with Concern Worldwide, working in India, Pakistan, Rwanda and South Sudan, as well as in a global advocacy role.
Sinéad also has a BA in English from Harvard University, and a PhD in social policy from the London School of Economics, and was a Senior Fellow at the Harvard Humanitarian Initiative in 2016/17.
UCD Alumni Award in Sport
Katie Mullan BSc Eng 2017, ME 2018
Captaining the first ever Ireland team in any sport to reach a World Cup Final Katie, who is from Co Derry, helped UCD Hockey Club win several trophies.
Ireland entered last year's Hockey World cup ranked 15th in the 16-team tournament. The team, under Katie's captaincy, gave a performance that changed expectations and ambitions within Irish sport.
Katie is an inspirational leader whose attitude, dedication and determination has enabled a whole generation of young women to push their limits and achieve success.
The team at last year's Hockey World cup entered the 16-team tournament ranked 15th. Ireland, under Katie's captaincy, gave a performance that changed expectations and ambitions within Irish sport.
She started her sporting career as a camogie and gaelic football player for Eoghan Rua Coleraine CFG, where she helped helped them win the 2010 All-Ireland Intermediate Club Camogie championship.
Katie went on to make her hockey debut for Ireland in 2012, amassing 165 international caps for Ireland, achieving 100 of those caps before the age of 22. Katie has also won Irish Senior Cup and Women's Irish Hockey League titles with UCD.
Katie has recently returned as Ballymoney Hockey Club as player/coach. During her time at UCD, she managed to balance her studies alongside a busy sporting schedule, culminating in an Undergraduate degree and Master's degree in Engineering.
By: Staff Writers, UCD University Relations