Newman's vision of a liberal education today
Posted 10 October, 2019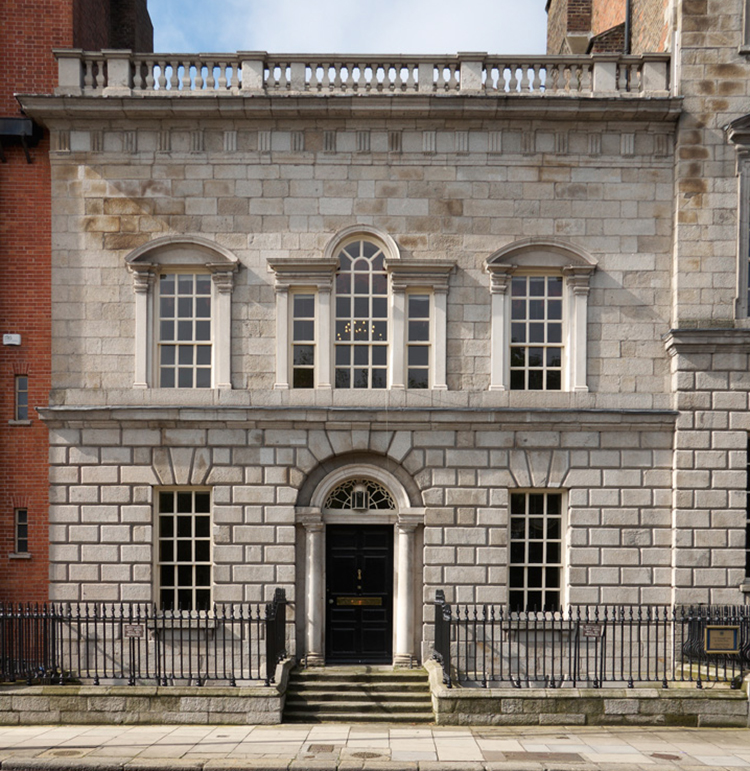 Newman House, St. Stephens Green, Dublin, the historic home of the Catholic University of Ireland
John Henry Newman's vision of liberal education is often misunderstood in the context of modern assumptions about education, said leading Newman Scholar Professor Ian Ker.
Newman, the founding rector of Catholic University of Ireland, the antecedent to University College Dublin, believed that 'philosophy' should be at the heart of university education.
This emphasis on 'special philosophy' is misleading to the modern reader, Oxford Professor Ker said during the opening address at a public lecture at UCD ahead of the Newman's canonisation in Rome.
"What did Newman mean by liberal education, this has been much misunderstood. In a way it's his own fault because he speaks about philosophy with a capital P.
"[He] does not mean the academic subject we now call philosophy… what he is saying with special philosophy is the ability to think, a real cultivation of the mind."
Professor Ker said another misunderstanding of Newman's idea of a liberal education is that he was advocating "subjects of thought", not the liberal arts.
"He didn't approve of subjects were you simply had to remember a lot of stuff. When Newman speaks about liberal education he isn't speaking about the liberal arts… it [is] any subjects that could encourage students to think."
"[He makes] it very clear that a proper education would allow students to make judgements," he added.
"He wanted to avoid academic imperialism, believing a proper University should be open to all topics and subjects."
Organised by the UCD Chaplaincy, the public lecture discussed the challenges faced by Newman in coming to Ireland to establish the then Catholic University.
Irish bishops were divided on the need for one, but relented in their objections after the project received the support of Rome, which was against mixed education at the time.
"We think of Newman chiefly as a theologian but what he said was that 'my line has always been education'," said Professor Ker.

"He was always interested his own education, with a concern being how he had been taught, or not taught properly.
"Tutors should do the teaching, not just the lecturing, he felt… [That] professors should publish, and here in Dublin he founded the Atlantis [to do that].
"It was, as he put it rather rudely, somewhere for professors to 'deposit' their knowledge. An idea far ahead of anything being done at Oxford at the time."
A panel of experts, including Professor Daire Keogh, Deputy President DCU, Professor Kathleen Lynch, Emerita UCD; and Joanna Siewierska, UCD SU President, responded to Professor Ker's lecture.
Teresa Iglesias, Professor Emerita and Founding Director of the UCD International Centre for Newman Studies, introduced Professor Ker.
By: Staff Writers, UCD University Relations

__________________________________________________
From 86 to Belfield – The Newman legacy
The antecedence of University College Dublin, the Catholic University of Ireland, can be traced to the middle of the 19th century when, post Catholic Emancipation and the progress of civil and religious freedom, Robert Peel was prompted to create the Queen's Colleges in Belfast, Cork and Galway.
These colleges were strictly undenominational while Trinity College required religious tests that prevented Catholics from becoming scholars or fellows and from holding office.
In 1850 the National Synod of Bishops met in Thurles and adopted a recommendation to establish a Catholic University of Ireland modelled on the Catholic University of Louvain in Belgium.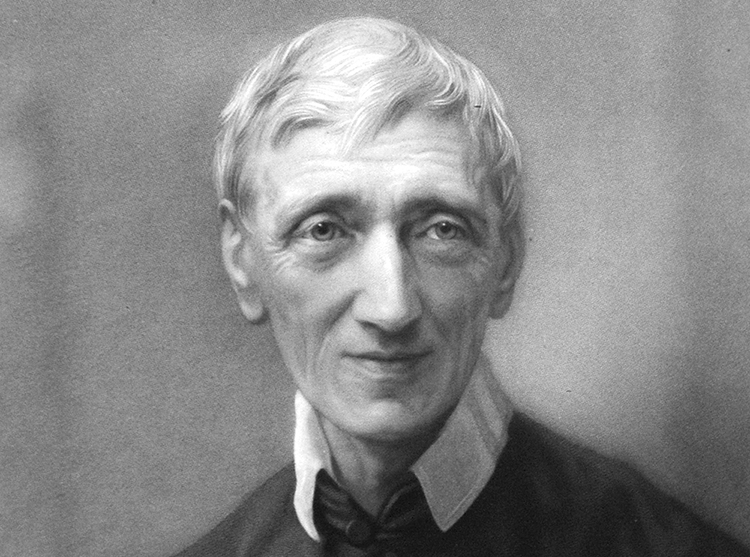 And so began the hunt for a rector to set up this new university.
Catholic Archbishop of Armagh (and from 1852, Dublin), Paul Cullen sought out John Henry Newman, whom he had met personally in Rome.
Newman was well known as a prominent scholar and one of the leaders of the Anglican Oxford Movement, who converted, in 1845, to the Catholic Church of Rome.
In him, Cullen hoped to find a leader who would garner respect and status and in turn, wider support.
In April 1851, Cullen approached Newman to advise on appointments and asked whether he "could spare time to give us a few lectures on education".
Newman responded positively and on 30 September travelled to Dublin for the first time. Two months later the governing University Committee appointed him Rector of the proposed new university.
The following May, Newman delivered the first five discourses on university education as lectures on successive Mondays at the Rotunda Hospital in Dublin and these were first published in pamphlet form in Dublin.
Later in the year, on 21 November, he published them also in Dublin with five more discourses, as a ten-chapter book entitled Discourses on the Nature and Scope of University Education.
These discourses form the first part of his seminal work 'The Idea of a University', which was published in London in 1873.
On 4 June 1854 Newman was installed Rector of the Catholic University at the Pro-Cathedral, Dublin and on 3 November, he officially opened the Catholic University in Dublin in University House 86 St Stephen's Green, with twenty students registered.
Among his students were Irish, English, Scottish, Polish, Belgian and French – many the sons of admirers of Newman's intellect and philosophy.
Determined to recruit as professors Catholics who were widely known and whose academic eminence in their subjects would draw public attention to the university, Newman planned that they would give public lectures and publish.
Among this first cohort were Eugene O'Curry, Chair of archaeology and Irish history, Aubrey de Vere, political and social science, Terence Flanagan, civil engineering, John O'Hagan, political economy, Denis Florence McCarthy, poetry and J H Pollen, the architect of the University Church, fine arts.
In 1848, on the instruction of Pope Pius IX, Newman had founded the Oratory of St Philip Neri (Phillipine Fathers) at Birmingham in England and had held the position as Superior from that time.
In agreeing to come to Ireland in 1851, he gave a commitment of seven years to set up the university.
And so, in April 1857 he signalled his intention to resign to the Irish bishops and the following year, in November 1858, he officially resigned as Rector and returned to Birmingham.
During these early years, the University experienced difficulties of finance and recognition.
Unlike Trinity and the Queen's Colleges, the Catholic University's degrees were not recognised by the State, nor did it receive any state funding.
Despite Newman having some success in fund-raising himself, post-famine Ireland could not prioritise philanthropy to a university.
The University authorities did not understand Newman's emphasise on the importance of the role of the laity in the management and teaching of the university and sufficient student numbers did not materialise.
However, during his time in Dublin, Newman made a number of outstanding contributions to academia.
He established the Medical School in Cecelia Street and was most proud of this achievement.
He founded a Chair of English Literature, years before Oxford had such a position, with Thomas Arnold as its first professor.
His Chair of Irish History and Archaeology, Eugene O'Curry, wrote the monumental Manuscript Materials of Ancient Irish History, which sprang from a lecture series and which Newman arranged to be published with a specially designed Gaelic font – The Newman Type.
Newman promoted the publication of the research work of his university professors by founding the Atlantis and University Gazette, where Newman himself wrote substantial essays and articles.
In preparing students for public life, Newman founded the Literary and Historical Debating Society.
Before he left Dublin, he arranged for the University to provide evening public lectures – which could be attended by women – a small step towards university access for women.
And, of course, his prolific Dublin writings, which amounted to around 5,000 pages, would include the core of his classic, The Idea of a University.
Newman's vision for university education
Newman's contribution to the debate around university education and the central elements of The Idea of a University need to be set in context.
Coming from Victorian England where admirers of the newer universities challenged the Oxonian education as "useless and unpragmatic", Newman articulated the value of a liberal education balanced with the utilitarian training required for the professions such as medicine, law, engineering, and agriculture. Undoubtedly he was a great writer and a persuasive speaker.
His legacy, his philosophy of education, stretches well beyond England and Ireland.
Historian and author of The History of University College Dublin, Donal McCartney writes:
"Newman bequeathed a philosophy of university education that is as valid today as it was when first written and that may be profitably studied by administrators, academics and students alike.
In that philosophy he provided a definition and a defence of liberal, as distinct from professional education and emphasised the significance of arts in the life of the university…
In his approach to university education, Newman strove for a proper balance between utilitarian and liberal objectives.
He not only sought to preserve what was best in the older university courses but was also eager to have his university respond to the needs and the developments and ever-widening field of knowledge of his own time."
Indeed, despite his liberal badge, Newman was a pragmatist who wrote:
"If then a practical end must be assigned to a University course, I say it is that of training good members of society...
It is the education which gives a man a clear, conscious view of their own opinions and judgements, a truth in developing them, an eloquence in expressing them, and a force in urging them.
It teaches him to see things as they are, to go right to the point, to disentangle a skein of thought to detect what is sophistical and to discard what is irrelevant."
As Henry Tristram points out:
"the acquisition of that mental formation which is the point of a liberal education. When he says that law or medicine is not the end of a university course he does not mean that the university does not teach law or medicine.
'It teaches all knowledge by teaching all branches of knowledge'
The difference between the professor of a particular branch of knowledge outside a university and one inside a university is that the former runs the danger of being 'absorbed and narrowed by his pursuit', of becoming a specialist and nothing more, whereas the latter… 'will just know where he and his science stand, he has come to it, as it were, from a height…
'He has gained from [other studies] a special illumination and largeness of mind and freedom and self-possession, and he treats his own in consequence with a philosophy and a resource which belongs not to the study itself, but to his liberal education.'"
Newman was a visionary. In one of his best remembered passages he held forth a challenge and a prophecy for Ireland as well as for his university:
"I look towards a land both old and young; old in its Christianity, young in the promise of its future… I contemplate a people which has had a long night and will have an inevitable day.
I am turning my eyes towards a hundred years to come, and I dimly see the island I am gazing on become the road of passage and union between two hemispheres, and the centre of the world…
The capital of that prosperous and hopeful land is situated in a beautiful bay and near a romantic region; and in it I see a flourish University, which for a while had to struggle with fortune, but which, when its first founders and servants are dead and gone, had successes far exceeding their anxieties."
The path to a secular university
Although Newman left Dublin in November 1858, it wasn't until 1861 that a new rector, Monsignor Bartholomew Woodlock was appointed. He served as rector until 1879.
He attempted to bolster student numbers with evening (affiliated) students but the only successful faculty was the School of Medicine.
Years of political machinations eventually produced the University Education (Ireland) Bill (1879) brought in by Benjamin Disraeli and led to the establishment of the Royal University of Ireland in 1880.
The Royal University was a non-teaching, degree awarding institution and students from any of the existing college could take its examinations.
To avail of funding, the Catholic University was reorganised in 1882 and renamed University College.
Its management was transferred to the Jesuits in 1883 with William Delany SJ appointed President.
The new century led to new efforts to reform the university system in Ireland and in 1908, under HH Asquith's Liberal Party Government, the Irish Universities Act elevated Queen's College Belfast to the status of a university, left Trinity College untouched, and created the National University of Ireland, consisting of three constituent college: the Queen's Colleges in Cork and Galway and a new college in Dublin formed around the existing University College and the School of Medicine – to be called University College Dublin.
They were to be undenominational: all religious tests would be debarred by law in the new universities and their colleges and no public money could be spent on building or maintaining a church or other place of religious observance or in providing any theological or religious teaching.
Women were to be "equally eligible with men" for all the privileges of the new universities.
And so it was, after 54 years, that University House, now Newman House, would part ways with the Jesuit administration and become a fully secular institution as University College Dublin.
Newman's legacy at University College Dublin
Established in 1994, in co-operation between The Newman Trust and UCD, The Newman Research Library is the most comprehensive collection in Ireland.
In 2005, The International Centre for Newman Studies was established to promote graduate and research studies.
In October 2019, the UCD Newman Centre for the Study of Religions will open with an expanded remit to include Neoplatonism and Abrahamic Traditions, as well as the study of Religion and Society.
__________________________________________________
This article draws content from:
UCD A National Idea: The History of University College Dublin, written by Donal McCartney and published by Gill & Macmillan, 1999
The Idea of a University: The integral Text, written by John Henry Newman, edited with a preface by Teresa Iglesias and published by UCD International Centre for Newman Studies and Ashfield Press, 2009
Why Newman Went to Dublin: Teresa Iglesias
Newman's Idea of a Liberal Education: Henry Tristram
__________________________________________________
The UCD Newman Centre: Past, Present and Future
The UCD International Centre for Newman Studies was founded in 2009 by Professor Emerita Teresa Iglesias of UCD School of Philosophy.
The Centre was founded with the support of the Newman Foundation and with the aim of "revitalising the academic legacy of John Henry Newman to University College Dublin, to the city of Dublin, and to Ireland as a whole".
Central to the activities of the original Newman Centre was the establishment of a Newman Research Library in UCD's historic Newman House, and the funding (with the kind support of the Newman Foundation) of both MA and PhD students whose research relates to the thought of John Henry Newman.
Following Prof. Iglesias's retirement, the role of Centre Director was held by Professor Pádraic Conway and then Professor Dermot Moran of UCD School of Philosophy.
In 2019, the UCD International Centre for Newman Studies was officially refounded as the UCD Newman Centre for the Study of Religions with Assistant Professor Daniel Esmonde Deasy, UCD School of Philosophy, as Director.
Whilst the study of John Henry Newman's work and legacy remains at the heart of the refounded Newman Centre, the Centre now has the broader aim of supporting and encouraging intellectual engagement with matters of religion and faith at UCD, as well as investigating the role of religion and faith in Irish and global culture and society in a spirit of inclusivity towards different religious perspectives, values, and traditions.
In particular, the refounded Centre provides an interdisciplinary space for postgraduate and senior researchers across UCD to pursue research that engages with issues at the intersection of religion with politics, culture, science, and society.
The Centre also provides UCD with a vital platform for attracting international researchers to pursue their research activities in the study of religions, as well as the work of John Henry Newman.
In a broader context, the Centre provides a point of contact between researchers at UCD and the wider community, and will contribute to important national discussions of the place or religion and faith in society in the 21st Century.
The refounded Newman Centre is organised around three major funded research projects:
Newman Studies, led by Professor Emerita Teresa Iglesias and supported by the Newman Foundation. This permanent project supports one PhD and two MA students each year who conduct research on John Henry Newman's works, with a focus on his 'Dublin writings'.


Neoplatonism and Abrahamic Traditions (NeoplAT), led by Associate Professor Dragos Calma, UCD School of Philosophy and supported by Dr. Calma's ERC Consolidator Award of €1.8 million over four years.

This project supports a number of postdoctoral researchers and PhD students undertaking research on the impact of Pagan Neoplatonism on the Abrahamic traditions, with a focus on the Elements of Theology of Proclus (5 th Century), which occupies a unique place in the history of thought.


Religion and Society, led by Professor Maeve Cooke, UCD School of Philosophy and Dr Daniel Esmonde Deasy, UCD School of Philosophy. The aim of this project is to bring together researchers from many different Schools in UCD – including English, Sociology, Politics and International Affairs, History, Art History, Education and Classics – whose research engages with issues at the intersection of religion with politics, culture, science, and society.
The strategic objectives of the refounded Newman Centre include promoting the intellectual legacy of John Henry Newman and supporting research on all aspects of his work, his 'Dublin writings' (1851-1858) in particular; developing the Newman Centre as a centre for the study of religions, with inclusivity towards the different religious perspectives, values, and traditions; seeking to attract funding for postdoctoral fellowships and postgraduate scholarships for persons wishing to study Newman, religions, and faith based belief systems, at UCD; and supporting a series of public lectures, debates, and conferences on contemporary issues in the interface between religion, science and society.