UCD and UC Davis agree new partnership to tackle global food emergency
Posted 14 October, 2019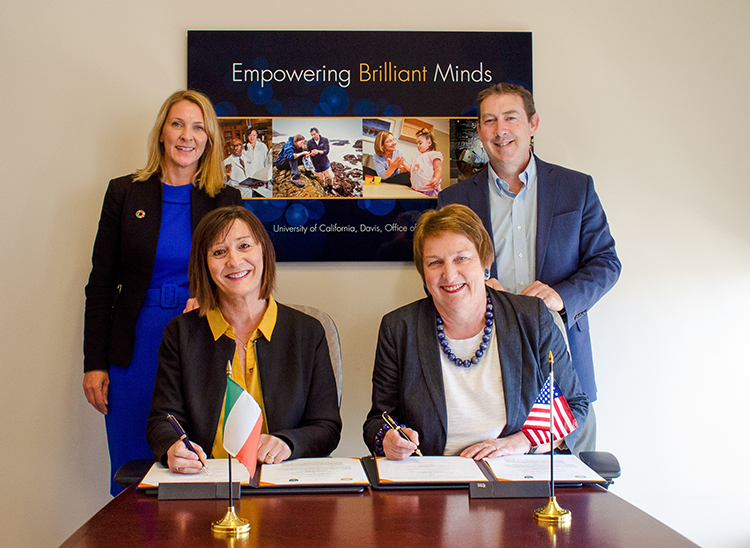 Triona McCormack, Director of Research, UCD, Professor Dolores O'Riordan, UCD Vice-President for Global Engagement, Dr Joanna Regulska, Vice-Provost and Associate Chancellor of Global Affairs at UC Davis and Dr Paul Dodd,UC Davis Associate Vice-Chancellor for Interdisciplinary Research and Strategic Initiatives
University College Dublin has signed an agreement of co-operation with University of California, Davis to help further develop links, particularly in the areas of agriculture and food.
UCD is the number one university globally on citations per paper in food science, based on Elsevier SciVal, 2014-2018 data among institutions publishing at scale (greater than 500 publications in the period).
UC Davis is ranked number two in the world in Agriculture and Forestry and in Veterinary Medicine in the QS World University Rankings (2019).
The new agreement builds on a strategic partnership signed in September 2014, according to Professor Dolores O'Riordan, UCD Vice-President for Global Engagement.
"Researchers and academics at our institutions have been working together for some time and the recommitment of both institutions to our partnership shows the value of our existing relationship and the opportunities we see to expand this in the future," she said.
"It is increasingly the case that universities are identifying a small network of global partners to work with to solve the significant challenges of our time. We are delighted to say that UC Davis is one of UCD's closest and most trusted partners."
Dr Joanna Regulska, Vice-Provost and Associate Chancellor of Global Affairs at UC Davis said: "Given the complexity of today's challenges and opportunities, these mutually-beneficial partnerships are more important than ever as they build critical links for new initiatives in global education and research."
Speaking of the agreement, Professor Orla Feely, UCD Vice-President for Research, Innovation and Impact, said that renewed partnership would help deliver solutions to the "challenge of developing a global sustainable food system".
"[This challenge] is one we all face, and UCD and our partners at UC Davis want to be active leaders, along with our industry partners and policy-makers in delivering solutions to this challenge," she added.
Dr Paul Dodd, Associate Vice-Chancellor for Interdisciplinary Research and Strategic Initiatives, UC Davis said the partnership between "the two UCDs exemplifies the importance of international scientific collaboration and helps to further strengthen the strong bonds that exist between California and Ireland."
By: David Kearns, Digital Journalist / Media Officer, UCD University Relations