UCD shortlisted for five 2019 Knowledge Transfer Ireland Impact Awards
Posted 21 October, 2019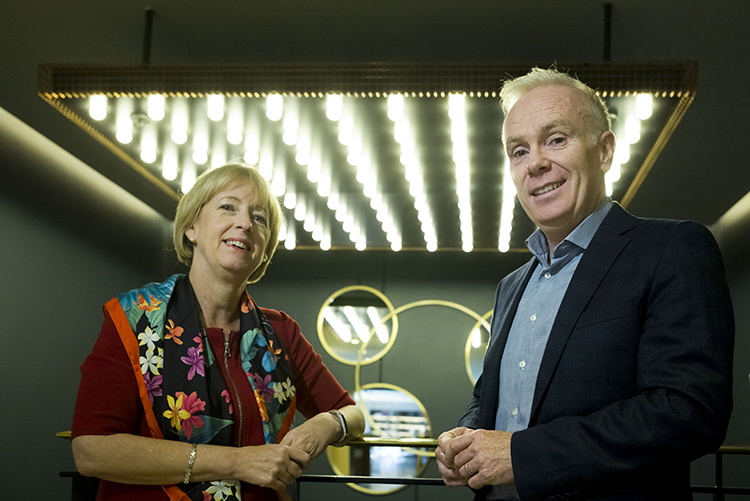 Dr Alison Campbell, Director, Knowledge Transfer Ireland with Richard Curran, journalist, MC for 2019 KTI Impact Awards
University College Dublin, through NovaUCD and ConsultUCD, has been shortlisted for five Knowledge Transfer Ireland (KTI) Impact Awards 2019.
Funded by Enterprise Ireland, with co-financing from the Irish Universities Association (IUA), Knowledge Transfer Ireland helps businesses to connection with Irish expertise and technology in third-level education and publicly funded research organisations.
Its annual Impact Awards recognises the efforts by Ireland's Technology Transfer Offices to bridge the gap between industry and academia when it comes to commercialisation of research.
UCD partnerships and individuals are shortlisted for the following awards:
Collaborative Research Impact Award: UCD and Glanbia for the AgriChemWhey project - a €22 million Horizon 2020 funded project, led by Glanbia in collaboration with Professor Kevin O'Connor, UCD School of Biomolecular and Biomedical Science.


Licence2Market Impact Award: UCD and Atlantic Therapeutics for its INNOVO technology, the first ever transcutaneous electrical stimulator to received FDA approval. This was developed in collaboration with Professor Brian Caulfield, UCD School of Public Health, Physiotherapy and Sports Science.


Spin-out Company Award: Equal1 Labs, headquartered at NovaUCD, is the world's first quantum computing hardware start-up developing a new type of quantum computer based on Complementary Metal-Oxide Semiconductor (CMOS) technology. The company was founded by Professor R. Bogdan Staszewski, with US-based co-founders Dr Dirk Leipold and Mike Asker, as a spin-out from the UCD School of Electrical and Electronic Engineering.
Consultancy Impact Award: ConsultUCD and Toyota Ireland have received their nomination for a study carried out by 4 UCD academics on Toyota's hybrid powertrain system. The study revealed that in typical Irish commuting conditions, Toyota's hybrid powertrain system drives in zero emissions mode (ZEV) for significantly more than half (62%) of the time and over 40% of the distance covered.

The study was authored by Professor Robert Shorten and Assistant Professor Giovanni Russo, UCD School of Electrical and Electronic Engineering, Associate Professor Francesco Pilla, UCD School of Architecture, Planning and Environmental Planning and Associate Professor David Timoney, UCD School of Mechanical and Materials Engineering.


Simon Factor, NovaUCD's Senior Manager for New Ventures, has been shortlisted for the Knowledge Transfer Achiever of the Year Award.
Tom Flanagan, UCD Director of Enterprise and Commercialisation said the shortlisting in each of the five 2019 KTI Impact Award categories was a clear example of "the strength, breadth and quality of the knowledge transfer and consultancy activities being undertaken by UCD researchers with the guidance and support of the NovaUCD technology transfer and ConsultUCD teams."
Entries for the KTI Impact Awards 2019 were evaluated by a panel of international experts, and submissions were judged according to criteria such as the level of the impact delivered and the role the local technology transfer office played in the activity.
Winners of the 2019 KTI Impact Awards will be announced at an awards ceremony on 21 November.
By: David Kearns, Digital Journalist / Media Officer, UCD University Relations