UCD and QBI, at University of California, San Francisco, partner to strengthen bioscience research
Posted 25 September, 2019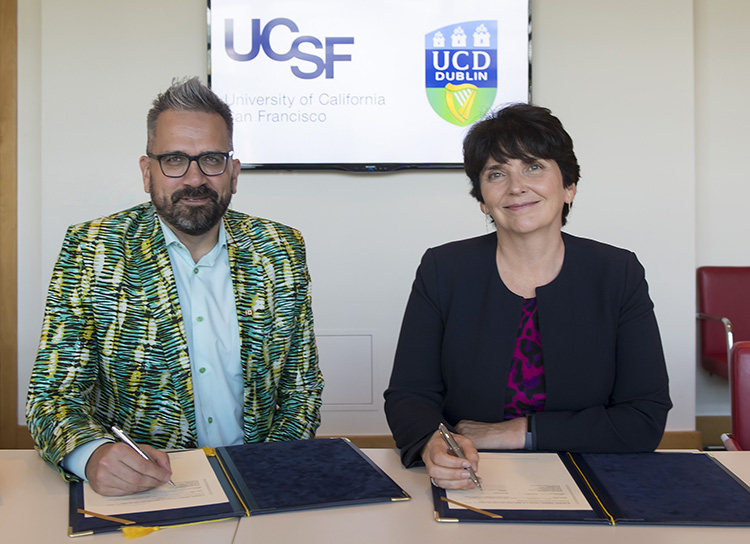 Professor Nevan Krogan, Director, Quantitative Biosciences Institute, UCSF and Professor Orla Feely, UCD Vice-President for Research, Innovation and Impact
University College Dublin has agreed a five-year Memorandum of Agreement with the Quantitative Biosciences Institute (QBI), at the University of California, San Francisco, to strengthen scientific innovation at both institutions.
The agreement aims to reinforce links between San Francisco and Ireland, and identify opportunities to promote co-operative biosciences research and training between UCD and the QBI.
The first step of this new partnership will be a joint symposium held in Dublin in September 2020 that will focus on molecular networks of cancer and other diseases.
Professor Orla Feely, UCD Vice-President for Research, Innovation and Impact, said: "As Ireland's global university, one of our strategic objectives is to further develop close links between UCD and leading institutions, such as the University of California, San Francisco.
"The signed agreement builds on the already close relationship between both institutions and will result in the exchange of staff, students, ideas and knowledge in biosciences, a key research strength of both universities."
Professor Nevan Krogan, Director, QBI added: "QBI continuously seeks novel approaches to address pressing biological and biomedical problems.
"I strongly feel that it is through these types of alliances that major biological discoveries will occur."
The agreement between UCD and QBI builds upon a relationship that dates back nearly twenty years when Professor Krogan and Dr Gerard Cagney, UCD School of Biomolecular and Biomedical Science, collaborated on several projects.
"This collaboration is great for Ireland because UCSF is a world leader and it's at the forefront of many different areas," said Dr Cagney.
"This agreement opens up a lot of research opportunities and interactions that would not have happened otherwise."
"While UCD has strengths in computational modelling, advanced network reconstructions and machine learning statistical methods, QBI has access to first-rate technology at a larger scale, which creates a good combination where both sides complement each other," he added.
By: Staff Writers, UCD University Relations