UCD Centre for Emergency Medical Science fills in PPE knowledge gap
Posted 9 April, 2020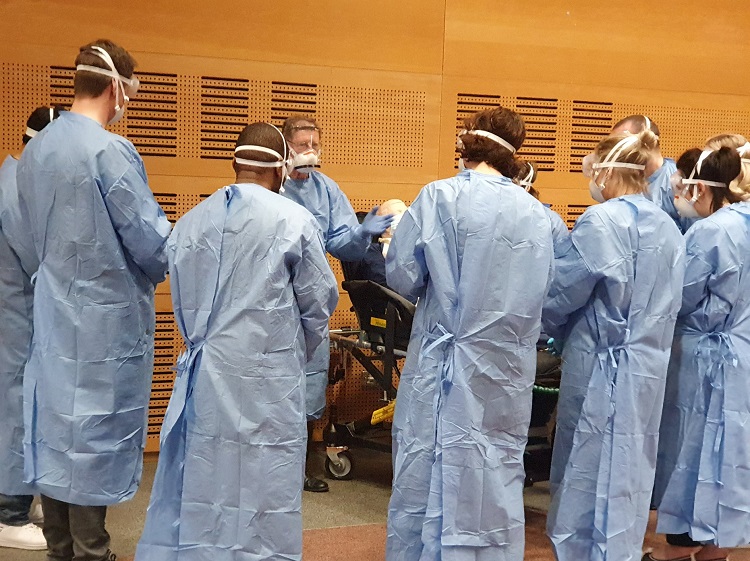 Professor Gerard Bury, Director of UCD Centre EMS helping to train GP Registrars in the proper use of Personal Protective Equipment
The UCD Centre for Emergency Medical Science (EMS) is helping train front-line doctors on how to correctly use Personal Protective Equipment.
As more than a dozen Community Assessment Hubs for COVID-19 patients open around the country, the GP Registrars who will staff these centres have been receiving classes at University College Dublin on how to use PPE properly.
Professor Gerard Bury, Director of UCD Centre EMS, and his team are in their second week of providing this training – which aims to ensure those doctors using PPE understand how to put it on and off without contaminating themselves or others.
"PPE is an important part of infection protection, and many doctors in Ireland will not have had much experience using it before the COVID-19 outbreak," said a spokesperson for the UCD Centre EMS.
"It's very important that healthcare staff having access to PPE are familiar with it and trained in its use. For example, some items must be changed every two hours, while in other cases a person must be aware that they're limited in what they can and can't do once they've put PPE."
Another full house today, getting ready for tomorrow's PPE/Clinical training sessions. Too many wonderful contributors to Tweet but you know who you are.... all helping in the #COVID19 crisis pic.twitter.com/2NjXBIVPc3

— UCD Centre EMS (@UCDcems) April 8, 2020
The COVID-19 Community Assessment Hubs, established by the HSE, are designed to help keep patients from overburdening hospitals.
Each provides facilities for people who need to self-isolate, those who are sick and people who are awaiting a test result.
Around the world stocks of protective gear for doctors and nurses have been running low and a lack of sufficient PPE has hampered efforts to safely treat COVID-19 patients.
The training being provided by Professor Bury and his team is helping to ensure that the PPE available to those working in the Irish health system is being used to its full potential.
Several groups at UCD have been involved in providing aid to those medical staff working on the front-line.
A group of researchers and engineers have set up a production line at the University's advanced manufacturing research facility to create much needed PPE, such as protective goggles and face shields.
By: David Kearns, Digital Journalist / Media Officer, UCD University Relations