NovaUCD's Zipp Mobility approved for UK e-scooter trials
Posted 14 August, 2020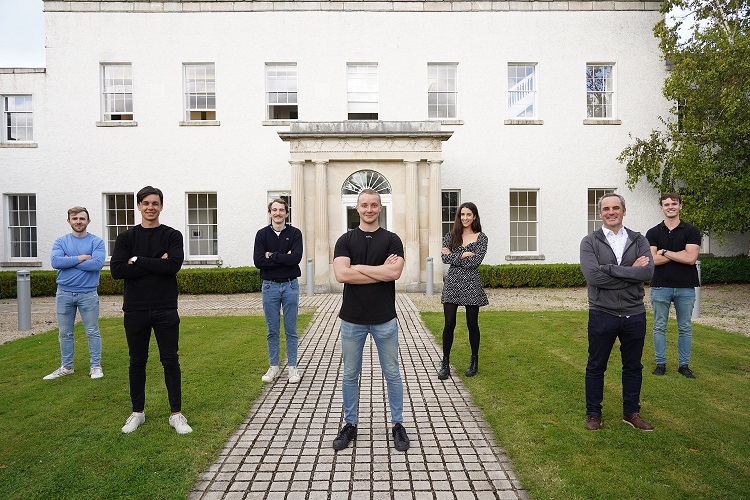 Members of the Zipp Mobility team at NovaUCD, (l-r): Lorcan Brophy, Investment Associate; Robert Coyle; Investment Lead; Will O'Brien, Head of Growth and Government Affairs; Charlie Gleeson, Founder and CEO; Síofra Brady, Growth Associate; David Maloney, Chief Technology Officer and Partner Manager and Ben Duffy, Operations Lead. Photographer: Saiful Haque
Irish start-up Zipp Mobility, headquartered at NovaUCD, has received permission to trial its e-scooter model across the UK.
The UK government recently allowed a number of rented e-scooter schemes to be tested across all regions as part of a strategy to improve congestion and promote greener methods of urban transport in response to COVID-19.
The micromobility start-up is currently working with a number of councils to secure e-scooter licences.
The approval to begin trialling its e-scooter transport system in the UK comes on the back of the company closing €300,000 in seed funding in June, which was led by a London-based venture capital firm and private angel investors.
"Receiving approval from the DfT is a hugely encouraging affirmation of what we are striving for at Zipp," said Charlie Gleeson, CEO, Zipp Mobility.
"Not only does this confirm confidence in the safety of our e-scooter, it also re-affirms that our bid for a more sustainable, responsible and transparent approach to the industry is one that is being readily welcomed by authorities.
He added: "Rapid urbanisation is a phenomenon that has aggravated a multitude of problems that city authorities face. However, it presents a fantastic opportunity for innovation, with the ongoing COVID-19 pandemic only proving further reason for new approaches needed.
"At Zipp we want to make sure the transformation to micromobility is a smooth, sustainable and collaborative one."
Will O'Brien, Head of Growth and Government Affairs, Zipp Mobility, said: "We cannot let people revert back to car usage after years of progress in encouraging alternative modes of transport. If cities truly want to advance towards their carbon emissions targets in the post-COVID era, then socially distanced modes of transport like electric scooters must be considered as an integral component of urban transport strategy."
A recent graduate from the UCD Lochlann Quinn School of Business, last year Mr Gleeson completed NovaUCD's mentoring programme for student entrepreneurs and the UCD VentureLaunch Accelerator Programme run by NovaUCD for early-stage start-up companies.
The Zipp e-scooter has a useful lifetime of over two years, compared to the estimated industry average of just three months.
Alongside a design with safety in mind, the scooters are also equipped with nano-septic handlebar wraps that reduce the risk of COVID-19 transmission by 99.98%.
By: David Kearns, Digital Journalist / Media Officer, UCD University Relations (with materials from Micéal Whelan, UCD Research and Innovation)