UCD athletes display their best in class status at National Championships
Posted 24 August, 2020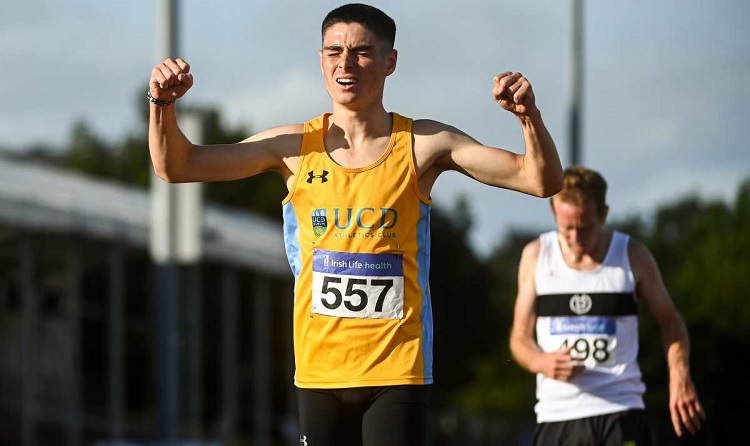 UCD athlete Darragh McElhinney following his gold medal win in the men's 5000m Sam Barnes/Sportsfile
Superb performances at the Irish Life Health National Championships saw UCD athletes claim three podium finishes.
Talented sprinter Stephen Gaffney claimed his first national senior title in the men's 100m with a time of 10.63.
The UCD athlete, who recently completed a Masters in Computer Science, said the win was a long time coming.
"I've been working really hard for years. I really wanted it. The standard of sprinting in Ireland is really high at the moment... so they're not easy to come by, national medals let alone national titles so I'm delighted," he added,
"[The] lock down was challenging for everyone. Thankfully I had access to gym equipment... [and] I was training in parks and on hills, getting in as much good work as I could."
Following the historic win for Gaffney, it was the turn of Cork native Darragh McElhinney who claimed victory in the men's 5000m ahead of race favourite John Travers.
The 19-year-old athlete, who is an Ad Astra Elite scholar at University College Dublin, finished the race on 13:56:00 after he broke away 200m from the end.
"The race of my life," he said. "I've learned from my mistakes in the last few championships in not trusting my kick. The last 100 metres was the longest of my life. [It] was a fairly titanic battle and I'm delighted."
Elsewhere at the National Senior and U23 Track and Field Championships, which is taking place behind closed doors this month, UCD runner Ellie Hartnett put in a brilliant effort to claim bronze in the women's 1500m.
By: David Kearns, Digital Journalist / Media Officer, UCD University Relations