C-Space: First of its kind hub for collaborative space research and innovation launches at UCD
Posted 15 December, 2020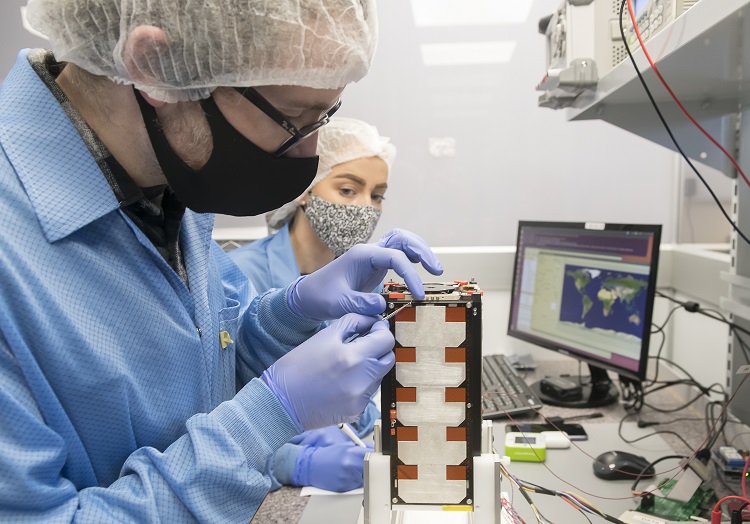 A first of its kind Irish centre dedicated to collaborative space research and innovation has opened at University College Dublin, a major step in developing Ireland's space industry.
The centre, C-Space, will be home to EIRSAT-1, Ireland's first satellite, when it launches next year, and will focus on the key research areas of astrophysics, Earth observation, gamma-ray detectors, and space materials and space structure dynamics and control.
The director of the centre, Professor Lorraine Hanlon, from the UCD School of Physics, said the new hub will be a key resource for space expertise and training.
"As well as performing excellent space-related fundamental and applied interdisciplinary research, our purpose is also to build academic and industrial partnerships that advance the use of space to address global scientific and societal challenges," she added.
Alongside supporting industry through consultancy, collaborations and access to test facilities, C-Space will also provide university-based courses, including a masters in Space Science and Technology.
UCD Vice President for Research, Innovation and Impact Professor Orla Feely welcomed the new centre, saying it was an important step in Ireland's journey to develop a strong and sustainable space industry.
"UCD has a distinguished record in astrophysics and space research dating from the 1960s and continuing to the present day with the development of EIRSAT-1, Ireland's first satellite. With the launch of C-Space, UCD will build our academic and industry relationships across the global space sector, developing our talent at home and maximising for Ireland the many technological and economic opportunities in this exciting field," she said.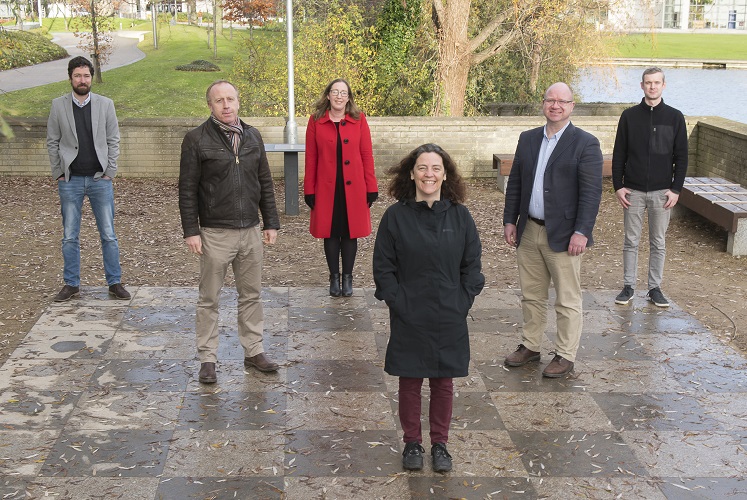 Assistant Prof Morgan Fraser, Dr Ronan Wall, Associate Prof Sheila McBreen, Prof Lorraine Hanlon, Prof Kenneth Stanton, Assistant Prof David McKeown, from UCD C-Space Centre
Tom Kelly, Divisional Manager, Innovation and Competitiveness, Enterprise Ireland said: "The launch of the UCD C-Space Centre comes at an exciting time. Enterprise Ireland works closely with Irish companies to successfully bid for ESA contracts and we have seen the steady growth of Irish companies developing highly innovative technologies for the European Space programme and the wider global market.
"This also fits well with the Government Space strategy for Enterprise which specifically identifies the need to develop and attract talent with relevant skills for Irish Space-Active enterprises."
Since 2005, the global space economy has grown at an average of 6.7% per annum – nearly twice the rate of growth of the global economy – and space sciences and industries contribute almost €80 billion to the European economy annually. It has been estimated that the sector could be worth up to €2.3 trillion globally by 2032.
Irish involvement in space related activities has been developing steadily in recent years, and companies in Ireland are involved in a number of diverse areas, including avionics, electronics, propulsion subsystems, antennae, advanced materials, software, and geoscience.
Chair of the Irish Space Industry Group Danny Gleeson said: "Ireland's growing space sector is creating high value jobs that require people with specific skill sets to enable Irish space companies to succeed in the global marketplace.
"We wholeheartedly welcome the establishment of the UCD Centre for Space Research and its commitment to produce graduates and professional training courses to meet the demands of the expanding Irish space sector and supporting the Government's National Space Strategy for Enterprise."
By: David Kearns, Digital Journalist / Media Officer, UCD University Relations (with materials from Caroline Byrne, UCD Research and Innovation)