Dr Laurence G. Crowley: 1937 – 2020
Posted 23 December, 2020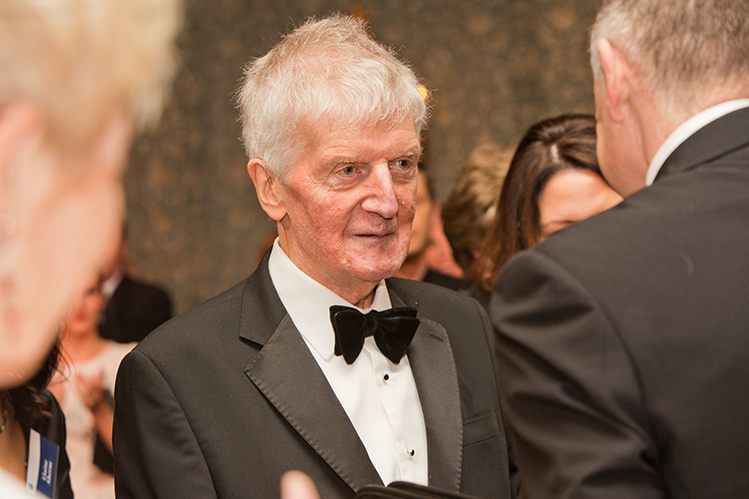 It is with deep sadness that the UCD community marks the passing of Dr Laurence G. Crowley, CBE, founding Chairman of the UCD Michael Smurfit Graduate Business School.
Laurence Crowley was an esteemed and inspiring member of the UCD community, as well as the Irish and international business community. Appointed as UCD Michael Smurfit Graduate Business School's first chairman in 1990, his leadership, commercial awareness and unwavering belief in the power of teams laid the foundations for UCD Smurfit School to receive global recognition as Ireland's leading business school.
"Laurence had an outstanding belief in the transformative power of education and the role it played in the enabling of future talent," said Professor Tony Brabazon, Dean of UCD College of Business. "The development of business education in Ireland owes a great deal to Laurence as his vision provided the pathway for UCD Michael Smurfit Graduate Business School to thrive and flourish. It is because of him, that the School has become what it is today."
After stepping down from his role as chairman, he remained an active member of the School's advisory board and trusted advisor until his passing. His sustained support through initiatives like the annual Laurence Crowley Lecture Series offered students new ways to engage with leaders in the international world of business.
The youngest of six children, Laurence attended Belvedere College. After graduating with a Bachelor of Commerce degree from UCD in 1959, he followed two of his older brothers into his father's accountancy practice, Kennedy Crowley. Laurence qualified as a chartered accountant and enjoyed a successful career in corporate reconstruction and insolvency. Subsequent mergers saw him become a partner at KPMG Stokes Kennedy Crowley, which would later become KPMG Ireland.
Next, Laurence joined the Court of the Bank of Ireland as a non-executive director. In 1997, he became the bank's deputy governor. Three years later he was appointed governor, a post he held for the subsequent five years and described as the pinnacle of his career.
He displayed innovative leadership and considerable business acumen in directorships with leading organisations such as Aer Lingus, Bord Gáis Eireann, Elan Pharmaceuticals, Rothmans International, New Ireland Assurance, Realex Payments, Hardwicke and Davy Stockbrokers. He also chaired the Economic and Social Research Institute and P.J. Carroll. Most recently, he served as a Director of Ecocem and O'Flaherty Holdings.
However, corporate success was not his only ambition. In a 2011 interview with the Irish Times, he described how his parents had instilled in him an understanding that privilege brings with it a responsibility to "give something back."
His humanity, charisma and warmth enabled him to broker relationships and build bridges between communities on both sides of the Irish Border. His pragmatism and commitment to bring business leaders and civil servants together in the North-South Roundtable Group he co-founded helped to transform the relationship between Northern Ireland and the Republic of Ireland. In 2004, the National University of Ireland recognised Laurence's role in the peace process by conferring on him an honorary Doctorate of Law. In 2009, Her Majesty Queen Elizabeth II awarded him an Honorary CBE.
As Chairman of the Centre for Autism, Laurence helped to establish the all-Ireland organisation and continues to support their mission in working with children most affected by the Autism Spectrum Disorder and their families, carers and teachers.
Among his considerable accomplishments, Laurence saw the establishment of the UCD Smurfit School as a career highlight. His humility and pride in the institution were evident when he accepted the UCD College of Business inaugural award for Outstanding Contribution to Business Education in 2019. Speaking to an audience of distinguished guests and friends including Former Taoiseach Edna Kenny and Sir Jeffery Donaldson M.P., he described the event as, "one of the most wonderful days of my life."
Laurence chose this passage from George Bernard Shaw to close his speech on that evening:
'Life is no brief candle, it is a sort of splendid torch which I have got hold of for a moment, and I want to make it burn as brightly as possible before handing it on to future generations.'
These words are a poignant reminder of the modesty of a man who no matter his achievements or recognition, dedicated himself to creating opportunities for others.
In celebration of Laurence's Outstanding Contribution to Business Education Award, a video was created that provides a glimpse into his truly remarkable life.
Beloved husband of the late Mella (née Boland) and treasured father to his sons Jonathan and Patrick. Predeceased by his brothers Niall, Conor, and Tim. Deeply missed by his brother Fr. Roderic and sister Marianne, sister-in-law, brother-in-law, daughter-in-law, grandchildren, nephews and nieces, relatives, colleagues and a wide circle of friends.
The UCD community's thoughts are with the family at this sad time.