Drone food delivery to be piloted on UCD campus
Posted 26 February, 2020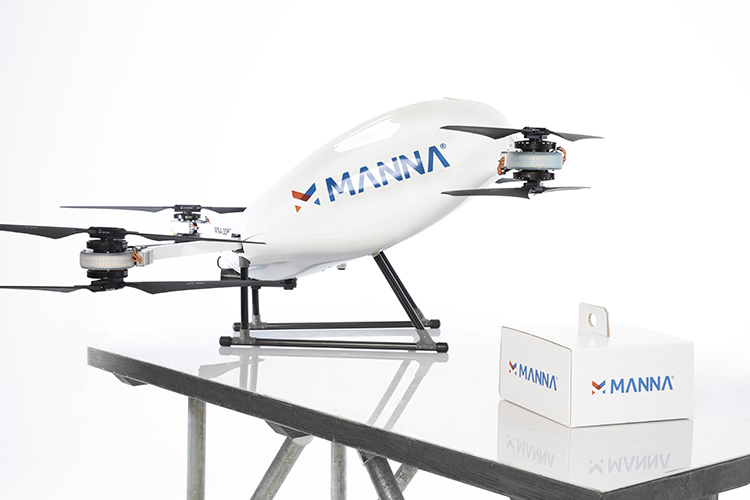 University College Dublin is to be the test bed for Europe's only fast food delivery service by drone.
Beginning in March, Irish drone firm Manna Aero, partnered with Just Eat, Camile Thai and Ben & Jerrys, will offer airborne food deliveries in under three minutes to staff and students on campus.
The food will be flown in straight from restaurants by drone to a pre-ordained space, where it will then be lower down via a biodegradable thread as the drone hovers 10 metres above.
Manna, which closed a €4.6 million seed funding round at the end of 2019, currently employees a staff of over 20 people between its headquarters at NovaUCD, the University's Centre for New Ventures and Entrepreneurs, and offices in Wales.
"It's clear that drone delivery provides a faster, cleaner, safer, cheaper and higher quality alternative to road-based delivery. We are excited about how that will improve the world," said Manna CEO and founder Bobby Healy.
"I am extremely proud of the team and what we have built. It is a pleasure to work with such high calibre partners on our project next month in Dublin, our commercial pilot in University College Dublin."
Manna has been working closely with the Irish Aviation Authority for the past three years with a view to launching the commercial service.
"[They] have been a tremendous help and guide over the past three years, working together we have ensured that our drones are extremely safe in all operating conditions," Mr Healy said.
"This technology will transform online food marketplaces, restaurants, dark kitchens, and communities globally… [and] we look forward to working with regulators around the world as we bring this innovative technology to customers across the globe."
Managing director of Just Eat Ireland Amanda Roche-Kelly said the system would transforming the business of food delivery.
"Technology is at the core of everything we do at Just Eat, so we're delighted to be involved in these pioneering trials with Manna, who have clearly built a groundbreaking drone delivery system," she said.
By: David Kearns, Digital Journalist / Media Officer, UCD University Relations