Failure to tackle poverty costs Ireland €4.5bn annually, UCD report finds
Posted 17 June, 2020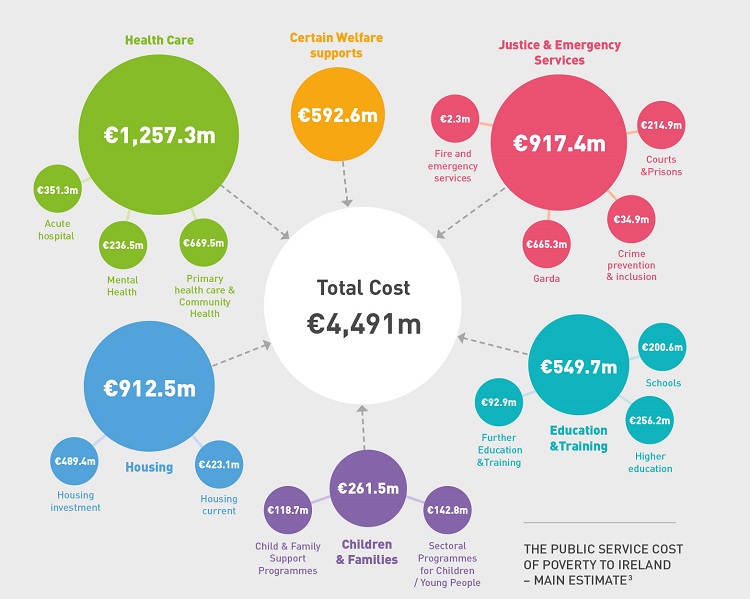 Poverty is costing Ireland more than €4.5 billion each year, a new UCD study suggests.
According to 'The Hidden Cost of Poverty', the State spends a significant portion of its revenue to support people unable to afford the basics through social assistance and housing.
The report, carried out by by Dr Micheál Collins, from the UCD School of Social Policy, Social Work and Social Justice, examines the financial consequences of failing to reduce poverty.
It found that when housing support and social welfare assistance was combined with the additional spending required to deal with education, justice, and health outcomes associated with poverty the cost to the State was more than the total spent on housing, justice, transport and agriculture.
"Year after year, poverty imposes substantial costs on all of Irish society. While these fall heaviest on those living on the lowest incomes in our society, this report highlights that there are substantial costs borne by all," said Dr Collins.
"Consequently, there are benefits for all associated with a coherent national strategy to address and successfully reduce poverty and its consequences."
His report, authored on behalf of the Society of St Vincent de Paul (SVP), looked at the cost of poverty under six categories: healthcare, children and families, education, housing, criminal justice and emergency services, and certain social welfare supports.
Some €1.2bn was spent to deal with poor health outcomes associated with poverty, while €917 million was spent tackling the consequences that social and economic disadvantages have on crime.
In education, almost €550m is spent annually on the lasting effects of child poverty.
The report uses an annual income of €13,723 as being the poverty line for a single person, and €22,780 for a couple with one child, and €18,252 for a lone parent with one child.
The costs presented are based on available data from the Central Statistics Office, various government departments and agencies, answers to parliamentary questions and the published results of related studies both nationally and internationally.
By: David Kearns, Digital Journalist / Media Officer, UCD University Relations