A Nation's wellbeing: Why GDP alone may not be the answer
Posted 4 March, 2020
Ireland could be at the forefront of re-evaluating how nations' measure their wellbeing by focusing less on GDP and introducing a Social Progress Indicator (SPI), says a leading financial data expert.
A measurement tool that combines objective data on state services with the real experiences of individuals who use them, UCD Professor Cal Muckley believes a SPI represents a clearer picture of how well a country is doing than relying on national income as a measure of success.
"Despite [Ireland's] macro level achievements, the economic performance of the State has not found its way to those most in need," he said.
"The Irish economy is approximately at full employment with moderate inflation and has experienced strong increases in real economic growth… [but] Ireland suffers a spate of dire social problems.
"A homelessness crisis caused by a dearth of social housing units and inadequate emergency accommodation… long hospital waiting lists... such social travesties are, it is not difficult to argue, morally irreconcilable with Ireland as a prosperous nation."
Addressing an audience at the RDS, including representatives from the Departments of An Taoiseach and Finance, Professor Muckley warned if the measurements used to judge the impact of governmental services are flawed then the quality of state decisions will be compromised.
"In a world of misleading anecdotal evidence like fake' news and media marketed opinion pieces in regard to the quality of state services, a rigorously constructed SPI can play a critically important role," he added.
The researcher from the UCD College of Business and the Geary Institute said by consolidating big data and the experiences of those who use state services, policymakers could receive much more effective feedback on where best to allocate the State's limited resources.
Arguing that a SPI can be a valuable measurement of national wellbeing, Professor Muckley pointed out that the bulk of Irish economic expansion has gone to the top 10% of the population.
This skewed distribution of national income, which is only mitigated by state intervention in the form of taxes and transfers, exposes the weakness of GDP as a measuring tool of national wellbeing he said.
A critical element of SPI is to directly mitigate the shortcomings of GDP by ensuring that there is a more equitable distribution of national income through improved quality of provision of state services.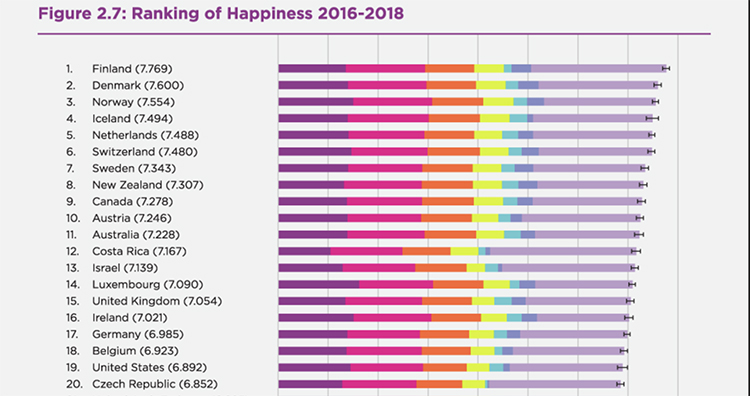 The top 20 countries listed in the World Happiness Report 2019 produced by the United Nations
"[A SPI] is the voice of the Irish people measured scientifically and regularly and is very different to GDP. It complements national income statistics and should be reported alongside such statistics as a matter of course," Professor Muckley explained.
"Ireland has an opportunity to act as a global leader in this regard as in the international sphere… an SPI, which combines survey instruments and objective data, is unprecedented around the world."
In concluding Professor Muckley called for a pilot scheme to be adopted so that all relevant stakeholders, and most especially the Irish people, could see the benefits of introducing a SPI.
"A grass root SPI for the Irish people and by the Irish people, can effectively enable, in a systemic and impactful way, the monitoring of the quality of Ireland's state services.
"It is not prompted by the European Union nor is it part of any international commitment, it is rather Ireland taking a leadership role to address our clear problems."
By: David Kearns, Digital Journalist / Media Officer, UCD University Relations