UCD law student crowned 'Best Individual Speaker' at 60th Irish Times Debate final
Posted 5 March, 2020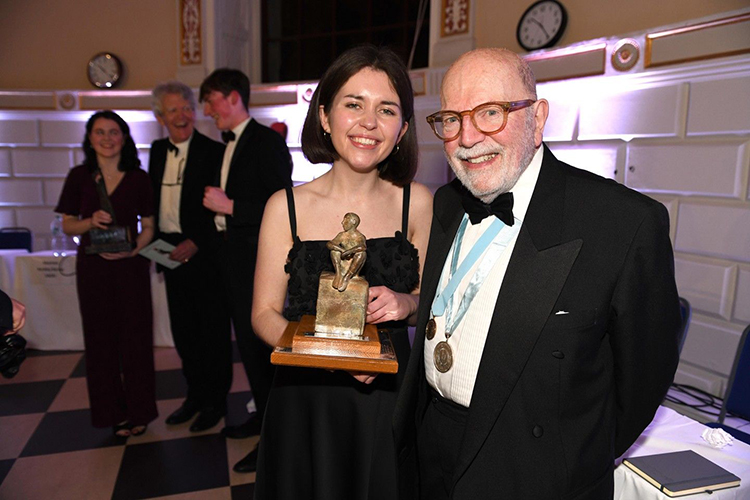 Rachael Mullally, 2020 individual winner, with 1960 winner Neville Keery at The Irish Times Debate 2020 final Photograph Bryan Meade
UCD law student Rachael Mullally was crowned the 'Best Individual Speaker' at the 60th Irish Times Debate competition.
Representing the UCD LawSoc, Ms Mullally, who studies BCL (Law with Economics) at the UCD Sutherland School of Law, claimed the Christina Murphy Memorial Trophy following a lengthy debating campaign that first began in October of last year.
The competition has seen 162 third-level students battle it out to be crowned champions, with teams paired into two and facing off in the debating chambers across the country.
Last month, semi-finals were held to decide the four remaining teams and individuals who would compete at the grand finals.
Teams representing UCD, TCD, NUI Galway and the Law Society of Ireland were given the topic of "This house believes that the Irish criminal justice system is too weak on crime" as their final motion to debate.
Comhghairdeas ó chroí le Rachael Ní Mhaolalaidh (4 BCL Dlí le hEacnamaíocht (ar son An Chumainn Dlí, COBÁC) a ghnóthaigh Corn Cuimhneacháin Christina Murphy mar an gcainteoir aonair is fearr i mbabhta ceannais chomórtas díospóireachta Thráthscéal Éireann! pic.twitter.com/Op7833n8oC

— UCD School of Law (@UCDLawSchool) March 3, 2020
Trinity College Dublin students Eoghan Quinn and Aislinn Carty took the title of team champions at the event, with the UCD team of Mark Smyth and Cora Keegan declared runners-up.
Chairing the grand final was Chief Justice Mr Justice Frank Clarke, a former finalist himself.
This year's winners not only received the Demosthenes Trophy for best team and the Christina Murphy Memorial Trophy for best individual, but also earned a month-long tour of the United States.
The grand final of the Irish Times Debate competition took place before an audience including former winners and finalists stretching back over six decades at Trinity's Public Theatre.
Former winners and finalists include presidents past and present such as Michael D Higgins and Mary Robinson, as well as politicians, broadcasters, senior civil servants and judges including Justices Adrian Hardiman, Frank Clarke and Donal O'Donnell.
By: David Kearns, Digital Journalist / Media Officer, UCD University Relations