UCD Ladies finish hockey season with Senior Cup victory
Posted 21 September, 2020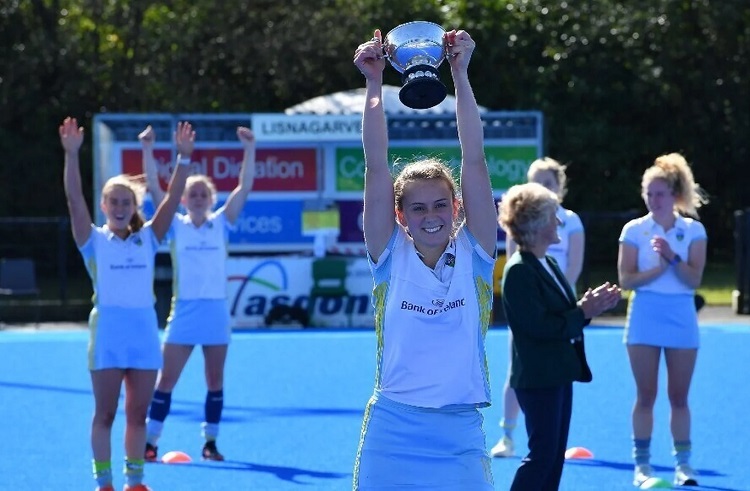 UCD Ladies Hockey have claimed their seventh Senior title after clubs were given permission to finish off the 2019/2020 Senior Cup fixtures.
A strong first quarter performance against runner-ups Pegasus put UCD on track to win their third Senior Cup title in four years.
Hannah McLoughlin scored the University's first goal following a penalty corner taken by KJ Marshall. This was soon followed by Michelle Carey to make it 2-0.
Despite closing the divide in the second half with a goal from a penalty corner, Pegasus were unable to find further openings in UCD stout defending.
A third goal for the university side in the closing moments of the game courtesy of Katherine Egan sealed the fate of the Northern Irish team.
All over. UCD ARE CHAMPIONS!!
Great performance by the girls. The last match for the Patton's sisters and Suzie. What a way to make their exit

— UCD Ladies Hockey (@UCDLadiesHockey) September 19, 2020
Ahead of the game, a number of UCD players returned to the squad despite having moved on. This was allowed due to the end of 2019/2020 season having been delayed due to Covid-19.
"It has been so long since we played that semi-final against Loreto last October," UCD captain Ellen Curran told The Irish Times.
"We are so grateful to be here today in the circumstances and, even on Friday, we wondered if it would go ahead or if our supporters couldn't travel.
"Getting the girls back in on Thursday night was really emotional and they were all phenomenal."
UCD: L Gunning, C Cassin, A Elliott, S Thomas, N Carey, K Egan, M Carey, S Kelly, H Mcloughlin, C Cope, G Keane, O Patton, S Patton, S Young, E Young, E Curran, N Heisterkamp, KJ Marshal.
Pegasus: E Armstrong, C Harvey, R Maguire, T Doherty, E Montgomery, M Dougan, N McIvor, M Harvey, L McKee, O Berry, A Speers, S McCay, K McDonald, K Gourley, S Thompson, C Beggs, A Robinson, M Todd.
By: David Kearns, Digital Journalist / Media Officer, UCD University Relations