Majority of junior infants "excited or happy" to be in school, new UCD research shows
Posted 2 December 2021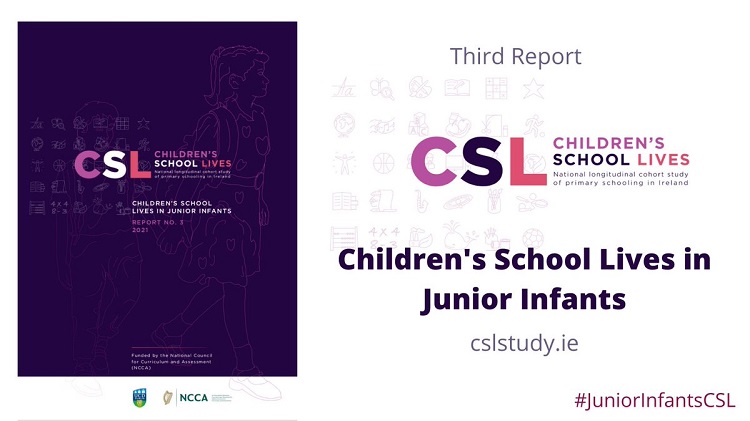 Most junior infant students are excited or happy to be in school though a 'noteworthy' one in eight do not like going, according to new research by the UCD School of Education.
Detailed in 'Children's School Lives' (CSL), a landmark UCD-led study following 4,000 children across almost 200 schools in Ireland, for teachers and principals a key challenge to creating "a happy, safe and stress-free" classroom is finding the time, resources and support needed to sustain this kind of learning environment.
The research, commissioned by the National Council for Curriculum and Assessment (NCCA), and led by UCD Professor Dympna Devine, Associate Professor Jennifer Symonds, and assistant professors Seaneen Sloan and Gabriela Martinez Sainz, delved into the lived experience of pupils in their first year in school, and showed that 13% of those in junior infants do not like going to school.
The report notes that a positive transition from pre-school to primary is a predictor of children's future success in terms of social, emotional and educational outcomes.
The transition to primary school marks an important phase in children's school lives.

84% of the 1,663 children part of rhe #CSLstudy like going to school.

On the first day, most of them were excited, happy although almost a quarter reported feeling nervous.#JuniorInfantsCSL pic.twitter.com/LIcTwOq5ZV

— Children's School Lives (@CSLstudyUCD) December 2, 2021
"Yet, despite this knowledge, relatively little research exists in the Irish context on children's initial experiences in primary school," it explains.
"The CSL study responds directly to this research gap by capturing, through multiple voices, comprehensive insights into the children's initial weeks and months in their primary classrooms."
The findings in the latest CSL report, conducted in 2019-2020, found that almost half of the 1,663 junior infants children who took part reported feeling excited on their first day of school, and a further 25% reported feeling happy.
The happiness of children though was a key priority reported teachers, who said that a "happy, safe and stress-free environment" for children's learning was an important goal for them.
Social development, learning to share, listen to others and adapt to co-operative ways of learning were also prioritised in the classroom.
"The early years of primary school are crucially important for children, not just in terms of their academic development, but as a foundation for their holistic social and emotional development and wellbeing," said Assistant Professor Sloan.
"Our findings highlight the work of teachers and principals in creating a positive learning environment in junior infant classrooms, and the value placed on this by children and their families."
The #JuniorInfantsCSL report shows that teachers can be stressed and still report high levels of job satisfaction.

Almost half of teachers (46%) reported that they sometimes felt stressed by their job, yet levels of job satisfaction appeared high. pic.twitter.com/tGdHGmTNCZ

— Children's School Lives (@CSLstudyUCD) December 2, 2021
The research shows that almost half of teachers sometimes felt stressed by their job, with a further third feeling stressed frequently.
Job satisfaction however was high, with 66% reporting they frequently felt satisfied with their job, and a further 19% always satisfied.
Asked to rate their enjoyment of teaching subjects, teachers found English, Maths, and Social, Environmental and Scientific education (SESE) to be their most enjoyable – with religious education lowest rated at 47%.
Almost 70% of the teachers reported spending less time on religion than recommended by the primary school curriculum.
Regarding the curriculum, "overload" was specifically cited by the junior infant teachers as a concern – particularly for those teaching in DEIS schools.
The report noted: "There [are] particular challenges in DEIS schools, including time spent making sure the children were 'ready' to engage with the curriculum. Teachers referred to this as being 'ready to learn'.
"This 'preparatory' time often focused not only on core self-care tasks but also on equipping children with the necessary words and phrases needed for more conceptual elements of the curriculum."
By: David Kearns, Digital Journalist / Media Officer, UCD University Relations