Eight awardees honoured for excellence at UCD Smurfit School Business Journalist Awards
Posted 14 December 2021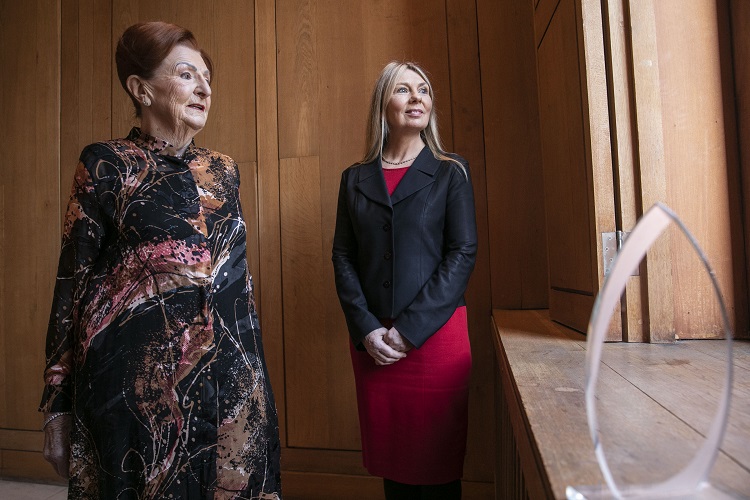 Breege O'Donoghue, 2021 Chair of UCD Smurfit School Business Journalist Awards Judging Panel, and Professor Gerardine Doyle, Director of UCD Smurfit School and Associate Dean of UCD College of Business. Photo: Orla Murray
Ireland's top business journalists have had their work recognised at the 2021 UCD Smurfit School Business Journalist Awards.
Now in their 14th year, the awards, which champion excellence in business journalism in print, broadcast and online media, celebrated the achievements of eight awardees this year.
The recipients of the 2021 awards were:
This year, a new award was added, the Outstanding Achievement in Industry Award; which recognised The Currency for the organisation's groundbreaking work in championing long-form business journalism on a digital platform in Ireland.
In addition to these seven awardees, an Outstanding Achievement Award was presented to Dearbhail McDonald for her contribution to journalism.
Over the last 20 years, Ms McDonald has written prolifically about legal affairs, religious affairs, health, politics and business.
She has also covered extensively the areas of diversity and inclusion, including gender equality, an issue she has raised with the Future of Media Commission, in her capacity as a co-founder of the Equality Expert Group and through her association with organisations like 'Women on Air'.
The UCD Smurfit School Business Journalist Awards are run in conjunction with the Business Journalists Association of Ireland.
This year's independent panel of judges was chaired by Breege O'Donoghue, Primark Brand Ambassador; and was comprised of academic, journalistic and business representatives.
By: David Kearns, Digital Journalist / Media Officer, UCD University Relations