UCD sprinter twice breaks Irish 60m records at European Championship qualifiers
Posted 22 February, 2021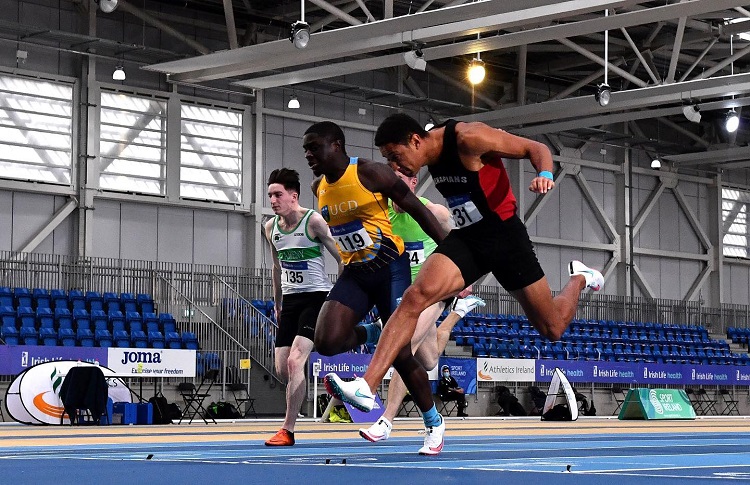 UCD sprinter Israel Olatunde (center) broke the U20 and U23 60m record twice at the Irish Life Health Elite Micro Meet
A UCD sprinter smashed two national indoor records twice in one day as Irish athletics competed at the Sport Ireland National Indoor Arena for European Indoor Championships qualification.
Eighteen-year-old Israel Olatunde broke both the U20 and U23 indoor men's 60m records two separate times at the Irish Life Health Elite Micro Meet - an event held under strict COVID-19 guidelines with Government approval via the Sport Ireland Expert Group.
An Ad Astra Elite scholar at University College Dublin, the computer science student claimed his first record breaking time of 6.74 when he finished second to Leon Reid at the final race event of the qualifying meet.
Olatunde's second 60-meter run saw him cross the line in 6.73, breaking the already broken record he set an hour before.
The Tallaght native was not the only UCD athlete to claim a new national record as fellow Ad Astra Elite scholar Darragh McElhinney opened up his season with a new U23 record in the men's 3000m.
The West Cork athlete (20), who studies Arts, ran a personal best best of 7:50.80 when he finished second behind John Travers.
His time smashed the existing Irish U23 indoor 3000m record of 7:51.35, which has stood since 1994.
In all there was a total of nine Irish records broke over the two day even with some 20 athletes achieving European qualifying marks.
Former UCD athletic Mark English broke his own 800m Irish indoor record, clocking in at 1:46.10 to hold off 18-year-old Cian McPhillips, who also broke English's previous seven-year-old record.
Also adding their names to those likely qualified for the European Athletics Indoor Championships in Poland in March were UCD athletes Luke McCann, who won the men's 1,500m, and Ellie Hartnett in the women's 1500m.
Engineering student Luke held on to his lead following a strong early pace to finish with a personal best of 3:40.03, well inside the European standard.
In the Women's 1500m Ellie Hartnett crossed the line in a particularly strong race in 4:35.27, finishing first ahead of the 800m National Champion Amy O'Donoghue and Paralympian Greta Streimikyte.
By: David Kearns, Digital Journalist / Media Officer, UCD University Relations