Olympics 2020: UCD graduate Eimear Lambe wins Ireland's first medal in Tokyo
Posted 28 July, 2021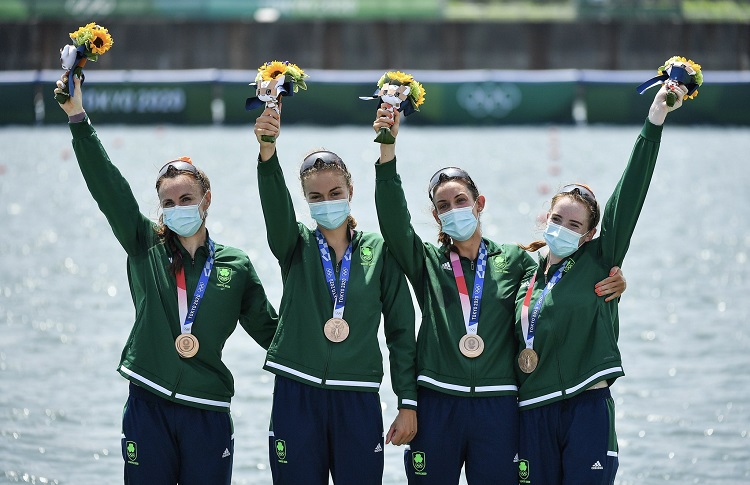 UCD graduate Eimear Lambe has won Ireland's first medal of the Tokyo Olympics with a bronze for the Women's Four at the Sea Forest Waterway.
Alongside teammates Aifric Keogh, Fiona Murtagh and Emily Hegarty, the Dublin native produced a strong finish to hold off Team GB to finish third behind Australia and the Netherlands.
Their podium finish is the first time female rowers have won an Olympic medal for Ireland, and the ream is only the second ever female Irish crew to reach an Olympic final.
"We knew we could win a medal, it was just about whether we could pull it off," said Eimear, who studied BComm International while at University College Dublin.
"We also knew that every crew was also capable of winning a medal so it was just about who got down the course as well as they could in these conditions.
It's #IRL's first medal of #Tokyo2020!

They take bronze in the #Rowing women's four.@WorldRowing @TeamIreland pic.twitter.com/WIjPJq9QKT

— Olympics (@Olympics) July 28, 2021
The Irish quartet of Aifric Keogh, Eimear Lambe, Fiona Murtagh and Emily Hegarty are back chatting to RTE Sport after the medal ceremony in Tokyo.#olympics #tokyo2020 #RTESport



— RTÉ Sport (@RTEsport) July 28, 2021
She added: "It was a bit touch and go. Throughout the race I'm like 'we're coming fourth, fifth …' I was looking out and I knew we were slipping back and we kind of said to ourselves that if that happened we'd just go early.
"I think in the last kilometre we back ourselves and everyone else out there knows that in the last 1k we just start to go. We could kind of hear it left and right, 'don't let them, don't let them'."
The 23-year-old UCD Ad Astra alumna told RTE after the race that a big inspiration for her success was her sister Claire, a fellow Olympian, competing in Rio 2016, and UCD graduate.
"[Claire] was an inspiration when I was growing up, I knew it was possible when I saw her come here and be the first Irish women's crew to make a final," she added.
Our Olympic Medalists!

First female athletes to win an Olympic Medal in rowing for Ireland

History has been made by this incredible crew #wearerowingireland pic.twitter.com/QIsVMX09jE

— Rowing Ireland (@RowingIreland) July 28, 2021
Relive the moment @TeamIreland won their first medal of #tokyo2020 via the women's four in #rowing#olympics #RTESport
Watch live - https://t.co/b2OI4OoWVJ
Report – https://t.co/aLfi6HYsPj pic.twitter.com/iJJ2PNppzo

— RTÉ Sport (@RTEsport) July 28, 2021
Teammate Emily Hegarty said she hoped that the historic win would be £the first of many£ for female rowers for Ireland, adding "Hopefully it gives the young girls coming up now a bit of hope that this is completely possible. If we can do it anyone can."
President of Ireland Michael D Higgins was among many who offered their congratulations to the Women's Four for their win.
"My congratulations to Aifric Keogh, Eimear Lambe, Fiona Murtagh and Emily Hegarty as they win Ireland's first medal at #Tokyo2020, claiming a well-deserved bronze medal in the women's four," he tweeted after the race.
By: David Kearns, Digital Journalist / Media Officer, UCD University Relations