Fulbright Awards: Eight UCD scholars selected for coveted transatlantic prize
Posted 14 June, 2021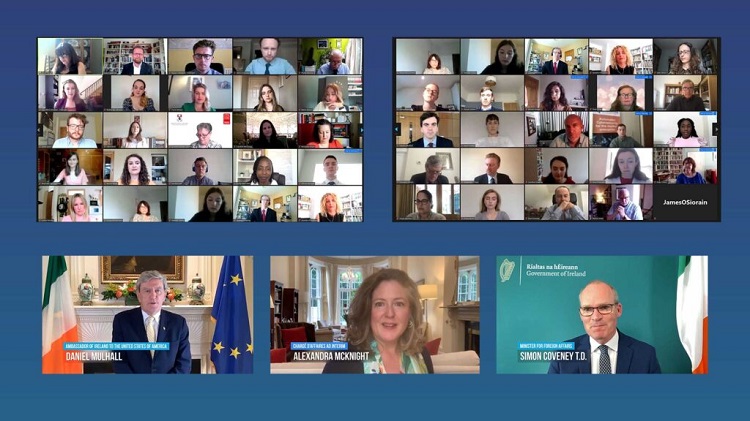 Eight coveted Fulbright scholarships have been awarded to students and scholars at University College Dublin, enabling them to take up roles at some of America's best universities and institutions.
The group are among 31 recipients of this year's Fulbright Irish Awards, which presents students, scholars and professionals in Ireland the opportunity to undertake postgraduate study, research and teaching in the United States.
The 2021 UCD awardees are from disciplines spanning environmental science, human rights, food science, immunology, criminology and prison reform.
"The role of Fulbright Awardees in driving international research and keeping global channels of communications open is more important than ever as the world is reinvigorated over the coming years," said Minister for Foreign Affairs, Simon Coveney TD.
"Fulbright has always propelled collaboration between the brightest minds. I wish this year's awardees every success for their time in the United States."
Irish ambassador to the USA, Daniel Mulhall added: "Exchanges like the Fulbright programme play an important role in strengthening the unique relationship that Ireland and the United States share. I look forward to welcoming them when they arrive here."
The UCD recipients for the 2020 Fulbright Irish Awards are:
Professor Rouse has been awarded a Fulbright Scholarship during the academic 2021-2 at the City University of New York (CUNY).
He lectures at the UCD School of History and has written extensively on the history of sport in Ireland. For his Fulbright scholarship, he will be based at the Public Space Research Group at The Graduate Center at CUNY and will be researching a project entitled: "Recreation in Dublin's Phoenix Park and New York's Central Park, 1850-1950".
The project will examine how public parks are central to modern cities. By studying the contrasting origins and development of two of the world's great urban spaces – Central Park in New York and the Phoenix Park in Dublin – this project will assess the role of public parks in urban life, with a specific focus on the historical development of ideas about recreation in both Ireland and the United States.
Through a series of interlocking research questions, the project will ask what and who parks are for, and how thinking about parks and public spaces evolved between 1850 and 1950. Ultimately, the project will explore how the evolution of parks reflects, but also shapes, the cities they serve, producing valuable new scholarship in the history of leisure, recreation, sport, immigration and public space on both sides of the Atlantic.
Dr Purity Mwendwa, Fulbright- HRB HealthImpact Scholar; University of California, San Dieg
Dr Mwendwa is a Postdoctoral Research Fellow in the UCD School of Nursing Midwifery and Health Systems.
As a Fulbright-HRB Health Impact Scholar, Purity will be hosted in the Herbert Wertheim School of Public Health at the University of California San Diego.
She will undertake research in collaboration with Dr Tala Al-Rousan to study influential factors and mechanisms involved in delivering dementia care and supports to culturally and linguistically diverse communities in San Diego.
Dr Daniel Johnston, Fulbright - HRB HealthImpact Scholar; Harvard
Dr Johnston is the AbbVie Newman Fellow in Dermatology at the Charles Institute of Dermatology, UCD, where he researches the underlying causes of inflammatory skin disease.
He completed his undergraduate studies and PhD research in Immunology at Trinity College Dublin, before undertaking postdoctoral research at the University of Oxford where he held the Bryan Warren Junior Research Fellowship at Linacre College.
As a HRB-HealthImpact Scholar at Boston Children's' Hospital/Harvard University, Daniel will be using single-cell RNA-sequencing data to rationally design in vitro models of the inflammatory skin disease Hidradenitis Suppurativa.
Dr Marie Moran, Fulbright Irish Scholar - All Disciplines; University of Wisconsin - Madison
Dr Moran is Assistant Professor of Equality Studies at UCD, and director of the UCD Equality Studies Centre.
Her scholarship is interdisciplinary, combining sociology, political theory, cultural studies and political economy. An interest in equality, and in dominant and residual cultural and political responses to inequalities, animates and connects all her work.
Her first book, 'Identity and Capitalism', was published by Sage in 2015. She is currently working on two further books, 'Equality in the 21st Century' (Polity), and 'Elites in Populist Times' (Verso).
As a Fulbright scholar, Marie will visit the University of Wisconsin - Madison where she will work under the mentorship of Professor Harry Brighouse on a new framework for conceptualising contemporary complex inequalities, while also carrying out research on social movement responses to inequality in an American context.
She will also visit the Havens-Wright Centre for Social Justice, and build connections with the UCD Equality Studies Centre.
Dr Joe McGrath, Fulbright Irish Scholar - All Disciplines; UC Berkeley
Dr McGrath is an Assistant Professor at the UCD Sutherland School of Law. His first monograph, Corporate and White Collar Crime in Ireland: A New Architecture of Regulatory Enforcement, was published by Manchester University Press. His second book, White-Collar Crime in Ireland: Law and Policy, which he edited and co-authored, was published by Clarus Press.
He has also published in the leading international peer-reviewed journals in his field, including the European Journal of Criminology, Justice Quarterly, and Punishment and Society.
His Fulbright award will be based at the Center for the Study of Law and Society at UC Berkeley. He will research a project entitled "Punishing Privilege" in which he investigates the extent to which federal responses to white-collar crime are formally punitive but practically lenient.
It also explores the extent to which legal responses to wrongdoing vary by reference to gender, race, and elite status.
Caroline Dowling, Fulbright-EPA (Student); Cornell University
Caroline Dowling is a PhD candidate in plant genetics at the UCD School of Biology and Environmental Science. She completed her BSc in Plant Biology at UCD which included a semester abroad at McGill University in Montreal, Canada and a research internship at the National Science and Technology Development Agency in Thailand.
Caroline's doctoral research is funded by an Irish Research Council-Environmental Protection Agency scholarship and focuses on elucidating the genetic control of flowering time in hemp (Cannabis sativa).
Hemp is a highly versatile, sustainable crop, but to facilitate global cultivation by developing new cultivars adapted to specific climatic conditions, a greater understanding of flowering time control is crucial.
As a Fulbright-EPA Student Awardee to Cornell University in New York, Caroline will investigate the genetic variation in a hemp germplasm collection to characterize the genetic architecture of flowering time in hemp.
Grace Oladipo, Fulbright - University of Notre Dame Student LLM Award; University of Notre Dame
Grace Oladipo is a Bachelor of Civil Law European Graduate from University College Dublin. Born in Nigeria, Grace grew up in Ireland and takes pride in being African and Irish. While at UCD, Grace was the Co-Founder of the UCD Gospel Choir and the Founder of The Inner Room.
Grace studied at the University of Sheffield as part of an ERASMUS programme, and was the ENACTUS Sheffield International Innovation Project Leader. She is the recipient of the UCD President's Award, Arthur Cox Contribution to University Life Award, and the 2019 winner of the Unilever UK Individual Purpose Competition.
Passionate about social entrepreneurship, Grace is the Co-Founder of The Student Collective, a mentoring initiative which brings university students and Leaving Certificate students together.
Her research interests include human rights, criminology, penology, and recidivism. During her undergraduate dissertation, Grace completed a comparative study on female imprisonment in Northern Ireland, the Republic of Ireland, and Finland and proposed changes to the current prison regime.
As a Fulbright Scholar at the University of Notre Dame, Indiana, Grace will research the factors that influence overrepresentation of minority groups in prison populations, measures that facilitate the reintegration of ex-prisoners into society and the role of social entrepreneurship on the realisation of human rights.
As a Graduate Student Affiliate of the Klau Center for Civil & Human Rights, Grace will join a collaborative community of scholars and students who advocate for the realisation of human rights, and provide leadership on critical issues of justice.
Rachel White, Fulbright-Teagasc (Student); University of Florida
Rachel White is a MSc student at the UCD School of Agriculture and Food Science. She graduated with a First Class Honours BSc in Animal Science from UCD in 2017 and joined the graduate program of Ornua, an Irish agri-food cooperative which markets and sells dairy products on behalf of Irish dairy processors and dairy farmers.
There, she worked across procurement, international sales and marketing for the Kerrygold brand in their Dublin and Dubai offices. Rachel secured a Teagasc Walsh Scholarship to undertake her MSc in Dairy Reproduction, which is focused on uterine disease in lactating dairy cows.
Rachel's study examines the risk factors and incidence of such disease as well as treatment efficacies to mitigate associated fertility loss. As part of her undergraduate degree, Rachel spent a semester abroad at Cornell University where she gained an insight into US dairy farming practises and reproductive management.
As a Fulbright-Teagasc Student Awardee, Rachel will visit the University of Florida, Gainesville, where she will explore the impact of infection and immunity in the female reproductive tract on fertility.
"The Fulbright program is really about people; the resilience of our Fulbright awardees and alumni this year has been wonderful," said Dr Dara FitzGerald, Executive Director of the Fulbright Commission in Ireland.
"The impacts of our partners' and sponsors' support, flexibility and vision are heartening, especially in challenging times as the world recovers from a difficult year. We thank our partners, the US Department of State and the US Embassy in Dublin, the Irish Department of Foreign Affairs and Trade, and the Irish Department of Tourism, Culture, Arts, Gaeltacht, Sport and Media."
By: David Kearns, Digital Journalist / Media Officer, UCD University Relations