President Higgins becomes latest poet to contribute to Irish Poetry Reading Archive
Posted 25 June, 2021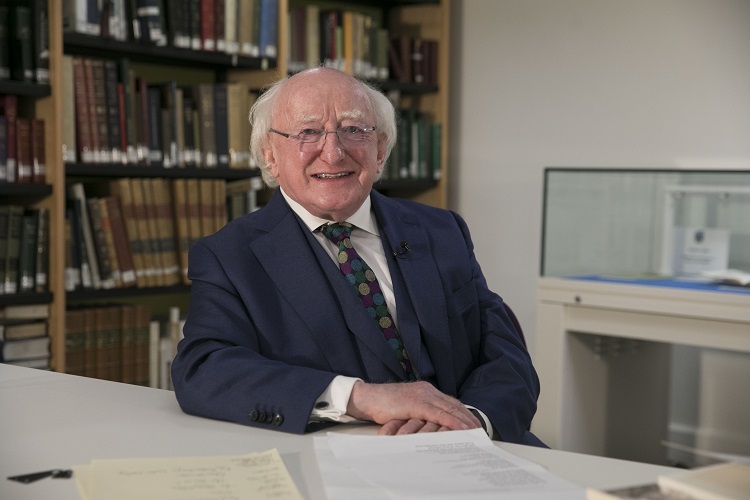 President Michael D Higgins has become the latest poet to record a selection of his work for the Irish Poetry Reading Archive at UCD Library.
A dedicated supporter of the arts, the President Higgins published four collections of poetry prior to his inauguration as Head of the Irish State in 2011.
Adding nine poems to the archive, the Clare native said the national repository preserved the voices of Ireland's poets for future generation.
His recordings, available now, were taken from his published collections - New and Selected Poems (Liberties Press, 2011); An Arid Season (New Island, 2004); The Season of Fire ( Brandon,1993); The Betrayal (Salmon, 1990)).
Also included was a reading of 'Saturdays Made Holy', a poem released on the Áras an Uachtaráin's SoundCloud to mark May Day 2020.
The complete list of poems recorded by the President for the Irish Poetry Reading Archive include:
The Betrayal
The Delivery
The death of Mary Doyle
On making the Three Decades
Toes
The Storyteller
The Touch 1
Stardust
Of Saturdays Made Holy
In selecting these works for inclusion, President Higgins said they reflected the importance that the archive had given to relationships with family and friends, as well as the legacy of Ireland's turbulent history.
He also provided handwritten transcriptions of his recorded poems.
During the visit, Special Collections Librarian Evelyn Flanagan had the opportunity to show President Higgins a range of the unique and important literary materials held in UCD including Leabhar na nGenealach or The Book of Irish Genealogies, by Dubhaltach Mac Firbisigh, written in the 1640s.
The Irish Poetry Reading Archive at the UCD Library holds digital recordings of Irish poets and writers, reading their own work, in the English and Irish language, and giving a very brief overview of the context and circumstances that influenced their writing.
The recordings are freely available, and the collection now includes the work of over 150 poets from writers born in Ireland, and those who resident elsewhere or who have newly arrived here.
Among those that have contributed their readings include Paula Meehan, Theo Dorgan, Michael Longley, Bernard O'Donoghue, Moya Cannon, Gabriel Rosenstock, Padraig MacFhergusa and Anthony Cronin.
Built up over the last seven years, the archive also holds signed printed works, ephemera and a range of poets' papers, offers an insight into the diverse landscape of poetry in Ireland.
The Irish Poetry Reading Archive, hosted by UCD Library within the UCD Digital Library, is co-ordinated by Ursula Byrne and Evelyn Flanagan, in collaboration with Dr Lucy Collins of the UCD School of English, Drama and Film.
The archive is available online, and can be visited here.
By: David Kearns, Digital Journalist / Media Officer, UCD University Relations (with materials from Ursula Byrne, UCD Library)