'Vaccines alone cannot end this' - Oireachtas committee hears good ventilation key to suppressing COVID-19
Posted 25 May, 2021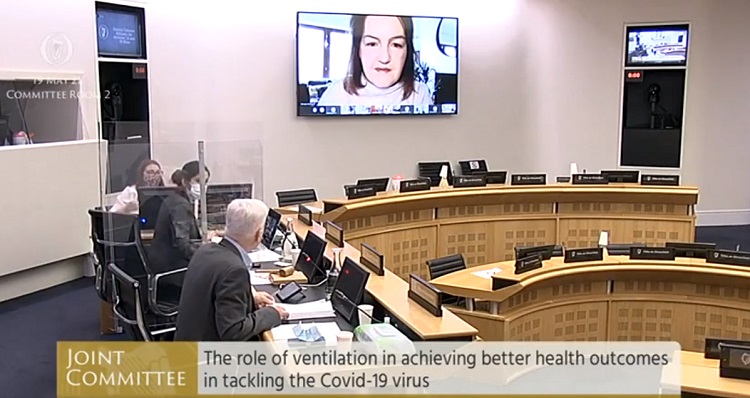 Ireland's failure to promote good ventilation as a means to halt the spread of COVID-19 is risking future infections, an Oireachtas committee has heard.
Ms Orla Hegarty, from the UCD School of Architecture, Planning and Environmental Policy, said tackling air quality indoors was an effective tool in fighting the spread of the virus.
"The problem is infected air," she told the Oireachtas Committee on Health. "We now understand that risk of transmission is predominantly indoors and very specific to certain buildings and indoor air conditions. These conditions are preventable.
"Most transmission is not from hands touching surfaces, it is from inhaling infected air. Masks are the only protection at close range. Outdoors, the virus is diluted and blown away. However, in buildings and vehicles, it can build up, fill a space, linger for hours and infect many people.
"Buildings are key to suppressing the pandemic," she added. "Prevention is about managing people and managing air. Vaccines alone cannot end this. They need the support of a parallel prevention plan."
The Committee heard that in Ireland more than half of the people who died from COVID-19 had been infected in just 0.03% of the State's building, less than 670 buildings, and that infection rates in overcrowded private homes were twice that of uncrowded homes.
One in four school buildings has had a COVID index case in the past four months, Ms Hegarty said – adding that over half of the cases in workplace outbreaks have been in just 150 buildings across the whole of Ireland.
"Many counties are achieving low-risk social and economic activity using prevention policies that manage people and their air," said the UCD lecturer.
"Countries like Vietnam, Taiwan, Singapore, Japan and China have responded with a clear message on ventilation as prevention. They did this from the beginning of the pandemic.
"Western countries, especially English-speaking western countries, have been especially slow and, I would say, resistant to adopting this as part of the pandemic response. We can see the outcomes in comparing cases and deaths across the two different regions."
Adding: "Eliminating unsafe conditions protects everyone, including children, people with compromised immunity and those not vaccinated.
"It also mitigates the risk of variants, and of super-spread events. Vaccines alone cannot provide enough headroom for reopening. A prevention plan is needed."
Ms Hegarty noted a number of strategies taken to improve air quality, include reducing the occupancy of buildings, limiting certain activities, setting indoor air standards and improving ventilation and filtration in buildings.
The committee , which met to discuss the role of ventilation in achieving better health outcome, heard that certain places presented "significantly higher risks of transmitting COVID-19", such as restaurants, pubs, cinemas, hotels, and sports venues.
Also highlighted was that while a lot of older schools built before the 1970s were designed "with the memory of TB prevention (still alive)", and as such, had cross-ventilation, higher ceilings and more space, these elements had been "squeezed down and engineered out" of more recent school buildings.
"Clearly, many buildings are low-risk because, otherwise, the pandemic would be even worse," said Ms Hegarty. "The issue, therefore, is how we find the conditions that are dangerous and deal with them
"As humans, we cannot guess at this, no more than we can guess at safe water... The key point in all of this is that we do not need to prevent every case to stop a pandemic. We do not need to deal with every building. We just need to do enough to get the R-nought below 1.
"Very strategic activity in places where people gather in large numbers, on public transport and in particular high-risk settings such as meat plants, could have a very substantial impact overall.
"It is not a case of spending money on every building or changing everybody's home. It is about advising people how to live more safely so that they can make strategic decisions that are safer."
By: David Kearns, Digital Journalist / Media Officer, UCD University Relations